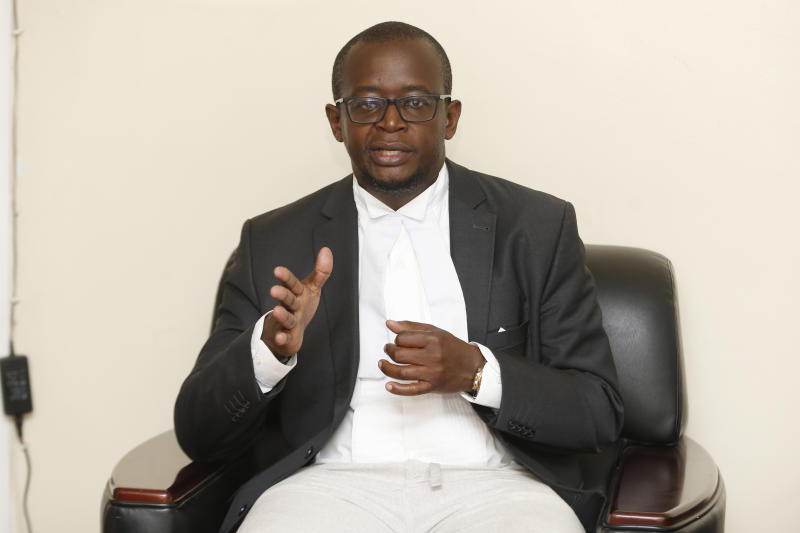 The president-elect of Law Society of Kenya (LSK), Eric Theuri, will formally take over the leadership on March 25.
After beating his competitors for the top seat, he has earned a space in the memoirs of the society as its 50th head.
"Glory to God. Thank my worthy competitors for a race well ran and conceding defeat," he said while acknowledging that he was ready to take the reins and inherit the wins and ruins of the outfit which had been rocked by feuds.
He said he is ready to chart his own path. "We forge forward," he proclaimed.
But Theuri assumes office with a blank page, ready to document how he will steer LSK for the next two years.
The soft-spoken advocate has been in the legal profession for 17 years.
He was Nairobi branch chair for two years before setting his eyes on the national seat.
The father of two says that he knows what ails LSK and will ride on his experience as the branch head to change the tide.
Theuri promises to streamline the legal profession, engage with members and defend the law.
The LSK president-elect also promises new advocates that they will practice without paying advocates' license fees.
He will waive the same for those who are in their second and third year of practice.
"My mission is to eliminate bottlenecks in the practice of law, enhance engagement with members and champion the defense of the rule of law," he said.
Theuri also promises to accommodate divergent views in order to unite the society.
In the Thursday elections, he garnered 1,811 votes against his closest competitor Ms Carolyne Kamende, who was the vice president in the last office.
She got 1,085 votes.
The third in the contest was lawyer Omwanza Ombati with 920 votes, followed by former Mombasa branch chair Mathew Nyabena (745) and former LSK council member Benhard Ngetich who garnered 452 votes.
Theuri will be deputised by Faith Odhiambo who won the contest after amassing 1,734 votes.
She beat Boniface Akusala (1,333 votes) and Debra Ajwang who got 1,328 followed by David Nyamweya who came fourth with 662.
Jacquiline Ingutiah who works at Kenya National Human Rights Commission (KNHRC) clinched the position of LSK female representative to the Judicial Service Commission (JSC).
She beat Anna Konuche, Christine Kipsang, Julie Soweto, Nyaboke Njagi and Mercy Aoko.
Outgoing president Nelson Havi claimed that he delivered on all the promises in his manifesto.
The society has had three presidents: Isaack Okero, Allen Gichuhi and Havi.
Before then, LSK had a chair as the head of the council.
Some of the notable chairs of the society include Humphrey Slade, who was the first, Justice Chanan Singh, Justice Chunilal Madan, Pheroze Nowrojee, Senator Amos Wako, the late Mutula Kilonzo, Paul Muite, former Chief Justice Willy Mutunga, Dr Fred Ojiambo, Joe Okwach and Justice GBM Kairuki.