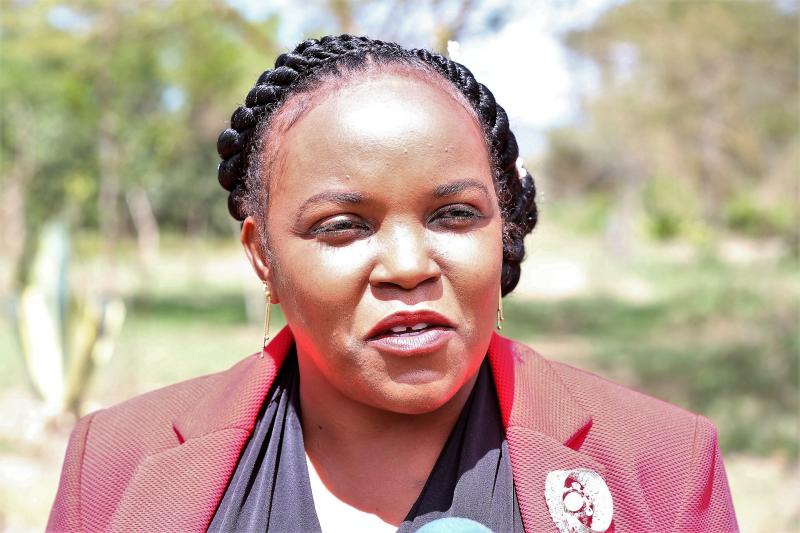 The August 9 General Election offers a better and bigger chance for the Kenyan woman as the country seeks to achieve the two-thirds gender rule.
Two main presidential challengers, Deputy President William Ruto and ODM leader Raila Odinga, are weighing options of considering female running mates and unlike in 2017 only eight women contested governorship seats, so far there are 26 who will battle it out in next month's party primaries.
Names of former Justice Minister Martha Karua, Kirinyaga Governor Anne Waiguru and Kandara MP Alice Wahome have been mentioned as possible running mates for Ruto or Raila.
Previous polls have shown that Waiguru is the favourite running mate for Ruto, followed by Karua and Wahome while Karua has been billed as best to deputise Raila.
In 2013, no woman was elected as governor and only deputy Senate speaker Prof Margaret Kamar challenged the male-dominated field then but lost.
In a leap of faith, three female governors were elected in 2017 including the late Joyce Laboso (Bomet), Anne Waiguru (Kirinyaga) and Charity Ngilu (Kitui) out of eight women who had vied for the seats.
Today, a constellation of women is rearing to go for the governors' seats.
Kirinyaga County has three contenders in the form of the incumbent governor Waiguru, the Woman Representative Wangui Ngirici and Karua.
For Kenyan women, it has been a long journey from the election of Grace Onyango as the Member of Parliament for Kisumu Town Constituency in 1969 to date when their numbers have just been a drop in an ocean of men.
A report by TIFA Research on the Women in Politics noted the barriers to women running for elective seats were lack of community, family and political party support,
The report, released yesterday, said that only 7 percent and 9 percent of women were elected as senators and Members of the National Assembly (MNA), respectively, and in 2017, President Uhuru Kenyatta appointed on six women to the 22-member Cabinet.
It recommended that political parties should set up special funds for promoting women's leadership and support women within their party.
According to Waiguru, one unspoken challenge women face in our environment is risk aversion.
"A lot of high return progress and productivity is layered on very risky undertakings. Growth comes from accepting and building on these risks fearlessly without overly worrying about backlash when we fail," said Waiguru.
"Most women as nurturers not only preserve resources with minimal risk, but also fear backlash and consequences of failure."
She noted that this may be another factor that holds women back or shapes the public perception of women leaders because they did not do too disruptive stuff.
Standards and language, according to Rita Oyier, a communication, branding and marketing expert, have formed some of the challenges that women face.
"The power of language used against or to support women has been grossly underestimated in our political progress," Oyier said.
"We have to speak up against crude and derogatory language that is meant to cause shame and shrinkage of women who put their head out to offer leadership and development."
Essy Okenyuri, a research professional with the Youth and Woman Political Champions noted that Kenya is a highly patriarchal society and like most African countries, men have more power over women and especially in decision-making and political fields.
"Most of the time women are expected to play their domestic duties of mothers and wives unlike the men," Okenyuri said.
But, Lydia Mathia, a policy advisor and founder, Daughters of the Mountain, said that women should not get tired of stepping up and offering themselves for leadership.