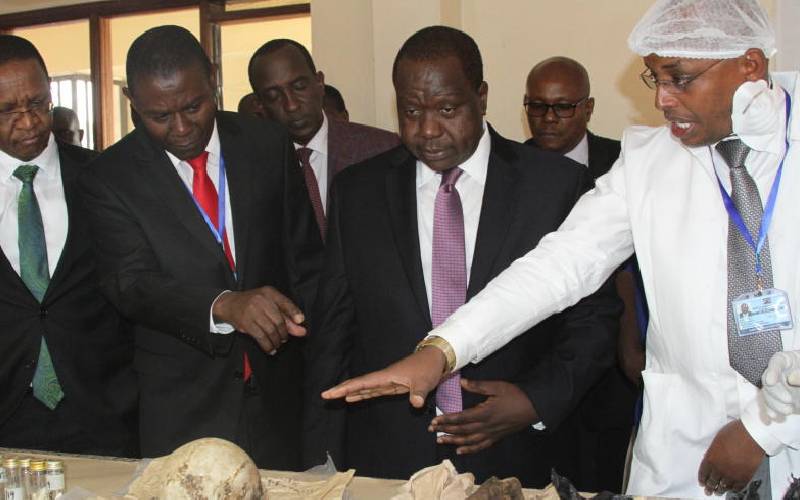 President Uhuru Kenyatta is today expected to unveil the police forensic laboratory domiciled at Directorate Criminal Investigations (DCI) headquarters on Nairobi's Kiambu road.
The laboratory is expected to boost investigations as police apply forensic science to analyse samples collected from crime scenes of violent robbery, murder, sexual assault, cybercrime, burglary, sudden death, and forgery among others.
The laboratory idea was mooted in the 1990s but did not take off.
It was later started but stalled in 2003 after Sh4.1 billion allocated for its construction was linked to the Anglo Leasing scandal.
The crucial components at the facility include DNA analysis, toxicology tests, fingerprints analysis, document examination, cybercrime analysis, ballistics tests, chemical analysis, bomb and explosives analysis.
Some of the specialists who will be stationed at the laboratory have undergone training locally and abroad.
Some of the 298 cadet officers that graduated from the National Police College Main Campus in Kiganjo are expected to be deployed at the forensic laboratory to fast-track investigations.
Many crimes remain unresolved due to insufficient forensic technology.
Police spokesman Bruno Shiosho said the laboratory was a shot in the arm for the department, especially in the war against complex and evolving crimes.
"It has been a challenge to us, but hopefully once it is launched by the President, our level of investigations and preparation of evidence will improve," said Mr Shiosho.
Courts and the Office of Director of Public Prosecutions have accused police of presenting weak cases, blaming officers for conducting shoddy investigations.