Don't take bribes to vote for politicians, Sapit cautions Kenyans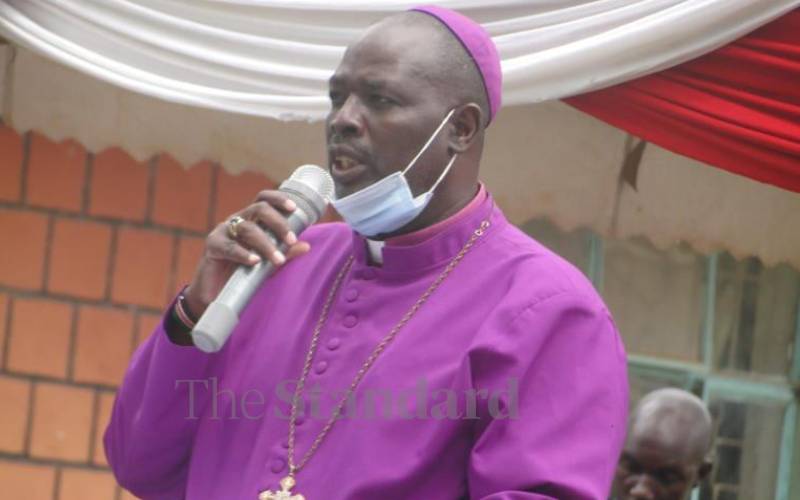 The head of the Anglican Church of Kenya (ACK) Jackson ole Sapit has asked Kenyans not to take bribes from politicians in exchange for votes.
Ole Sapit described politicians as people who specialised in bribing their way into elective seats but fail to live up to the expectations of the people.
"The truth of the matter is that handouts will not prosper Kenya. We must get leaders of integrity who can mobilise people to work and create opportunities to prosper," he said.
"Don't sell your future to politicians who give you Sh100 or Sh 500 then start regretting because of the wrong decisions you made."
The priest spoke at ACK Shikomari Primary School in Lurambi, Butsotso North, on Friday during a groundbreaking ceremony for new classrooms.
He cautioned Kenyans against voting along tribal lines.
Sapit particularly asked the youth, who form the bulk of the voting bloc, to elect candidates who have a vision for the country's future.
He picked on the Bible character, Joseph (Genesis 41), a Hebrew young man who led Egypt through a hunger crisis, to describe the ideal leader that the country needs.
"We have to reach that stage where we vote for people who have a plan for the country, not because they belong to our tribes. This way, we will revive the dwindling fortunes of our country like Joseph did. Joseph had a working plan which saw Egypt navigate through troubled times yet he was not even an Egyptian," said Sapit.
He added: "Scrutinize the manifestos of all candidates. The background of the leaders you elect from the ward to the presidential level should not trouble you. Joseph was a mere prisoner but he was elevated to rule over Egypt."
The cleric lauded the devolved units saying they have helped spread the national wealth to the remote corners of the country.
The National Assembly chief whip Emmanuel Wangwe, who was at the event, lauded the ACK church for barring politicians from politicking on their pulpits.
"We now have some sanity in the church because of that move and I feel all churches must adopt it. We can't be politicking everywhere including in schools. It is morally unacceptable," he said.
Wangwe at the same time called for political tolerance as campaigns start.