How Ford Asili has dodged landmines for 30 years now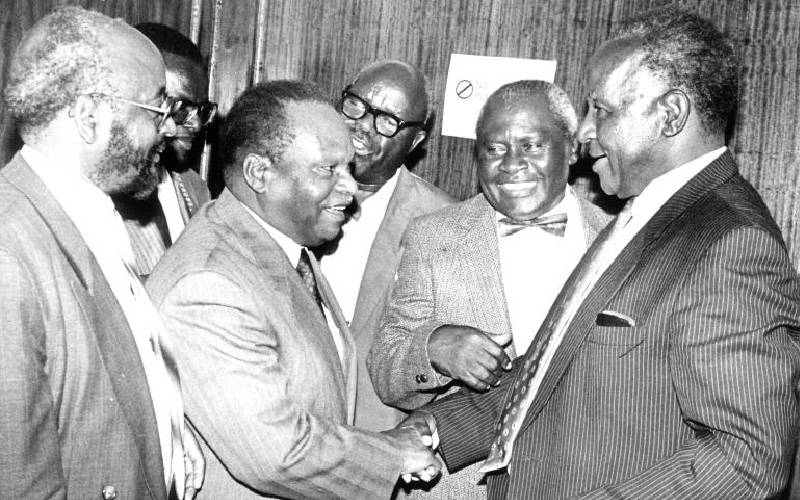 In a country where political parties rarely last more than a five-year election cycle, the pioneer party has withered many political storms, betrayal and treacherous plots to celebrate its thirtieth birthday.
In 1992, just after the restrictive section 2A of the then constitution was repealed, marking the introduction of many political parties, the forum that had been agitating for democracy was transformed into a political party.
Forum for Restoration of Democracy (Ford) was born with the chief crusaders among them Jaramogi Oginga Odinga, Kenneth Matiba, Njeru Kathangu, Charles Rubia, Masinde Muliro and Martin Shikuku.
However, State machinations and distrust among leaders split of Ford into Ford Kenya, under Jaramogi, and Ford Asili, led by Matiba. When the two parties presented their candidates, Matiba and Jaramogi, in the December 29 elections, they were trounced to second and fourth place by Kanu.
This was the closest the two rival parties ever came to power, and Ford Asili later split further to Ford People and Safina while elements unhappy with Ford Kenya after the death of Jaramogi migrated to National Development Party.
Five election cycles later, Ford Asili Secretary General Njeru Kathangu recounts the hurdles the party has gone through in a mutating political environment.
The former Runyenjes MP explains that Ford Asili is not politically dead and that it is one of the 83 parties registered by the Registrar of Political parties.
And although some of the most recognisable members are gone, Njeru explains that there are some officials who are still living to the ideals that brought Kenya the second liberation.
So as to restore and maintain democracy, Ford Asili has refused to be bullied into politically expedient coalitions so as to be used as vehicle to power and in the words of its secretary general, Ford Asili is still offering a home to politicians and aspirants who are marginalised by the highly commercialised political parties
In March, as Ford Asili celebrates its 30th birthday, it will be nominating aspirants for the various political posts so that they can steer the country in the direction the fathers of the second liberation fought so much for.
This newfound democracy is a stark reminder that it was once a crime for a Kenyan to flash a two-finger salute, the symbol adopted by Ford Asili. If this happened in Nakuru it could lead to loss of the "offending" digits. But all this now is history.
Why the cost of gas is going up
LGP lacks price regulation even as the industry regulator advises the Petroleum Ministry and Treasury to consider doing away with VAT on LPG.