Quorum verdict will affect August State House polls, IEBC tells Supreme Court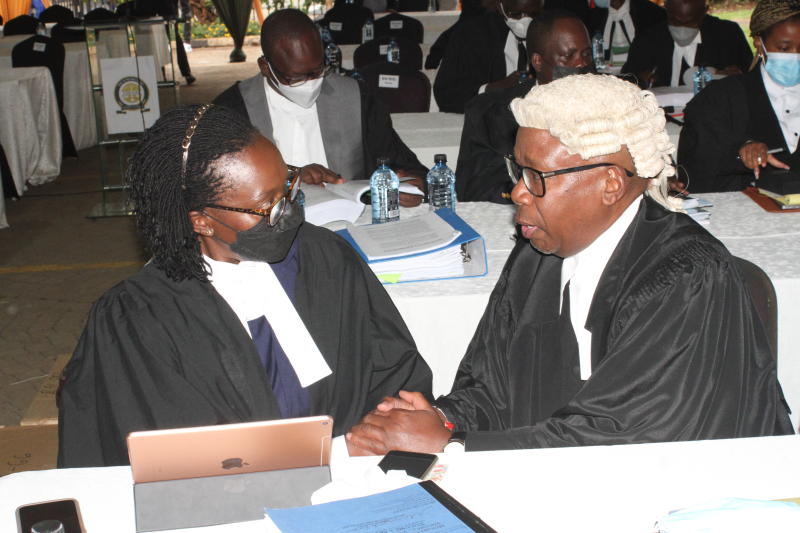 Lawyers for the electoral commission yesterday told the Supreme Court that the validity of the August General Election will be affected if it upholds a finding that the commission had no quorum.
The Independent Electoral and Boundaries Commission (IEBC) lawyers said that if the Court of Appeal judgment was upheld, it would open a Pandora's box because the next elections, including the presidential one, will be challenged in court based on the alleged lack of quorum.
It's lead lawyer, Prof Githu Muigai, in his rejoinder to the argument that IEBC had no quorum to verify BBI signatures, argued that such a finding meant that even the elections would be a nullity. Preparations of the August polls were carried out when IEBC had three commissioners.
"The issue of quorum is not academic. It has consequences," he said.
IEBC official Beatrice Saki Muli presided over the election of Daniel Musinga as the president of the appellate court in May last year. Similarly, IEBC presided over the election of Law Society of Kenya officials in which Nelson Havi won the president's seat.
The Kiambaa parliamentary by-election was also among 50 others conducted by IEBC while it still had three commissioners.
Court of Appeal majority judges found that the agency had no quorum to verify signatures by the BBI proponents since it did not have a minimum of five commissioners.
Yesterday, however, Githu said there was no law prescribing the number of commissioners who should sit at any particular time to meet quorum.
Former IEBC Vice-Chairperson Consolata Nkatha, commissioners Margaret Mwachanya and Paul Kurgat, left the commission on April 16, 2018, while Roselyn Akombe fled the country barely a week before the re-run of presidential election and announced her resignation on October 18, 2017.
IEBC was, therefore, left with chairman Wafula Chebukati, Boya Molu and Abdi Yakub Goliye.
In his submissions, Justus Munyithia, also for IEBC, said the issue of public participation was not ripe for determination. According to him, IEBC had not received the referendum Bill from President Uhuru Kenyatta by the time the High Court blocked it from taking further action.
"You cannot count your chicks until they hatch. This is what exactly the High Court was doing," argued Munyithia.
Light moments add fizz to BBI hearing
BBI:behind the mean, serious-looking faces of advocates trying to outdo each other in legal arguments were humorous moments that broke the somber mood