Family of Dusit attack mastermind relives bitter memories, 3 years on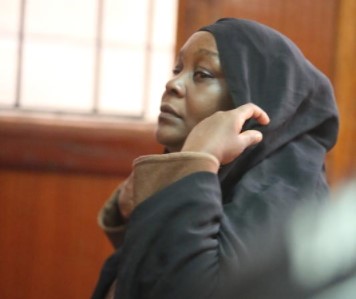 The lives of the immediate family of the Dusit terror attack mastermind Ali Salim Gichunge alias Farouk have never been the same.
His mother Sakina Mariam narrates how people now see her as a terrorist's mother which has made life harder. "We have been through a lot of pain as a family," she says.
Gichunge was singled out by authorities as the mastermind of the January 15, 2019 terror attack.
As a young man in Form One at Muthambi Boys Secondary School, Gichunge wanted to join the Kenya Defence Forces where his father works but an accident in his first week saw him fracture his right leg which crushed his dreams of becoming a soldier. He was forced to transfer to Kibirichia Boys secondary school in Meru County.
Members of his family recall how his attention then shifted to Journalism. He would imitate several media personalities by pretending to read news and even looked up to investigative journalist John-Allan Namu.
His mother says Gichunge would from time to time promise her that once he clears school, he would make a lot of money to take care of his younger siblings.
On that fateful Tuesday three years ago, Sakina remembers hanging out with friends and seeing breaking news on TV but did not pay much attention.
The news of her son's involvement in the attack shocked her. She did not know what to do, where to look or who to call. The world she thought would always be perfect for her and her children had now turned against her.
The people that she knew as neighbors and chatted with freely were now looking at her as a traitor. Their love for their son was now threatening to tear everything apart.
After news broke out that Gichunge was behind the deadly attack that left 21 people dead, Sakina found herself in the hands of the Anti-Terrorism Police Unit. She would spend the next six months at the Lang'ata Women's Prison, leaving her two younger children under the care of her other daughter Saida Salim.
Gichunge had made contact with her several times while he was in Somali under the alias that he had gone to pursue Islamic studies and would return soon.
His mother says that while in Somalia, Gichunge called her twice in July 2017. He first called to check on his siblings and the second time to inform his mother that he had gotten married to a Somali woman and she had given birth to their daughter.
He always had the interest of his younger sisters at heart and the quest to provide them with a better life is what could have driven him right into terror group Al Shabaab, his mother says.
Sakina says she has faced all manner of abuse and insults from people. "There have been rumors that I was left a lot of money, property, and cars. Most of my friends started spreading rumors that I was going to get arrested," she narrates amid tears.
She says at one time, people claimed that she was hiding money inside her house, a claim that only widened the wedge between her and neighbors.
Gichunge's sister Amina Mohammed says he was a responsible man. Considering their mother did not have a stable job, the two would split bills to feed their younger siblings.
"We didn't see the signs," she says. After he left for Somalia and kept contact, his family reported to the Police in 2016 that Gichunge had crossed over but authorities did not act.
"He is not a hero as the terrorists would want to make him look. My brother only soiled our family's name and legacy and now the label of terrorist hangs loosely above our heads," says Amina.
She says Gichunge acted out of his own volition and his family should not be made scapegoats for his actions. "If terrorism is as good as the terror groups want to make it look, why can't the recruiters radicalize their family members?" she poses.
Gichunge is said to have worked alongside suicide bomber Mahir Riziki, Osman Gedi Ibrahim, Siyat Abdi Omar and an unidentified man to attack the complex that killed 21 people. ?