Why Uhuru-Raila parties Bill cuts both ways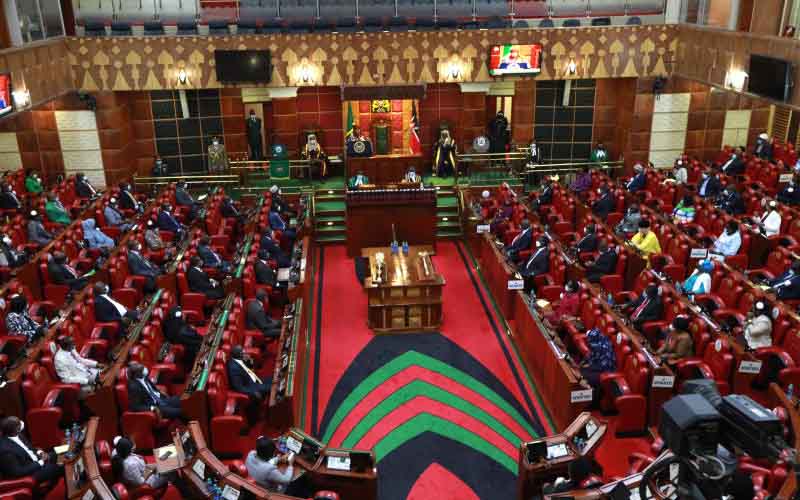 Political parties seeking to join Azimio la Umoja are staring at a nomination nightmare after MPs passed the Bill allowing for joint nominations in all elective seats.
The Political Parties (Amendment) Bill, 2021 further threatens to deny parties millions of shillings from nomination fees. Parties usually charge aspirants seeking to contest on their tickets. Some pay as much as Sh1 million. Under this Bill, candidates can choose to pay the coalition.
Similarly, implementation of the Bill is likely to diminish certain parties that are currently enjoying nationwide backing, like the Orange Democratic Movement (ODM) of which Raila Odinga is the party leader. Such strong parties will have to operate under the umbrella of the coalition party.
The Bill also presents a window for a potential windfall for small parties that have never benefited from millions of shillings disbursed by government for funding of political parties. Such small parties will now receive taxpayers' money if they sign up to become members of a coalition.
These are some of the far-reaching implications that parties and their leaders will have to consider should the Bill passed by MPs on Wednesday get approved by Senate and President Uhuru Kenyatta signs it into law.
During the National Assembly's special sittings, the House rejected Nambale MP Sakwa Bunyasi's proposal to amend Clause 8 of the Bill to compel a coalition party to only have a joint presidential candidates. The import of the proposal was to have affiliate parties independently field candidates for the other seats.
Its rejection implies that all aspirants under various parties, say within Azimio la Umoja, will have to battle it out for the ticket. Parties have in the past held chaotic primaries in what has on many occasions forced aspirants to run as independent candidates or to decamp to other parties.
In the run up to 2017 polls, the Jubilee Party had to cancel results of its nominations after the exercise was rocked by chaos, delays and insufficient ballot papers. The party was conducting primaries after the merger of 13 affiliates that folded to form Jubilee.
The Standard has established that backers of the Azimio movement are aware of the nightmare that awaits them and are toying with the idea of zoning the country. In this case parties perceived to be strong in given regions will be allowed to conduct primaries and produce candidates for the coalition party.
This arrangement also presents yet another nightmare as it will end up locking small parties that exist in areas perceived to be backyards of bigger outfits.
In a previous interview, ODM chairman John Mbadi explained that partner parties will have to agree on the best method to pick candidates for various seats without occasioning a fallout.
"It is after various parties formally join Azimio la Umoja that we will agree whether to have joint candidates. Many of us feel that we should not have multiple candidates because it will compromise the strength of the coalition party," Mbadi had said.
Yesterday, Jubilee Coalition Joint Parliamentary Secretary Adan Keynan downplayed fears of possible trouble in conducting party primaries.
Keynan said affiliate parties would embrace collaboration and seek consensus where necessary.
"What happens with the passage of this law is that a coalition party will field candidates and so will it's individual founding political parties," said Keynan.
ODM Political Affairs Director Opiyo Wandayi also said it was premature to imagine that there would be problems in party primaries.
"Things will crystalise as time goes by. New insights will emerge as situations evolve," said the Ugunja MP.
Implementation of the Bill will also be a big win for small political parties that have been struggling financially. The Bill provides that a total of 70 per cent of the fund to be distributed proportionately based on the total number of votes secured by each political party in the preceding election.
Another 15 per cent shall be distributed proportionately to political parties based on the number of candidates from special interest groups elected in the preceding general election. Ten per cent of the fund will be shared out proportionately to parties based on the total number of representatives from the political party elected in the preceding general election while the remaining five per cent for the administration expenses remain.
This means any party that participates in the polls will be entitled to a share of the funds as long as they secure votes in the elections. Currently, only parties that secure at least five per cent of total number of votes in a general election are qualified.
This requirement has ended up locking out all parties from the funds except for Jubilee Party and ODM. Sharing of funds by affiliate parties was at the heart of the acrimonious fallout in the National Super Alliance (NASA).
During debate in the National Assembly, Ruto allies led by Garissa Township MP Aden Duale opposed the provision on sharing of funds. They argued that this will promote mushrooming of briefcase and ethnic political parties. Duale said the requirement of garnering at least five per cent of votes should have been retained to ensure growth of parties.
The new Bill also provides for methods of conducting party nominations which can either be direct or indirect. Direct involves participation of registered members of a party while indirect involves use of delegates.
The provision states that a political party shall not allow any person who is not its registered member of to participate in its nominations. Each party will be under obligation to ensure that the register of its members used in a nomination is accessible to all party members.
Currently, there is a loophole of people to participate in primaries creating room for non-party members to participate. This has seen external forces infiltrate party primaries to influence outcomes.
The new provision means parties will have to clean up their membership lists. Most parties have ended up registering members fraudulently without their knowledge.
Nominated MP Godfrey Osotsi claimed Ruto-allied MPs fought the clause because his party, the United Democratic Alliance (UDA) does not have a proper membership register.
"Party primaries are now going to be structured in a way that only members of a political party will participate unlike in the past where you will find anyone voting for parties they do not belong to it," said Osotsi.