Next president should borrow more, says Laikipia Governor Ndiritu Muriithi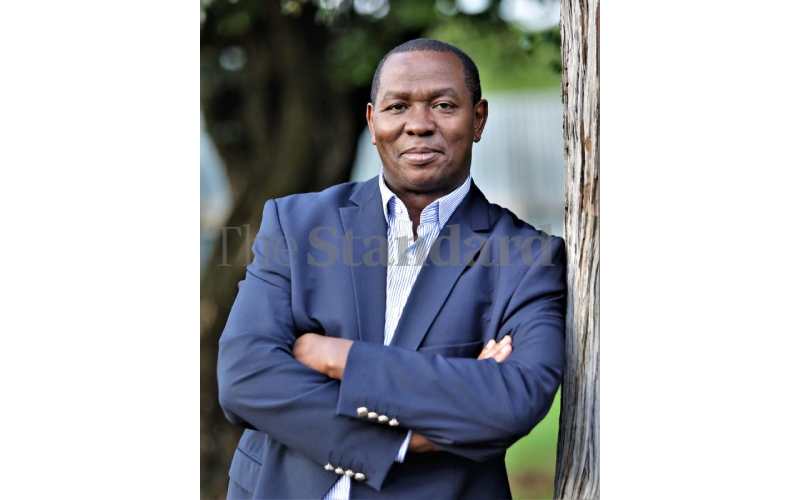 Laikipia Governor Ndiritu Muriithi has a warm personality that disarms even the fiercest of critics.
He often smiles and cracks jokes in his engagements.
The first-term governor is perhaps the only nephew of Kenya's third President Mwai Kibaki who pursued his economist profession then followed him into politics.
Kibaki's government comes up for comparison regularly for its frugal spending compared to the credit-thirsty regime of his successor Uhuru Kenyatta.
"Who says Kenya has reached its debt limits? We are not even near there. It is a misconception that is being spread by quarters who do not wish Third World economies well," Muriithi said in a wide-ranging interview at his office in Nanyuki.
He cites the comparison between national debt and the Gross Domestic Product (GDP) as a good measure of where a country is headed.
Japan is at 200 per cent, Portugal at 160 per cent and Barbados at 120 per cent well above Kenya's 78 per cent.
"We are not in any financial hole. The fact that many believe we have over-borrowed doesn't mean they are right. Let's ask ourselves who has been propagating this view because it is not supported by facts," he said.
He points fingers at the culprits who forced African countries to adopt devastating Structural Adjustment Programmes (SAP) in the late 1980s and early 1990s.
"If I were to be the next president, I would reject this notion and get more resources to maintain the pace of the infrastructure foundation laid by Kibaki, an envelope pushed further by Uhuru Kenyatta," he added.
Muriithi's county became the first to float an infrastructure bond to raise Sh1.2 billion to finance infrastructure upgrades for a smart town project, for maintenance of a network of rural access roads and for building a cluster of irrigation projects.
That proposal faced headwinds from the County Assembly where as an independent governor he has had to work overtime to persuade the ward reps.
How has he managed relations with MCAs?
"Within a week of our election, we went for a retreat and that was the start of mutual and healthy respect. I think a lot of governors fail because they decline to accept the legitimacy – the sovereign mandate - of the ward reps," he said.
The second Laikipia governor gives himself a score of 94 per cent in his first term.
He cited one of his successful projects as the Sh3.3 billion Laikipia Innovation and Enterprise Development Programme (LIDP) that is supporting 1,504 enterprises and has created 18,000 jobs.
He also pointed out that his is the only county that so far had the guts to declare redundancies, letting go 170 excess staff inherited from the defunct local authorities.
"We had jobs like Senior Telephone Operator 1 and Livestock Herder. We could be the only county where staff now work strictly on time sheets or miss their pay," he said, adding that they had laid some firm foundation to build on, including a healthcare network with 84 facilities under one banner.
Muriithi expects the next president to push Kenya to the industrialised league as envisaged in Vision 2030.
"This will be helped very much by making manufacturing the focus of our economy as well as access to capital and removal of hindrances to businesses, including removal of non-tariff barriers.
"By staying the course, I see Kenya becoming a truly manufacturing nation within the next 10 years," he added.
When he speaks about Vision 2030, the Laikipia governor's face lights up.
As a young graduate who had just returned from St Francis Xavier University in Nova Scotia, Canada, with a First Class in Finance and Economics, he first worked at the Democratic Party of Kenya (DP) secretariat as an administrator.
"I was very young. These were interesting times and I remember many were mesmerised by my Apple laptop. I set up the systems and working with one Moses Nderitu guided by the party old hands, we had by 1997 an outline of the DP economic blueprint," he recalled of the DP draft policy that would later be crystallised into Vision 2030.
He is one of the leaders from Mt Kenya who has been mentioned as a possible running mate of Raila Odinga but he said he is not interested in that position.
Like his Nakuru counterpart Lee Kinyanjui, he said his priority for now is to get a second term.
While he sees the mountain region splintering into three distinct political fronts, he believes that a lot of Kenyans have a misconception that the vote-rich region always votes one way.
"In 1992, the vote was split between Kibaki and Ford Asili's Kenneth Matiba. In 1997, Charity Ngilu took some of what would have been Kibaki's votes and in 2002, Uhuru took away a chunk that should have gone to Kibaki.
"It is only in 2007, 2013 and 2017 or half the elections under multi-party democracy that the Mountain vote has taken a uniform slide," he said.
Muriithi, Kinyanjui, Kiambu's James Nyoro and Nyandarua's Francis Kimemia have now publicly backed Raila and he expects this to be one of the formidable fronts of the three in Mt Kenya, with the four counties giving an impetus to what may be the Orange party leader's most fancied presidential run.
Meru, Tharaka Nithi and Embu have already staked what he calls "legitimate" claims and likely to be the other front in the mountain region.
"The third front could be Nyeri, Murang'a and Kirinyaga where the leadership appears uncertain of what they want or where they are headed," he said.
His uncle Kibaki has largely been praised for being indifferent to his succession politics in 2013.
But would he expect Uhuru to adopt the same stance?
"He can't be neutral," said Muriithi. "How can he be when he has to ensure that the succession unravels properly? He also has his vote and managing his succession is not a bad thing as many think. It is what happens all the time in the corporate world."
But he sounds fatigued by the government's inability to end insecurity in Laikipia, which he brands as "organised banditry, a voter suppression scheme and attempted land grab."
Another thing that appears to tire him is the leadership of the Council of Governors (CoG) where he chairs the Finance Committee.
He sees a "soft-soft approach" on critical issues, including division of revenue, the "opaque and overpriced" leased medical equipment scheme, pending bills and stimulating economic growth.
"I think if you go to a room without understanding what you want, you are doomed to fail. The Treasury must know we know our stuff and we must tell them we are dropping the soft approach," he said.