Uhuru unveils Sh5.3b housing project for KDF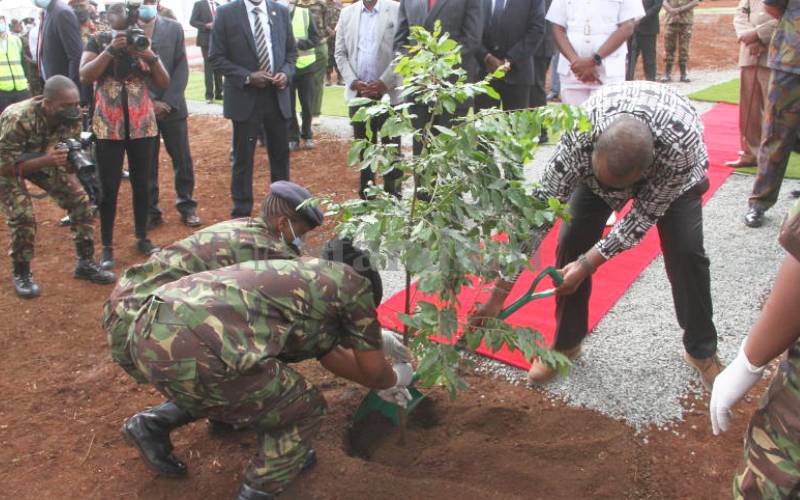 President Uhuru Kenyatta has commissioned a Sh5.3 billion housing project for military officers in the four counties of Nairobi, Nakuru, Laikipia and Mombasa.
The Head of State broke ground at the Nairobi site in Roysambu yesterday. In total, the project will see 3,500 houses built over the next two years.
Once completed, the houses will accommodate 2,089 officers and an additional 980 married officers and their families.
"Today marks the first step in the journey of addressing the problem of shortage of houses for our officers in the military," Uhuru said. "We are happy that we have now found a solution through construction of the houses under public-private partnership".
The project is part of the affordable housing pillar of the government's Big Four Agenda, which also includes making investments in universal healthcare, food security and manufacturing.
Mega project
When completed, it will be the first mega public-private partnership housing project for the Kenya Defence Forces (KDF). Construction will go on concurrently in all the four counties.
The project is being undertaken by China Railway No. 10 Engineering, which will provide the financing in addition to building the houses, which will be developed on a build, lease and transfer arrangement.
The developer will receive quarterly payments of Sh125 million from the Department of Defence for 15 years.
In Nairobi, the houses will be constructed on 17 acres adjacent to Thika Road Mall in Roysambu. They will be built in two phases, with the first phase - expected to be ready by mid 2022 - comprising of 500 family units.
"I am confident that this project will be implemented according to the set down plan to ensure that within a short time, all our officers and their families have decent accommodation," Uhuru said.
Married officers will get two-bedroom units. Senior non-commissioned officers will live in three-bedroom houses with their families. Other houses will comprise single rooms, two and three bedroom units.
Apart from housing, Uhuru said the government is building and upgrading military hospitals to serve KDF soldiers and their dependents across the country.
He cited the recent commissioning of the construction of a Level 4 hospital at Kahawa Garrison and upgrading of the Kenya Defence Forces Memorial Hospital in Nairobi as some of the projects intended to boost the welfare and morale of KDF soldiers.
Chief of Defence Forces General Robert Kibochi said providing housing to KDF soldiers would boost the military's response capacity. He said that in the next five years, KDF will have developed adequate decent accommodation for all its soldiers.