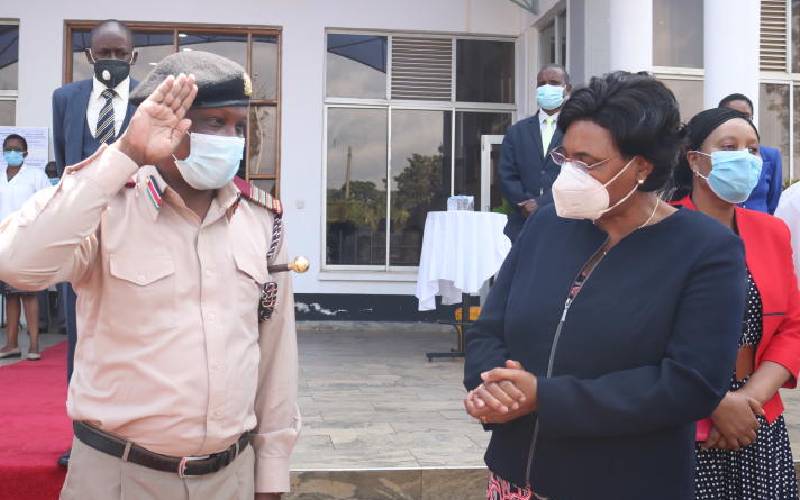 As she boarded a matatu for work on a Monday morning, Alice Wahome had no idea that she had left her wallet behind. Along Jogoo Road, the conductor came and asked for the fare.
She racked her handbag for her wallet but couldn't locate it. "It is then that remembered l was carrying a different handbag. I had forgotten the purse in a different bag l had used that Sunday," she told the Standard.
Wahome politely told the conductor that she'd forgotten her money in the house that morning. She requested the conductor's number so that she could send him money later.
Instead, the conductor stared at her for long and left, without saying a word. After he had collected fare from other passengers, he came back to Wahome and asked for the money again. She reminded him she'd unknowingly forgotten her money.
He got angry and started insulting her. "You are notorious for not paying fares. Because you look beautiful now you don't want to pay fare. I am not interested in your beauty, just pay," Wahome recalls the conductor scolding her.
Even after a fellow passenger who sympathised with her paid the fare, the conductor still insulted her, warning her never to enter his matatu. Wahome felt piqued, she almost alighted from the matatu. She, however, marked the vehicle and promised never to board even with money.
Like Alice, there are women and girls who continue to encounter harassment in public transport as they travel from place to the other.
Yet, public transport is described as a critical service that links women to economic opportunities and vital social services, such as education, healthcare, and civil engagement.
Unfortunately, it is estimated that public transportation is the second most common place where sexual harassment occurs, after public streets.
Although GBV cases against women and girls in public transport happen a lot, there is, however, no data readily available to show its extent.
This is also complicated by the fact that few women and girls are willing to come forward and report how their rights have been violated.
A UN Women/USAID report of 2015 shows that reliable data is often lacking, and GBV is likely to be underreported. Policymakers and development partners are left without a full grasp of the scale of the problem, let alone an evidence base for a robust response.
Generally, however, the World Health Organisation (WHO) estimates that 1 in 3 women, across the world, have been subjected to some form of violence in their lifetime.
Wairimu Munyinyi Wahome, CEO Coalition on Violence Against Women (COVAW)-Kenya acknowledges there are cases reported to them but no one has willingly come forward to say they have been violated in public transport.
"It is probably because sometimes women and girls do not know they have been violated or they don't know how to report. Also, there are no proper structures for monitoring these cases within the public transport sector," says Wairimu.
Some of the forms of GBV in transport industry include unwanted sexual teasing or remarks, sexual favours, sexual comments about clothing or looks, pornography, patting on the buttock, brushing up against a woman, poking with penis, touching breasts, stalking and unwanted sexual gestures.
"GBV is one of the most pervasive violations of human rights and a major threat to the advancement of personal growth and development of women and girls across the world," says Dr Joyce Mutinda, Chairperson the National Gender and Equality Commission.
Dr Mutinda said as she joined the global community in marking the 30th anniversary of the 16 Days of Activism against Gender-Based Violence (GBV) under the 2021 campaign theme, "Orange the World: End Violence Against Women.
Another victim Agnes Mwende, recalls how she was roughed up at a stage as she left city centre for Rongai, after work. As she neared the stage, a group of about five men rushed, grabbed and each tried to pull her in different directions.
"Each of the touts worked for different matatus, and seeing her as a potential customer, each wanted her to board his matatu," she recalls an incident that happened early last year.
Amidst the struggle, and as she tried to resist, some touched her breasts and another even bruised her hand. In the process, she lost her phone. She says, "I felt bad because l was not only touched inappropriately but also lost my phone and was forced to buy another one. Since then, l got afraid of using the same and had to find an alternative one, where there is no pulling of passengers.
Mwende blames the authority because of the mishandling of passengers in broad daylight but they don't take any action. Even today, she still sees others being roughed up.
Simon Kimutai, Chairman, Matatu Owners Association (MOA) explains nowadays there are few cases of GBV in the transport industry.
"Long time ago when we were justified to carry standing passengers that's when we had many such cases. Nowadays, they are few because a passenger gets into matatu or bus and goes to occupy own seat. This has reduced these cases," he says.
He explains, GBV is a crime and when it happens the affected person needs to report and necessary action is taken.
He says, "As an industry, we condemn these acts because they are criminal cases. We encourage anyone who is affected to report immediately."
Kimutai however says they cannot condemn the whole industry because there are isolated cases or just some people who are committing these kinds of crimes.
He explains that GBV is a crime and some of the people who work in the industry understand well that it is a crime. However, if it happens by mistake say touching somebody inappropriately, you apologise but if you do on purpose then that is a crime worth reporting and punishment.
But, all is not lost. Munyinyi explains the policy and policy on GBV The laws and policy for GBV is very strong but maybe to what extend do commuters understand their rights.
"For me, the challenge l put to all people engaged in the transport industry is that a lot needs to be done in terms of investment, training and also empowering commuters on their rights when it comes to GBV. Those spaces need to be safe, whether it is in a ferry, matatu, bus, Uba, taxi, or a boda boda," she explains.
She adds the stakeholders need to establish clear reporting mechanisms that can allow reports to be made without intimidation.
As Covaw, Munyinyi says they have a toll-free hotline (0800-720-553) where people can call and report incidences of GBV.
"And depending on the nature of cases, we have a team of lawyers, who provide or support voluntarily legal aid to survivors of GBV," she says.
Some of the challenges they encounter, Munyinyi explains are referral mechanisms that are not working as they should, evidence not being collected as it should, an overburdened justice system, and also pressure not to pursue justice for some of the survivors. It can be frustrating.
Prof. Margaret Kobia, Cabinet Secretary, Ministry of Public Service, Gender, Senior Citizens Affairs, and Special Programmes says though there are great steps made, the journey to end GBV is far from over.
"We are making headway, but challenges posed by GBV still persist. Violence remains an issue for many women in public and private life, while the inability to report those incidents compound the problem. These challenges should however not deter our efforts on getting to zero cases of GBV," she says.
She explains that over the last 10 years, the government has put in place gender-responsive laws and policies with a progressive judiciary that has to a large extent upheld the rights of women and girls in this country.
Prof Kobia explains it's also important to note that the collection and utilization of data are critical for informing policy and interventions needed to end Gender-Based Violence.
Some of the causes of GBV in transport include overcrowding with a higher risk of users being subjected to physical violence and sexual harassment at peak times, poor lighting at bus stops and in the buses, lack of clear codes of conduct, and traveling at night.
To end GBV in the transport industry, there is a need to create awareness on gender and women's rights, increase women staff and leadership in public transport, protocol to address sexual harassment and provision of visible materials to increase security, provision of route information, timetables and phone numbers for emergencies.