Ken Lusaka: Uhuru call that changed my life after losing governor's seat
Lusaka says one of his most difficult assignments as Speaker was the removal of Kipchumba Murkomen as Leader of Majority and Majority Chief Whip, Susan Kihika.
During the revenue allocation standoff in 2019, Lusaka says he was torn between Uhuru and his deputy Ruto and couldn't sleep for many nights.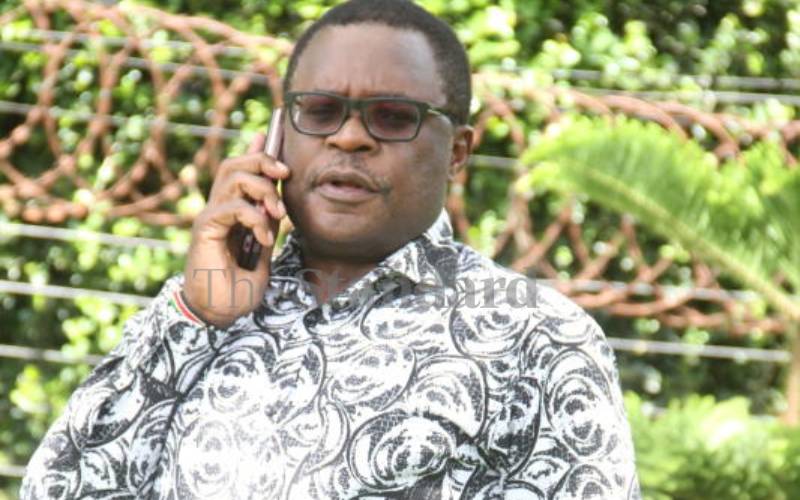 Joining politics and becoming Governor
With the 2012 General Election approaching fast, Senate Speaker Ken Lusaka had very little time to make critical decisions.
Civil servants interested in joining politics were required by law to resign six months before the electioneering period.
The pressure was mounting on him to state his intentions. "I found myself in a very precarious situation. I wanted to try my hand in politics but was not quite sure of the outcome."
One day, former Roads CS Michael Kamau and Lusaka were travelling from the Nyeri Agricultural Show when they engaged in a deep conversation about their future.
They were on a presidential jet from Nyeri to Nairobi's Wilson airport. The two agreed that it was unlikely for the new government to retain old faces. The positions of PS had been abolished by the Constitution.
With Kamau's discussion still fresh on his mind, Lusaka reported to his office at 6am one morning. He had a lot of work to clear. However, by 7 am reporters from major media houses had crowded his Kilimo House office. They wanted to know his stand on elective politics. He has no idea who sent them but he took this to be a sign.
"I had written and rehearsed my resignation speech in the event that I would need it. The time had been thrust upon me. It was very emotional as I delivered the speech and left the ministry in tears as I bade my staff farewell."
He jumped into the murky waters of politics. He needed a reliable political party. New Ford Kenya was well-grounded in Bungoma but had leadership issues. But Lusaka had very few options. The party received him well.
"I became the New Ford Kenya candidate for governorship in Bungoma. I invited bigwigs for breakfast at my Kamukuywa home. We planned and strategised. Ngongo Khumuliango (knock knock on the door) was our campaign slogan."
His team fundraised. It acquired vehicles and campaign materials.
His mother became one of his key campaigners and his record as PS served him well too. As PS Livestock, he started an empowerment programme for women and youth groups distributing young livestock to them. This endeared him towards them.
As a DO he had established a Soccer Tournament which grew to the district level and through this, he captured the hearts of the youth.
He garnered 240,000 votes, becoming the first Governor of Bungoma.
Lusaka faced many challenges as governor. However, his lowest moment came when the procurement of abnormally expensive wheelbarrows in his County invited public ridicule.
He would sit alone feeling lonely and dejected. Only his mother and family stood by him. Even his most trusted friends were calling for his resignation.
"I was shocked when I learned that the wheelbarrows had been bought at such a high cost. Neither the people nor the media could appreciate the fact that I'm the one who ordered an audit to establish the real value and performance of the wheelbarrows when I learned that one was costing Sh109,000. The price shook me to the core. I sought an explanation and they told me that the material used was carcinogenic because they do not spread cancer."
The wheelbarrow saga under the bridge, he sought to approach the 2017 elections a clean man.
His greatest challenge yet came at the time of merging and dissolving of political parties. One time the Deputy President Dr William Ruto, sat him down and told him: "You are in this small village party of yours, where are you headed? What is the worst that can happen to you if you failed in elections? We won't abandon you." I got emboldened and became the first to dissolve New Ford Kenya."
But in the 2017 elections, he lost his seat. He believes he won but decided not to contest the election results. He had done his best for the people of Bungoma during his tenure as governor.
"As governor, I became the point man for Jubilee. I drove the Jubilee agenda in the region." Lusaka became the Jubilee party coordinator for Western Kenya. "The campaign was very well oiled. We did our best but I still lost."
He says after he lost, friends abandoned him. His phone fell silent.
Lusaka went to the Bomas of Kenya, the tallying headquarters of the Independent Electoral and Boundaries Commission (IEBC) after the 2017 presidential elections, on August 9, 2017.
"President Uhuru Kenyatta saw me during one of the breaks. He gave me a hug and said: "Wewe sitakuacha. Tutakufa na wewe (I won't abandon you, we will be together till the end). Thank you for your support and for standing with me," he then turned to those nearby and told them - "This guy sacrificed his own position for my sake."
A few days later, while walking on the streets of Nairobi on a sunny afternoon, the President called him and asked him if was on good terms with National Speaker Justine Muturi. "I said, 'Yes Your Excellency,' and he said he wanted me to be the Speaker of Senate."
From there on, things moved fast. He went to meet the Clerk of the National Assembly who already had the instructions. "Who is your proposer and seconder?" he posed... "Kipchumba Murkomen and Kithure Kindiki" I answered. "Then you are the Speaker," he said with a warm smile.
Lusaka had to lobby for the vote. To his pleasant surprise, most leaders that he called to seek votes from told him they had already been whipped into line. He contested against former Senate Speaker Ekwee Ethuro and Faraah Maalim. He defeated the two to become the Speaker of Senate.
He had never been an MP. The closest he had been to a National Assembly was as a governor when he opened the county Assembly. He was worried. How was he going to deal with seasoned lawyers such as James Orengo and Moses Wetangula on the floor of the house? The Clerk and his team however made his life easy. They took him through all the procedures and professionally guided him on how to handle matters.
Teething problems
His tenure as Speaker tested his wisdom to the limit. During his early days, there was serious friction and numerous standoffs between Jubilee and NASA Coalitions. However, after the handshake between Uhuru Kenyatta and ODM leader Raila Odinga, things eased.
The Speaker's docket, however, sharpened his time management while giving him more international exposure than any job he had ever held. It came with the challenge of balancing interests. He was branded as a Ruto man.
"My first challenging case was that of former Kiambu Governor Ferdinand Waititu who was also branded a Ruto man. I was supposed to preside over his impeachment. The Clerk had given me wise counsel. "At all times let the decision be made by the House. Throw everything to the plenary," I had been warned.
The next difficult assignment was the removal of Kipchumba Murkomen as Leader of Majority and Majority Chief Whip Susan Kihika. The President called for a meeting and said, 'Mr Speaker utapitisha majina yangu? (Mr Speaker, will you endorse my motion)?' I told him: 'Mr. President I have no capacity to contradict you but I must request that we follow procedure'."
As soon as he finished talking with the President, his deputy called saying, "My friend, we have come a long way, don't throw me under the bus."
I have never had so much tension in my life. Jubilee and Nasa were for the removal of Murkomen. I followed the Clerk's counsel and stuck to the procedures."
Lusaka was again torn between his two friends during the heated and controversial debates seeking a revenue allocation formular.
"I now found myself standing between President Uhuru Kenyatta and his Deputy William Ruto. They are both my good friends. The Speaker, however, is supposed to make impartial decisions. I couldn't sleep for days."
For weeks the country was treated to a political standoff on how devolved funds should be shared among counties. The role of coming up with a mechanism to share revenue among counties is given to the Commission on Revenue Allocation (CRA). CRA tabled its proposal to the Senate in early 2019. "At some point, I was criticised for being soft. It's good to be firm and fair and that is what I strive to be. But you can never please all persons. Let the law and standing orders prevail," he says.