Ken Lusaka: How I navigated daunting task of trying to keep Jaramogi and Nyachae from public eye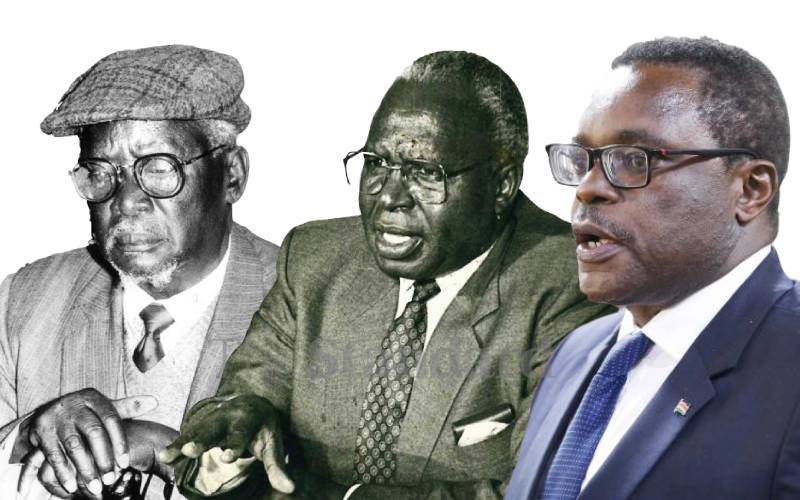 The alarm was sounded. They instantly fled in different directions. For a moment, Ken Lusaka stood on groggy legs, dazed. Then it occurred to him that the police had arrived. He suddenly bolted. He entered the maize plantation and ran as fast as he could.
The police had raided their chang'aa hideout. The muddy patches in the farms made escape difficult. He finally emerged along the main road. Delighted that he had dodged the cops. He paused to catch his breath. He was still relishing his escape when heavy hands fell on his shoulders.
"Kijana kuja hapa. Unadhani unaweza toroka polisi? Kumbafu wewe!" Two hefty policemen picked him up and hauled him into a Black Maria, the dreaded police lorry whose sight sent chills down the spine of every villager. Most of his drinking friends were packed in the back of the vehicle, some totally intoxicated.
Lusaka was terrified when it dawned on him that he was not just a teacher, but the son of a respected teacher. Being arrested in a chang'aa raid was going to be scandalous. He remembered his mother's wrath and the countless times she had warned him against alcoholism and bad company.
He was still lost in thought when one of the policemen shook him and ordered him to alight. He has no idea why he was released but the thought of his mother had sobered him up. He never went back to the dens again. At the university, Lusaka spent most of his time studying and acting. He became an active member of the mobile theatre, travelling across the country to promote literature in schools. Years flew by and he was soon out job hunting.
An interview with the Public Service Commission steered him into the career of provincial administrator in November 1988. In January 1989, Lusaka and 37 others, went to the Kenya Institute of Administration for an intense induction course. Only 10 of them were picked for the job of district officers (DOs).
Paramilitary training
Before being deployed to the districts, Lusaka and his fellow DOs had to undergo compulsory three-month paramilitary training at the Administration Police Training College in Embakasi. Upon arrival, his suitcase was emptied. He was told that all kurutus (recruits) were property of the State.
The three months felt like three years. The intense training stretched and tested their physical, mental and emotional muscles to the limit. They were under the watchful eye of a regiment sergeant major who was extremely tough. They were placed in the same programme with Administration Police recruits.
The sergeant had a foul mouth, and the unprintable insults propelled by the power of his commanding voice carried the contents deep into their wounded hearts. Lusaka was delighted when he successfully completed the course. He was posted to Nyanza Province in western Kenya.
He reported to the Kisii District headquarters. District Commissioner, Duncan Mbaria Maina became his boss for six months, before he was transferred to Keumbu, the home of political heavyweights Simeon Nyachae – former Chief Secretary, Cabinet minister and MP for Nyaribari Chache – and Andrew Omanga, his predecessor in Nyaribari Chache and Cabinet minister.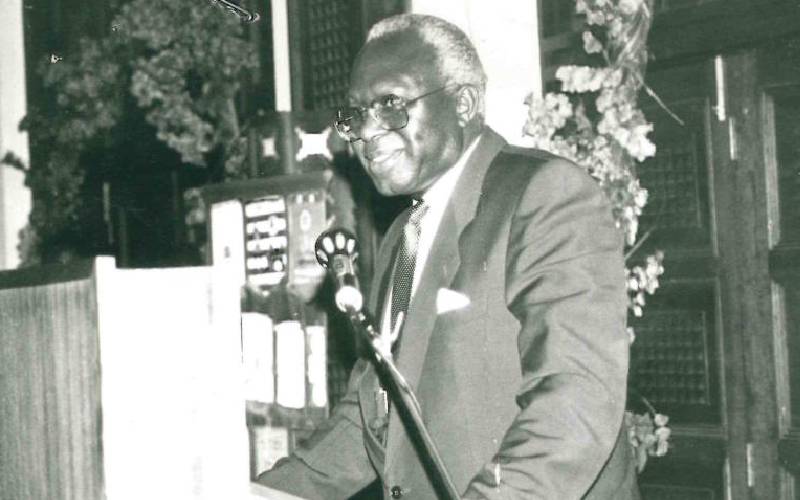 Lusaka had a rough time working in Kisii. "Combining administrative work and politics in Kisii was a tricky and hair-raising affair. I had been given the difficult and delicate task of ensuring that the most powerful politician in Kisii, Nyachae, was trampled and remained in the ground. The government and ruling party, Kanu, were fighting him with vigour."
District officers and district commissioners were instructed by the provincial commissioner's office that Nyachae should remain voiceless and invisible. He wasn't to address any public gathering, not even funerals. This was a dangerous and near-impossible mission.
"During one funeral in Kigati location, I worked with Permanent Secretary Sospeter Arasa to deny Nyachae a chance to address mourners. We ensured his name was missing in the VIP sitting area. We totally ignored him."
But Nyachae was wiser and more experienced. The following weekend, he outmanoeuvred them at a funeral of a road accident victim. He took full charge of the proceedings. When time came to address mourners, he lit embers of emotion: "My people," he said, "Is it fair for me to be denied a chance to speak in my own home yard? If opposition leader Jaramogi Oginga Odinga can address mourners in his home, why should Nyachae be denied a similar right?" he asked. The crowd roared back in support.
One day, the impossible happened. "We were told that President Daniel arap Moi was coming for breakfast at Nyachae's residence. It sounded like a bad joke. How possible was that? How could the President visit the home of a man we had been wired to treat as an enemy of the State? We were in shock. Indeed, the following day, the presidential motorcade drove to the home of Nyachae," recalls Lusaka
The 1992 General Election was fast approaching. Moi must have realised that to win the Kisii vote, he would need Nyachae in his camp. With Nyachae back in favour, all the DOs were transferred. Lusaka was taken to Muhoroni Division in Kisumu District, the heart of opposition politics.
Tensions were high and emotions ran deep. The people could go wild at the slightest provocation. Lusaka had been thrown into the deep end of murky politics. Muhoroni was an opposition stronghold. While he was still settling in, Lusaka received information that President Moi was due to visit. The Luo community was fiercely against Moi and Kanu.
After making inquiries, he was led to youth leaders who were planning to disrupt the presidential visit: "What do you stand to lose for singing and dancing in support of Moi when he visits? You can only gain," Lusaka dared speak. To his surprise, they listened keenly. He told them that it was futile to use brute force against the State.
"The youth agreed with me. When Moi eventually came, he received a rousing welcome. He was astonished and so delighted that he ordered for the release of funds to improve the sugar industry in the district. Moi was living his motto of 'siasa mbaya, maisha mbaya'."
Stopping Jaramogi? Mission impossible
The government gave Lusaka another impossible assignment. To stop Jaramogi from addressing public gatherings. Like Nyachae in Kisii, Jaramogi was unstoppable in Luo-land. Lusaka could only see death and massacre of civilians if he blindly followed the government directives. Wisdom had to prevail: "It does not matter whether I am fired or not but I am not going to have blood on my hands," Lusaka told himself as he gave the nod for rally after rally to proceed.
He would watch helplessly as huge crowds swarmed through the streets of Muhoroni. Thousands of people, singing and dancing, would come to listen to Jaramogi.
The year was 1992, which remains one of the most explosive years, politically and socially, in Kenya's history. The country was reeling from a spate of ethnic and politically instigated killings. Hundreds of people had been killed and thousands displaced following violence in western Kenya and parts of the Rift Valley.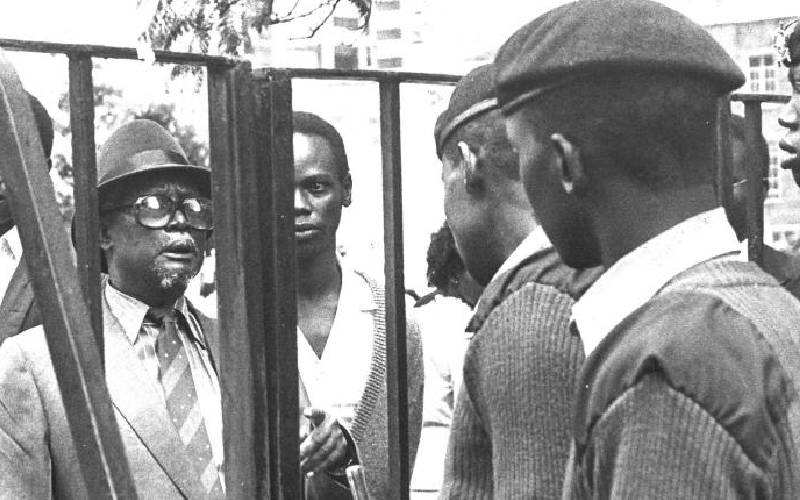 On many occasions, Lusaka came face to face with death and intimidation. The working atmosphere was perpetually hostile. Government vehicles were frequently stoned. Residents would wait for Moi to leave before unleashing violence on local administrators. Lusaka believes that Luo leaders such as Dalmas Otieno, Lazarus Amayo and Ndolo Ayah, who remained in Kanu in those days, were extremely brave men.
"James Onyango Midika was the Regional Development minister. We found out that his gate was painted in Ford Kenya colours. He was relieved of his duties. In those days, colours could bring you joy or grief. Midika might have been intimidated by the sheer presence of Ford Kenya in the region. He had to 'comply'."
Lusaka went to Muhoroni when the atmosphere was highly poisonous. The people were still mourning the assassination of Foreign Affairs Minister John Robert Ouko. Dr Ouko's mutilated and simmering remains were found at the foot of Got Alila Hill near his home within Muhoroni township. Government officials were considered enemies of the people.
Jaramogi joined the race for the presidency in 1992. Frenzied crowds followed him wherever he went. The orders that he was not to address the public, if followed stupidly, could have plunged the country into a bloodbath.
"One day, legislator Oloo Ogeke flung me into the deep end of political turmoil. I met him on the street one morning and he told me: "By the way, bwana DO, that harambee that was scheduled for this Saturday has been moved to Sunday." Lusaka had issued a permit for the harambee as required by law.
Lusaka went home relieved that he could have a peaceful Saturday. He was shocked when that Saturday, while out on a stroll, he encountered a crowd of Ford Kenya supporters singing, dancing and waving twigs while escorting Jaramogi to the venue of the harambee.
His mind spun. "What do I do? How can one stop Jaramogi from addressing a function in Luo Nyanza? I quickly headed to the venue. It turned into a politically charged rally. Among the speakers were Kimilili MP Mukhisa Kituyi, Wamalwa Kijana, John Munyasia, Henry Obwocha, Raila Odinga, James Orengo, Ouma Muga and Ogeke."
Lusaka spoke first to lay down government policy and expectations. He told the gathering that since it was a harambee, he didn't expect people to engage in politics. Obwocha, the first speaker, told him, "Bwana DO, I must speak politics."
Ogeke, the local MP, put him in a fix when he said: "We are very lucky to have bwana DO who is a member of Ford Kenya." He was referring to Bungoma, which was then a Ford Kenya stronghold. The crowd cheered as Lusaka cringed.
Kituyi attacked the Kanu leadership. He led the crowd in singing anti-Kanu songs. The people went wild. Then he handed the microphone to Wamalwa, a great orator. Lusaka's heart sank.
Wamalwa told the gathering that it was Lusaka who was bringing tension to an otherwise peaceful occasion. Lusaka wanted to sink into the ground. But he got a brief reprieve when Jaramogi stood to speak. He called for calm. He said that even though he was vying for the presidency on an opposition ticket, they must cooperate with Kanu.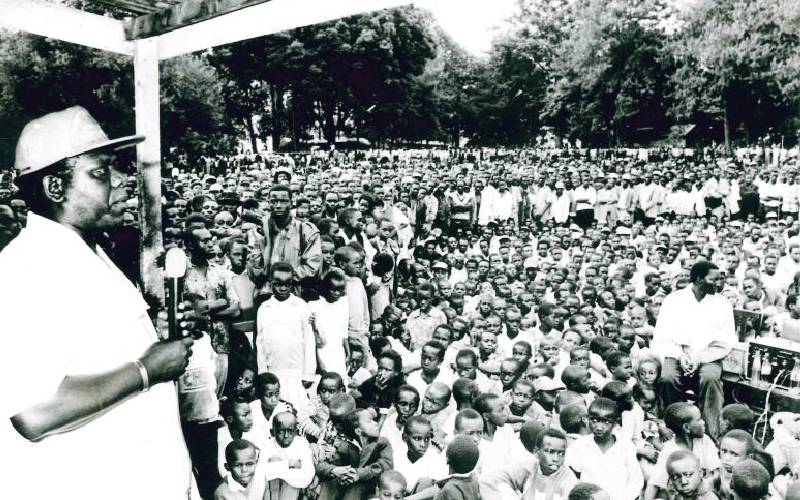 Raila, however, was in a combative mood. He turned the peaceful mood that was engulfing the gathering into a tidal wave: "Hata kama baba anasema eti tufanye kazi na serikali, hii ni serikali ya kihimla, serikali ya mabavu" (even if my father is beseeching us to work with the Kanu government, this is a dictatorship)", he told an electrified crowd.
Nyanza Provincial Commissioner Joseph Kaguthi had issued firm instructions that Luaska must disperse the crowd and not allow Jaramogi to speak. The police officers at the meeting sought his permission to teargas the gathering. "My mind was spinning. I visualised a frenzied crowd, the stampede, panic and Jaramogi being trampled to death. The political repercussions would have been unimaginable. I told them no. Let the meeting be. That night I went to bed apprehensive but at peace."
The following morning, Geoffrey Mate, the Kisumu DC, summoned him. He was furious. He reminded Lusaka that he was a mere DO and should not give permits for public gatherings. Lusaka remained quiet as his boss spewed threats. "I told myself 'does this man know what would have befallen Kenya if I acted stupidly'? Despite my bosses' anger and outburst, intelligence reports indicated that I was loyal and committed to serving the government. It is these reports that saved my job."
Under Moi's eye
The fragrance from the blossoming flowers filled the air, making breathing a sweet and memorable experience. Lusaka closed his eyes, inhaled deeply then opened them to appreciate the magnificence of God's creation. He watched bees zooming from flower to flower as the sun gently sneaked through the clouds and turned the wet grass into steaming vapour.
He took a stroll through the expansive compound to inspect every security detail and ensure the sitting arrangement for VIPs was in order. He was inspecting the church venue where President Moi frequented almost every Sunday. "Serving as DO in Eldama Ravine, President Moi's home district, turned me into a religious man. I even bought a huge Bible with a zip. Moi frequently visited the site where he was constructing a church."
Eldama Ravine brought Lusaka close to Moi. His boss was in ill health so for a long time, Lusaka acted as DC. He led many delegations to Kabarak and became a frequent visitor to Moi's home.
Lusaka learnt one vital lesson. When you serve in a region where the president hails from, every person matters. Almost everyone wielded power. You could never tell who had the president's ear. As DC, he had to accompany Moi each time he visited a church in the vicinity. Moi was fond of making impromptu visits and woe unto you if you were found absent or sleeping on the job. Moi was building a church in a place called Esegeri so his visits became more frequent.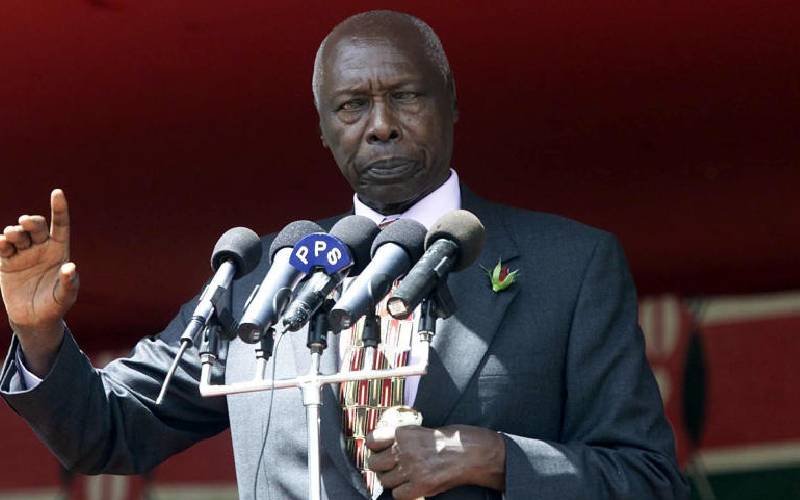 Lusaka was soon caught in power struggles between two legislators. One was a notorious logger. Once, during a leaders' meeting, Moi hailed Lusaka for doing a good job in the district, then added, "Bwana DC, chunga hiyo msitu (Mr DC, take good care of the forests)."
The MP quickly interjected, "You Excellency, the forests are good and safe."
Moi, as if he had not heard him, looked at Lusaka again and said, "Bwana DC, chunga hii misitu."
That night, with the assistance of police and forest officers, five truckloads of logs were intercepted and confiscated. They belonged to the MP. He called Lusaka the following day demanding the release of his trucks.
"I told him, 'Mheshimiwa, you heard the president instructing me to protect the forests and that is what I am doing'."
He angrily retorted, "Forget about the president and release my cargo."
"Mheshimiwa, I know which side of my bread is buttered. And after all, I am just doing my job." The MP was furious. He soon came up with outrageous allegations that Lusaka was selling relief food. Lusaka's bosses were upset but investigations cleared his name.
Moi was a very generous man. No one who visited him left hungry or empty-handed. During one December holiday, he tasked Lusaka with the assignment of organising a delegation of 200 people to his home.
To his shock, on the material day, over 2,000 appeared. Moi laughed and said, "Kwani wamekuja dunia nzima? (You mean the whole world has come?)." The president asked his staff to ensure more cows and sheep were slaughtered and there was enough food for everyone.