Gone in 53 minutes: How your stolen car ends up on the streets in pieces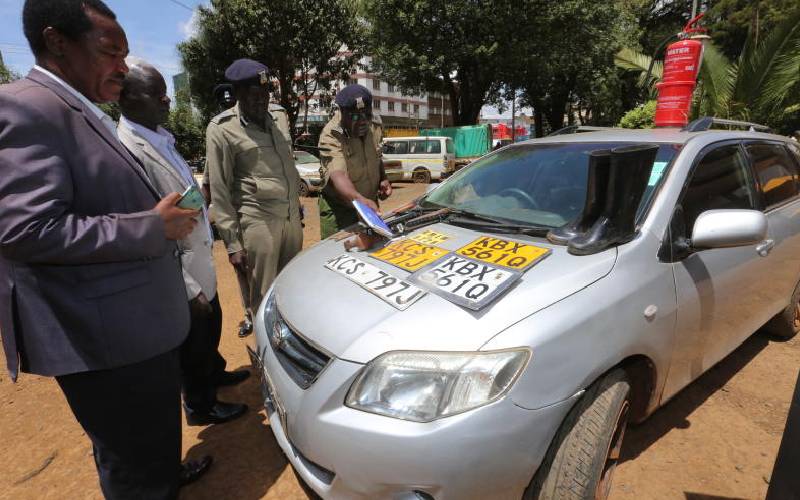 According to statistics, about four vehicles are stolen every day, on average. We see the posts on social media every too often. But most of them are never found. How do these meticulous, stealthy crooks spot their target, pounce and disappear without a trace? Where do these cars end up? Our writer David Odongo reveals it all after a dangerous undercover mission.
On February 6 this year, Ali Nur, a mechanic, parked his dark blue W211 CDI Mercedes Benz outside a shopping mall along Ngong' Road in Nairobi.
He walked into the mall, where he had an appointment with his doctor. The meeting lasted less than an hour, but upon his return to the parking lot, Nur couldn't trace his car.
"At first, it didn't hit me that the vehicle had been stolen. It's a Mercedes, and who steals a Mercedes? No one can believe an old car, a 2004 Mercedes, can get stolen," said Nur.
He walked around the parking lot, twice, thinking he had forgotten where he had parked his car.
"I even thought that maybe I had come using a cab - but the car keys were in my pocket. I was confused. It took a while for it to register that the car had been stolen," he said.
Nur eventually reported the car stolen.
"The police told me that there are only two reasons cars are stolen: one is so they can be cut into parts and sold piece by piece; the other is so they can be used to commit a crime and then get abandoned," he said.
He added: "They told me that for a thief to steal mine, it means there was an order for such a car, probably sold to an unsuspecting buyer, after a few modifications. They told me to forget about finding it and just pursue insurance compensation because if they don't find the car within three days, then they will never find it."
In April, just weeks after the government extended curfew from 7pm to 10pm, a source invited this writer to a bar at Greenspan in Donholm.
It was 6pm and he revealed that his friend, a trusted ally, was going to be at work that night and he wanted the writer to witness how efficient the car theft business is.
It had taken seven weeks to convince this source to help us infiltrate a gang of car robbers and their operations - but even then, the information we could glean was just the tip of the iceberg.
A vehicle can be stolen, never to be found, within 40 minutes. We left the bar at 7.45pm and I was instructed to be the driver.
My smartphone, media accreditation and spectacles were left behind; I was armed with nothing but a 'mulika mwizi' phone, my national ID and a quick prayer. We left Donholm and drove towards Kangundo Road.
"Smartphones are not allowed, spectacles can be modified with tiny cameras and since no one knows you, no one will trust you. So just do as I say," my source said when I attempted to protest about leaving my personal effects behind.
Upon reaching the Total station in Komarock, I could barely see the road. My source took over the wheel and drove to Njiru Shopping Centre where he turned into a murram road.
Within three minutes, we were outside a blue metallic gate. My source made a phone call and the gates swung open to a huge residential house, sitting on roughly a 100-by-100-foot plot.
A dark green, old model Land Rover Discovery and a pick-up truck with a covered bed were parked under a tented car park. We were ushered in by a young man wearing overalls and told to park in reverse next to the Land Rover.
Under the security lights, he looked under 21 years old and had that 'fresh out of high school' youthfulness.
He led us to the back of the house where three more men, dressed in oily coveralls, were seated, all busy on their phones. They mumbled hello before going back to their phones.
Checking my phone, I noticed it was already 8.42pm. I slowly turned my head, taking in my surroundings. The entire compound was surrounded by a high stone wall, crowned with electric razor wires.
The house seemed to be empty as most windows didn't have curtains and there were no lights from within. The cabro paving only covered the front of the house and the parking area, but tall grass and a few untrimmed shrubs populated the area we were seated.
In one corner, a heavy black polythene bag covered a formless bulk, about a metre high, so I couldn't tell whether it was old furniture or several stacked car engines.
No one spoke. The silence was only broken by the shrill ring of the young man's phone, and when he picked up, he stood up quickly to open the gate. We couldn't see the car that came into the compound from where we were seated, but it sounded like an off-road diesel engine.
Within seconds, three men walked in and everyone seemed to know each other. The young man came in with three more chairs as the new arrivals chatted with the men in greasy coveralls.
With masks on, their faces were well hidden despite the brightly shining security lights.
The men seemed to be in their 40s, all spotting paunches of varying degrees. I noticed that the tallest of them all, who sat next to me, had manicured fingernails that glistened under the lights.
He wore jeans, a polo shirt underneath a heavy sweater, and heavy, shiny and expensive-looking black boots. I could smell his musky cologne and it struck me as odd for a man coming for such a mission to take so much care of his appearance.
No one asked me for my name or anything; and my source, the three new arrivals and I were the only ones with basic feature phones.
"Usually, in this type of work, you leave your smartphone elsewhere and use a different phone. In case anything happens, nothing will connect you to having been at such a place," my source later told me.
With nothing to do, I started playing a silly game on the phone where I directed a snake to swallow bright floating bobs on the screen. The more it swallowed, the longer the snake became. My concentration was again broken by the shrill ring of the young man's phone.
"Toa volume na uweke simu vibration. Nini mbaya na wewe? (Disable volume and put it on vibration. What is wrong with you?)" scolded a burly man in a black padded jacket seated next to the tall man I had been observing.
The young man apologised as he left to open the gate. A silver Toyota Corolla with no number plate was driven into the compound and brought to the backyard where we were all seated.
A man wearing a dark blue suit, white shirt and no tie stepped out of the vehicle and was pulled aside by the burly man in a black jacket. They spoke for less than a minute and I saw the burly man hand over car keys to the new arrival.
The three men were going through the car, removing things from the boot and checking the interior. I checked the time on my phone. It was 9.38pm.
The thought that comes to mind when someone says stolen cars are cut to pieces is a big warehouse where machines buzz and metal grinds as the car is reduced to a shell.
In reality, during 'surgery', as they call such operations, there are no machines apart from screwdrivers and wenches, which were used to dismantle the Corolla, a 2010 model.
It started with the side mirrors and headlights. The bumpers were then taken off as one person unscrewed the doors, boot and bonnet. Engine parts and associated components were carefully unscrewed, and the young man who had opened the gate took the parts out to the pick-up truck.
In a display of mind-boggling efficiency, three mechanics dismantled the car and in a record 53 minutes, only the shell was left standing. No part was forcefully torn or cut.
The engine was hoisted from the car with a small pulley and loaded into the boot of my source's off-road car. By 10.52pm, we were driving out of the compound.
"The car brought in was probably stolen around 7pm outside a bar. By the time the owner wanted to go home to beat the curfew, it was already being dismantled. By the time they call the police to report and then start tracking the car, the parts will have been sold and fitted into different cars. The chassis will be sold to a scrap metal dealer," said my source.
He revealed that he bought the engine for a paltry Sh20,000, half what it would have cost him had he gone to buy a second-hand one from a parts shop.
He revealed that from one car, a person can make a profit of Sh300,000, depending on the model. He, however, added that contrary to popular belief, the business is not organised or controlled by a single person.
"Every car thief has the person they sell to. They are given the make and model and they are to bring the car to a specific place at a specific time.
"Even the thief doesn't know where the car will be dismantled. His job ends when he delivers it to the person who disables the car tracking system. If you wanted to, and if you had the courage to do it, you could start your own operation," he said with a laugh.
"By the time the car goes for 'surgery', the tracking systems have been disabled. These people work with carwash attendants and it will be dismantled.
"The car owner will try to trace the car, but the tracking system will end up somewhere along Thika Road, yet the car has been driven through Outer Ring Road for dismantling."
While there may be no central boss the car thieves report to, it is a closed network built on trust, said the source.
"The stolen parts are not stocked in shops. And as a car owner, you can't just walk in and ask to buy a door. Your mechanic will tell you he has a place where he can buy a door.
"He will then talk to another person who will source for the particular door. Even your mechanic doesn't know where the door came from," he said.