Prisoners want to be fully involved in voting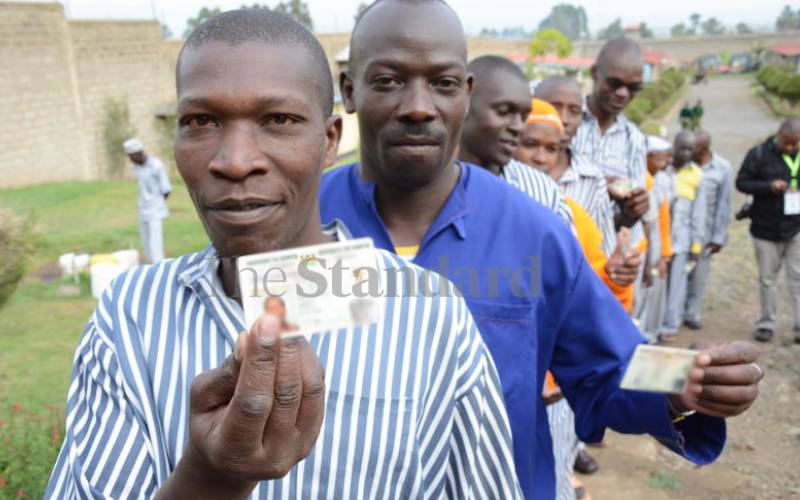 The inmates in the country's penal institutions now want to be allowed to elect their leaders in next year's polls.
The law only allows the prisoners to participate in electing the president.
In 2013, the High Court termed illegal the move to block them from electing their leaders. The inmates were then allowed to vote for their preferred presidential candidates in the 2017 polls.
The prisoners through Kituo Cha Sheria had in 2010 convinced the court to allow them to take part in the constitutional referendum through petition 1 of 2010.
A five-judge bench declared that section 43 of the Constitution does not in any way exclude inmates who are over 18 years and of sound mind and who have not committed an electoral offence from voting in a referendum.
But it limited its findings only to the referendum.
The prisoners now plan to petition the court to allow them to elect ward representatives, members of parliament, woman representatives, senators and governors.
The prisoners made the call at the Naivasha GK Prison, where the Independent Electoral and Boundaries Commission (IEBC) was conducting a voter registration exercise.
According to one of the inmates, Samuel Otieno, they were drafting the petition that would be presented at the High Court to have the archaic law reviewed.
Otieno said the move to allow them to participate in the referendum and presidential elections was a win.
"We shall now petition the courts to allow us to also vote for the other leaders as we have the rights just like other people out there," he said.
He welcomed the ongoing voter registration exercise, noting that it would give inmates a chance to exercise their constitutional rights.
Nicholas Ochieng, another inmate, said he had never voted in his life.
"There are many inmates in the prison who would like to vote, but they do not have National Identity Cards (IDs)," he said.
According to the IEBC registration officer David Mbui, they were targeting over 1,000 inmates from the Naivasha prison.
He expressed his concern over the low voter turn-out in the Naivasha Constituency as the nationwide exercise entered the last week.
Mbui said they had registered a dismal 4,300 voters against their target of 48,000.
"We are still trying to understand why the youths have failed to register despite various campaigns urging them to register," he said.
Hassan Tari, the officer in charge of the prison, said most inmates lacked IDs.
"We have spoken to the registrar of persons to assist in addressing the issue of IDs which is a major challenge," he said.
At a glance
-IEBC says registration exercise won't be extended
-Commission was targeting 6m new voters
-Exercise ends on November 2nd
-Polls require Sh40.9b