ICJ challenges NIS, DCI to probe threats against judges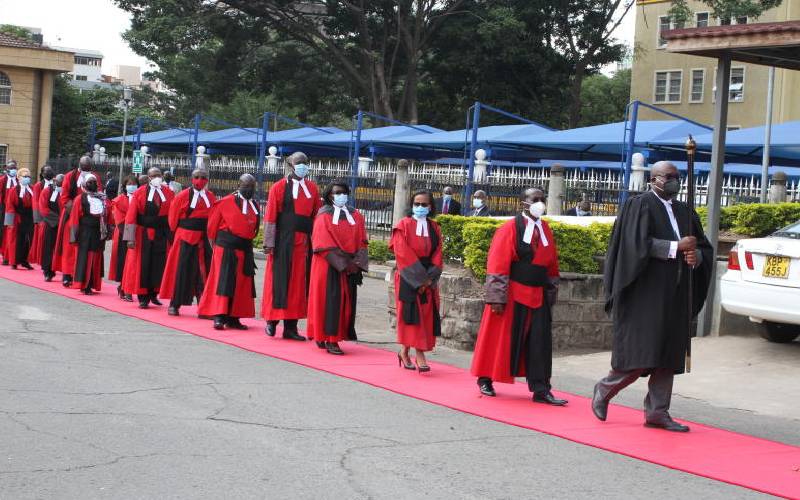 International Commission of Jurists (ICJ) has challenged the National Intelligence Service (NIS) and the Directorate of Criminal Investigations (DCI) to probe threats and intimidation against judges and judicial officers while performing their duty.
In a statement issued on Monday, ICJ accused the state of using the NIS to intimidate judges and judicial officers and challenged the state to probe the complaints.
"ICJ invites the NIS to monitor these allegations, recommend to DCI for investigations and for the Office of the Director of Public Prosecution to prosecute these persons abusing their privileged positions in public office through covert means to intimidate Judges and Judicial Officers," read the statement.
ICJ Kenya through its chairperson Kelvin Mogeni said the commission had received numerous complaints, that staff and personnel closely associated with NIS are being deployed to harass and intimidate judicial staff during adjudication or after delivery of verdicts.
"Judicial independence is critical to maintaining the integrity of the Judiciary. Judges must fairly evaluate the matters before them based on the evidence presented and the relevant law, secure from external pressures," the statement read.
The commission said that both regional and global standards require the judiciary to decide matters before them impartially, based on facts and per the law, without any restrictions, improper influences, inducements, pressures, and Kenya was no exception.
Ruling on six judges
ICJ hailed the recent High Court ruling that directed President Uhuru Kenyatta to appoint the remaining six nominees as judges within the next 14 days from the date of judgement.
The ruling further ruled that the six judges shall become duly appointed if President Kenyatta fails to do so after 14 days
"If President Kenyatta cannot appoint the six judges within 14 days, then his power to appoint them will have expired," the court ruled.
ICJ said it was wrong for the Executive to wait for a court order to be compelled to undertake its constitutionally mandated role.
The commission told the Executive to respect the Judiciary and guarantee its independence as per the constitution.
"Article 160 of the Constitution guarantees the independence of the Judiciary which underpins the rule of law and is essential to the functioning of democracy and the observance of human rights."
President Kenyatta, has, however, maintained that he will not appoint the six nominees for elevation as Court of Appeal and High Court judges, citing integrity issues against them.
Kenyatta declined to appoint High Court Judges Prof Joel Ngugi, George Odunga, Aggrey Muchelule and Weldon Korir to the Court of Appeal, as well as High Court registrar Judith Omange and Chief Magistrate Evans Makori as High Court judges in the Lands and Environment division.