Malawi president Lazurus Chakwera commends Kenya as he remembers shared historic ties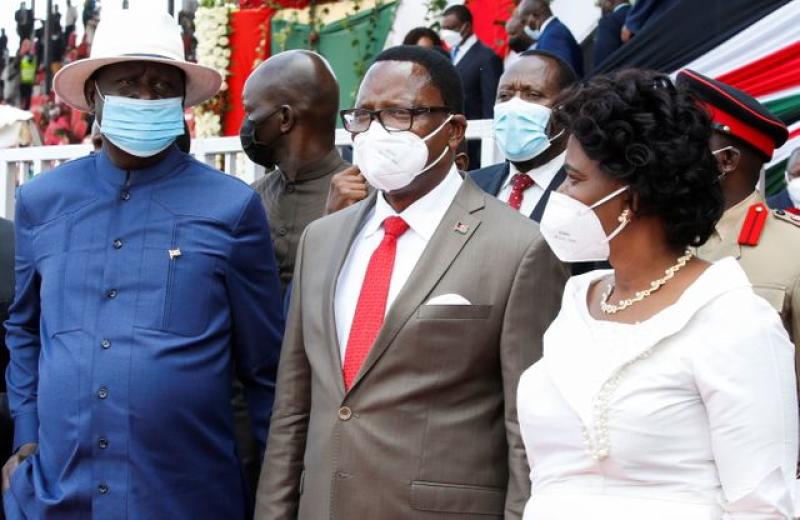 Malawian President Lazurus Chakwera has described celebrating Mashujaa Day in Kenya an ideal way to share history of both nations that have a lot in common.
Speaking during Mashujaa Day celebrations at Wang'uru Stadium in Kirinyaga County, where he was the chief guest, the President said the struggle for independence took place symbiotically in Kenya and Malawi.
Dr Chakwera, who was accompanied by his wife Monica, described both nations as friends whose struggle for independence unite the two nations. "Kenya's joy is Malawi's joy, the struggle for independence in our countries was a fight against the same foreign oppressor, a battle fought in the same decade," he said.
He drew similarities from the two countries' history and milestones in their journey to independence.
From the struggle for independence, the swearing in of the first African liberators and the cordial relationship between the founding fathers Hastings Banda of Malawi and President Jomo Kenyatta, who assumed power six months apart. "It is no accident that the cities in Malawi have at least one road named after the first Kenyan president, Mzee Kenyatta, and the heroes that are celebrated in Kenya are also recognised in Malawi," he said.
Chakwera said the celebrations would renew brotherhood, love and friendship between the two countries. "By celebrating this day together, we reignite the solidarity created by our founding fathers," he said, speaking of a future of shared prosperity, opportunities and victories. "Shared heroes, past, present and future, it is we Kenyans and Malawians who must pursue that future of peace and transformation and genuine love," he opined.
But even as the Malawian Head of State traced the similarities at least 2,000km away from each other, Kenya and Malawi, though different in shape and form, tell a story of twin brothers separated at birth.
In recent history of Malawi and Kenya, both share the brutal fate of oppression and exploitation under the British colonial rule. Six months apart, the two countries would attain independence from the British, Kenya in December 12, 1963 and Malawi in July 6, 1964.
Although Malawi ranks as one of the poorest countries in the world with a Gross Domestic Product (GDP) of Sh1.4 trillion against Kenya's Sh10.9 trillion, its political history from the 60s share a stark similarity.
Long before Mau Mau marshalled against the British colonisers in the 1950s, Malawi's revolt for independence was already launched by revolutionary leader John Chilembwe with his followers attacking local plantations in an attempt to injure the colonial administration.
Although Chilembwe's uprising was extinguished, he opened the door for other revolts which set stage for the fight for independence which would come almost forty years later.
But just like Kenya, the promise of self-rule in Malawi would not be the sweet fruit that many had anticipated.
Under the leadership of Hastings Banda, an academic who lived out of Malawi for over 40 years and returned as leader of the national party, many envisioned a new Malawi, especially under the hands of a man who had been imprisoned for fighting for its independence.
However, Banda's first year as Prime Minister would see dissenting voices from most of his cabinet ministers who complained of his autocratic style of leadership.
By 1966, many of the ministers resigned and went into exile while Banda turned the country into a one party state, him as president.
Six years later in 1970, he was declared president for life by the ruling party. A decree that business buildings have his photo on their walls and no clock, calendar, poster or piece of art be placed higher than the president's picture followed. Up to 2,000km away Kenyatta would also share the same fate as Banda.
Installed as president after being imprisoned by the colonial government for nine years, Jomo faced internal mutiny from the army in Nairobi, making him call on the British army to quell the chaos while he contained parliamentary opposition by influencing dissolution of Kenya African Democratic Union with its members jumping ship to join the Kenya African National Union.
The move would make Kenya a defacto one-party state, until June 1982, when the National Assembly amended the constitution making Kenya officially a one party state.
This period would see great political repression, detainment and exile of political activists and opposition leaders - a thing that was concurrently happening in Malawi.
Human rights groups estimate that at least 6,000 people were jailed without trial, tortured or killed during Banda's rule. Other reports put the number to as many as 16,000 people.
More than two decades later and closing the curtains of a brutal political past while also playing the role of big brother, Kenya showed the face of a democratic new age after the Kenyan Supreme Court nullified the 2017 presidential elections citing electronic manipulation of votes.
Three years later, the Malawian constitutional court overturned results of the 2019 elections on grounds of irregularities and widespread fraud.
With few of Malawians speaking Swahili-a language the county's President Chakwera addressed Kenyans during the Mashujaa celebrations- the political future of the two brother countries seems to take a ripe democratic hue as the leadership of the two countries continue to deepen the ties of their people.
Chakwera also has lived in Nairobi.