Raila Odinga on Pandora Papers: I was tempted but I resisted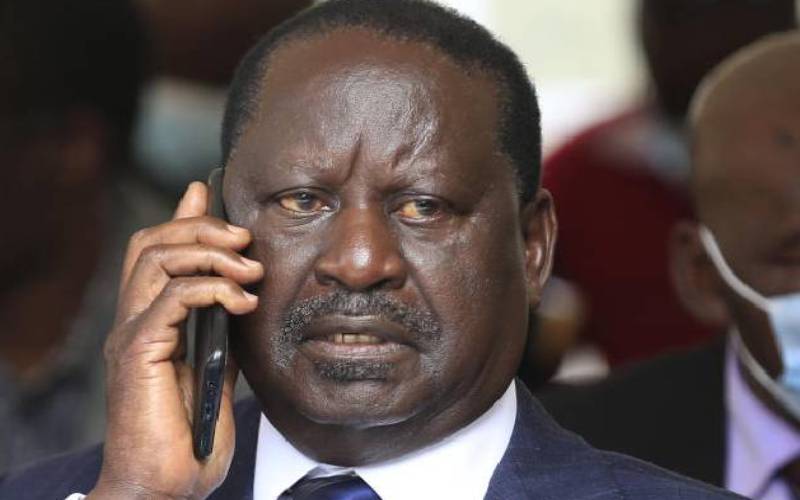 Orange Democratic Movement (ODM) leader Raila Odinga says he does not own any offshore account or company, and that he has stored and invested all his wealth in Kenya.
The former prime minister's remarks come on the back of revelations that world leaders, including Kenya's Uhuru Kenyatta, own secret accounts in foreign nations that store trillions of shillings cumulatively.
"I own no offshore accounts. All my money is stored and invested here in Kenya," Raila Odinga said today during an interview with Kalenjin radio stations.
The ODM leader, however, says that there is "no problem" in owning offshore accounts so long as the money is properly acquired.
"I don't see if there's any problem owning an offshore account," he said.
"It's only improper when the accounts are opened to stash money acquired through corruption. Ideally, the public needs to be told how, when and why the money is being stored in the foreign accounts," he added.
'Let's wait for Uhuru's response'
On President Uhuru Kenyatta's links to secret accounts in Panama and the British Virgin Islands, Odinga said the Head of State shouldn't be judged harshly until he responds comprehensively on the matter.
"I am optimistic that the truth on Pandora Papers will come out. Uhuru has already welcomed the findings, and is ready to comprehensively address the matter when he returns to Kenya from his foreign trip," he said.
Just like Kenyatta, who said the Pandora expose should start a whole new conversation on auditing of State officers' foreign accounts, Odinga said it would be prudent for senior Government officials owning offshore accounts to declare their foreign-held wealth.
"I'd urge every Kenyan who owns an offshore account to come out and declare their foreign-held wealth. Unfortunately, some of them are being protected by our courts of law," he said.
Tempted
The ODM leader said, while serving as prime minister, he was tempted by extremely wealthy businessmen to engage in illegal activities that would benefit the tycoons, who promised to help him stash monies abroad, but he rejected their deal proposals.
"I have been in Government, and I know there are many temptations that come with being a senior State official. A businessman would approach you, and tell you: 'look, do this favour for me, and I would give you funds that you'd store in secret accounts'. From the onset, I told them: 'no, that is the work of the devil. You're like a devil tempting Jesus. I remember, from the Bible, Jesus told Satan: 'go away!" he said.
"I know there are many temptations State officers are subjected to," he added, "but I'd advise them to resist the urge to engage in wrongdoing".
Ruto fall-out
In the same interview, Raila Odinga said chances of him working together with Deputy President William Ruto ahead of the 2022 General Election are near-zero.
"He (Ruto) has charted his own path; he wants to go it alone in 2022. I can't stop him, as that is his democratic right," Odinga said, revisiting the political happenings post-2007 General Election.
"In the Grand Coalition Government, I appointed him (Ruto) as the Minister for Agriculture. You'd remember that at the time Agriculture was the biggest ministry in the country. And the Cabinet positions that I was allocated, I made sure he occupied the most lucrative ministry. He, however, chose to go his way, which is okay."
On his part, Deputy President William Ruto has, on several occasions, claimed Raila Odinga lacks the ideology and team to spur Kenya's economic growth.
The two first fell out in February 2010, when Raila Odinga, then serving as prime minister, sacked Ruto from the Agriculture docket.
The then-President Mwai Kibaki would, however, reject Raila Odinga's dismissal of Ruto.