Widow pays glowing tribute to doctor, as mental health blamed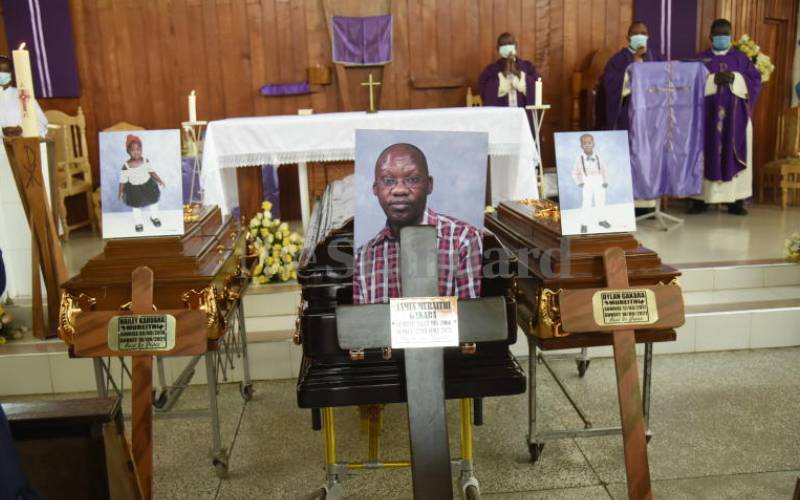 The widow of James Gakara, the doctor suspected of killing his two children before he later died a week ago, praised him as a selfless and supportive man.
Winnie Odhiambo, appearing in public for the first time since the tragic incident of September 18, eulogised Dr Gakara as "the best partner, a good listener and compassionate."
In her tribute read to mourners at Holy Trinity Catholic Church in Nakuru's Milimani Estate by Dr Joy Mugambi, Winnie said: "I got everything I would ask for. Now I know it's not possible for anyone to live 1,000 years. My heart bleeds and I'm completely shattered."
Gakara and his children Dylan, five, and Hailey, three, will be buried today at their Mbaruk home in Gilgil, Nakuru.
Gakara died on September 22 after four days in the Intensive Care Unit at the Nakuru Level Five Hospital, while his two children died on September 18.
Although post-mortem tests did not give conclusive results on the cause of the three deaths, police reports indicated that Gakara may have injected the children with a lethal concoction of medical drugs before turning the same on himself.
During the requiem mass yesterday, Winnie paid a glowing tribute to her husband of eight years, saying their spark of love began in an operation theatre.
"I was a clinical officer intern. On my fourth day of maternity rotation in February 2014, we examined a patient and agreed she needed an emergency Caesarian Section, my first surgery. I was nervous and dropped several instruments at once," said Winnie.
She explained how shaken she was and that Gakara, who she was assisting, would be harsh on her, but the experience turned into their love story and later a happy marriage.
"I was worried he would shout at me. He looked at me calmly and in a soft voice told me not to worry, as I was there to learn. His words touched me. The union of James Gakara and Winnie Odhiambo was officiated on November 25, 2015, in a very lovely ceremony," said Winnie.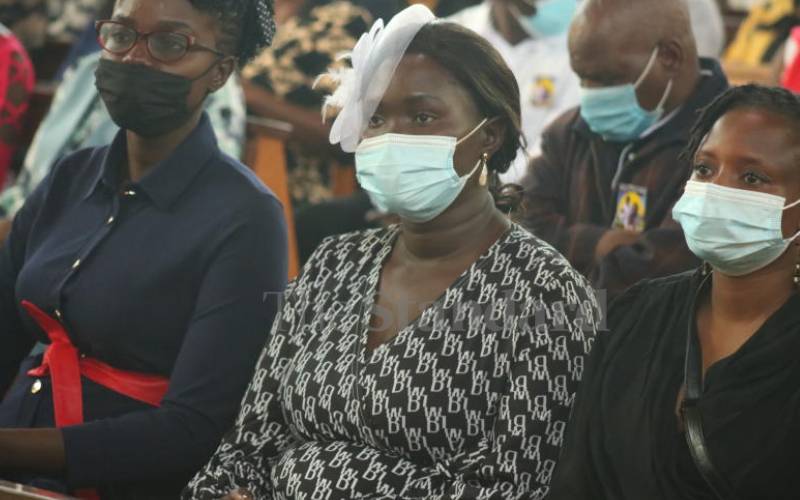 On the fateful Saturday, Winnie was in Nairobi, where Gakara had days earlier taken her to further her studies, with a promise of a date with friends in Thika the following Sunday.
News about the incident sent Winnie to a HDU bed on diverse dates, as the shock about the loss of her family hit her.
Also present during the mass was Agnes Njeri, an only daughter that Gakara had earlier with his first wife, and with whom they parted ways years ago.
Njeri, in her tribute, described Gakara as a loving father who she would always run to whenever she needed help.
"You taught me to be independent, self-driven and to fight for what I desire. I was about to buy you your favourite African wear. You have been my source of strength," said Njeri.
Doctors who attended the mass showered Gakara with praise as they emphasized on the need for more intense mental health awareness programmes by public and private sectors.
Kenya Medical Association (KMA), Nakuru chapter, chairperson Joy Mugambi, said that doctors have a lot weighing their shoulders, including emotional challenges, which should not be overlooked.
"Many a time we forget that doctors are also human. We may not have issues in our families, but we carry emotional burdens from our work. Mental health is afflicting us. Whom do we as doctors speak to? Who supports us," posed Dr Mugambi.
Central Rift Obstetricians Association chairperson Felix Atisa described Gakara as a selfless person who was always a call away at any time of day or night.
"Some of our colleagues have gone into drugs while others are battling alcoholism due to the stress that we are subjected to at work. There is a doctors' mental health programme, but more needs to be done," said Dr Atisa.
Dr Amos Otara called on doctors to stick closer to each other to timely come to the rescue of their colleagues who may be battling mental health.