How Aden Duale forced 8 per cent VAT pill down MPs' throats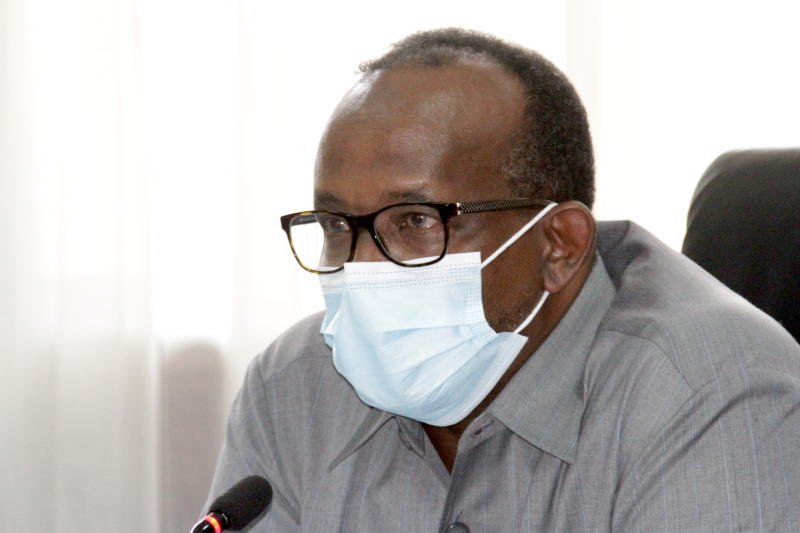 On Thursday afternoon of September 20, 2018, then leader of majority Aden Duale staged a spirited bid to force through President Uhuru Kenyatta proposal to impose 8 per cent VAT on petroleum products, two years ahead of schedule.
In the debate seconded by minority leader John Mbadi and presided over by Narok MP Soipan Tuya, the Garissa Town MP was taking no prisoners in his resolve to ensure Kenyatta's veto against MPs took the day.
When the then Kenya Union of Post Primary Education Teachers (KUPPET) chair and Emuhaya MP Omboko Milemba tried to interrupt him, he felt the full wrath of "the majority", as Duale was commonly known.
"You know I have never been in the teachers' union, so I do not panic. And I have enough shocks. So, Hon. Milemba, I am not the Teachers Service Commission Chief Executive Officer who you could intimidate. I am the Member for Garissa Township," he told him.
He sang psalms to President Kenyatta for "listening to the people of Kenya and their concerns" in reducing the 16 per cent to 8 per cent. He also dismissed claims that prices of petroleum products would skyrocket the moment MPs agreed with the President.
"So, this notion that if we put 8 per cent, tomorrow the bus that plies Garissa to Nairobi will charge Kshs1,000 should stop. The moment this becomes law, ERC will determine the only transferable cost payable by passengers or any other sector of the economy."
When Mbadi rose to second Duale, he was drowned in jeers of MPs saying "zero, zero". Swimming against the current, he could barely be heard. He took to slighting them:
"You now see why these Members come here and when they leave, they do not even know what they passed. They are shouting "zero" instead of engaging in debate."
Ruaraka MP T.J Kajwang opposed. He said if MP agreed to add a value to the statutory zero or 16 per cent, the Cabinet Secretary (CS) would be empowered to increase the percentage without having to come to the house.
Shortly thereafter there was screaming and howling as Tuya prepared to put the question. Hansard records that the question "that the words to be left out" was put and agreed to. Members soon thereafter broke into chants of "bado mapambano" as the house prepared for a division.
"Duale must go! Duale must go!" the chanting continued.
When the headcount was taken, it was found that there were 215 members in the house.
"In that case, the Ayes have it, Hon. Members,' Tuya ruled.
There was yet another attempt at a count, whose circumstances cannot be properly deciphered from the Hansard. Members must have protested the figure. Hansard then records that "grave disorder" ensued before Speaker Justine Muturi took back his position.
"Hon. Members, when the House is transacting business that requires a fixed threshold, at all times, the Chair must confirm that there is the requisite quorum. The figures that were given were disputed by a section of Members. How can you complain that any Member walked out?"
Members complained that Duale walked out with a section of members. Muturi defended him saying "walking out or walking in is part of your rights."
Muturi was stubborn that everything had gone right, and dressed down members who attempted to raise a voice, amid chants of "Muturi must go!" When it was clear he was losing control of the house, Muturi conceded, agreeing to allow members to ventilate.
The "Muturi must go" chants instantaneously changed to "Muturi for President, Muturi for president".
Kajwang claimed there had been more than 232 MPs in the house but Duale "led a drove of people" out. He claimed they had been 304.
"Hon. Duale led a horde of people away. All of them went. ..you need to decide whether, first of all, it was in order for Hon. Duale to leave with his people. Two, if they went out, is that discounted from the general membership of the plenary?"
TJ's exhortation ended with the famous "you can do me nothing" tirade directed at his party chairman, Mbadi:
"This is bunge!"
Millie Odhiambo took the cue, saying when Tuya called out the vote, the nays had it. For her to do that, she said, she must have first convinced herself that there was a quorum. She claimed they were forced to go into further voting after they voted.
"If you looked at the electronic system, it showed we were even more than the actual legal numbers. Jesus Christ and religious and spiritual leaders, including Muslim ones, were with us in this House. That is why the numbers were higher," she said.
Her Laikipa counterpart Catherine Waruguru took to the CCTV to explain herself. She claimed the No side had won, and there had been no need to call a division in the first place.
"That came as an after-thought when the Hon. Leader of the Majority Party caused confusion on the Floor of the House by championing (sic) people to walk out of the Chamber. So for that reason, let it come on record. I support a "No", I am standing with zero and nobody can take away the rights of Kenyans," she said.
Every other MP who spoke complained of Duale. Isiolo's Rehema Jaldesa said Duale started pushing people to go out and he locked some in the toilet.
"So, we voted "No" and shall still vote "No". It is dishonest when the media was put off (sic) and they sent a fake message out there that the Bill was passed. The Bill was not passed. We rejected the proposal," she complained.
When they finished venting, Muturi ruled that the only way out was to repeat the vote, but only after checking whether there was a threshold. The nay's side goose was cooked, and they knew it. They jeered, howled and cried to no avail.
"Hon. Members, unfortunately, even what I am saying is also being captured on the Hansard. It is also going to capture that there was a loud noise. That is the way it is configured. It will also be showing that there were loud consultations. That is what is going to happen even now," he said, ignoring protests.
The headcount turned out less at 215 members.
"In that case, the Ayes have it," Muturi finally ordered, arriving at a similar conclusion as Tuya.
The chants "Muturi must go" rent the air once again. He felt nothing:
"You can repeat that as many times as you wish. I cannot read anything different from what is on the official record! It concludes that the Ayes have it. The vote on that clause was lost on the basis that you did not have 233 Members opposing."
And that is how Kenyans ended up paying the price, two years earlier than anticipated in law.
The fall and rise of Kenyan cricket
Kenya men's cricket team posted mixed results during the Pearl of Africa T20 Tri-Nation Cricket tournament that concluded at Entebbe Cricket Oval in E