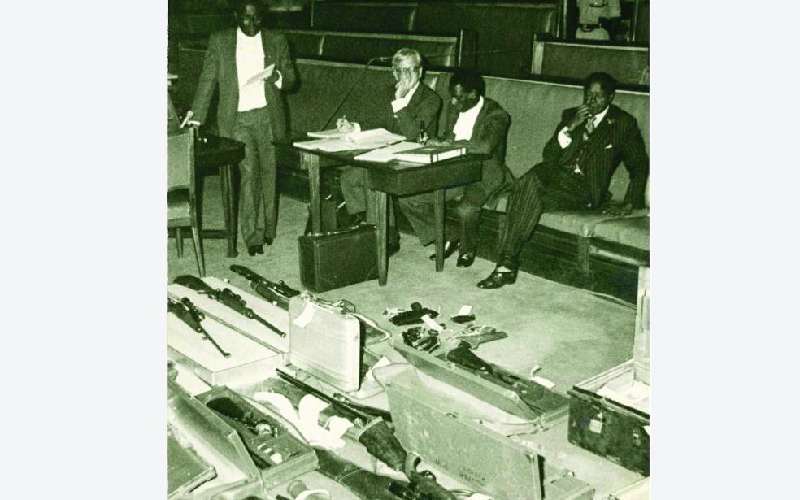 Recently, Kenyans were treated to the drama of Deputy President William Ruto's Turkish buddy and supposed investor Harun Aydin.
He was supposedly deported in the heat of political furore and allegations of money laundering, which was denied. Interior minister Fred Matiang'i claimed the Turk was able to sneak in and out of the country since he travelled in VIP planes not subjected to usual checks.
The saga resembled one in early 1980s where an Indonesian crook posing as an investor and game hunter sneaked in and out of the country, had GSU escorts and illegally brought guns to the country. Yani Haryanto alias Lim Po Heine was close buddy of then powerful Cabinet minister Charles Njonjo.
Like DP Ruto, Njonjo had started as closest ally to then President Daniel arap Moi. At one time, he would travel in the presidential limousine, wore similar looking suits from same tailor in London's Savile Row, and acted every way the co-president. Then they badly fell off and Njonjo was banished to political Siberia.
Illegal weapons
In Njonjo days of power, the Indonesian would jet into the country with illegal cargo but avoid Immigration checks as a GSU driver Chief Inspector Kabucho Wakori would be at the airport to receive him.
The disclosures came at the judicial commission of inquiry set up to probe Njonjo's conduct after he fell out with President Moi.
The inquiry held its sittings at Parliament's old chambers. As a high schoolboy, I attended one of the sessions during 1984 April holiday. You could not help but pity Njonjo. Used to heavy GSU security when in power, he would walk in lonely, deserted and dejected.
The inquiry was chaired by Justice Cecil Miller (he later became chief justice), who kept the sessions lively with his heavy English baritone and humorous interjections. His son Cecil Miller Junior runs a prime law firm in Nairobi and Mombasa.
Then head of government's firearms licensing bureau Senior Superintendent of Police Douglas Allan Walker tabled at the inquiry a letter he wrote to the Commissioner of Police detailing the security threat presented by the Indonesian and the difficulties police had in handling him because of his high-level connections.
"At the airport, the Indonesian, his two sons and a son-in-law are always seen off or received on arrival by Chief Inspector Kabucho (Njonjo's driver) and driven in the minister's official Mercedes Benz. The presence of the minister's driver helps in speedy and uninterrupted passage of the Indonesians through Immigration and Customs formalities.
In the process, the Indonesians have illegally brought guns into the country. They now have a hundred and one firearms in storage at a house on Lenana Road. I have advised the Indonesians that they can no longer be treated as State guests. I also demanded that they declare how many, and which type of firearms, were in their possession. They listed a total of 13 handguns, 23 rifles and shotguns."
The letter concluded: "These people are undoubtedly 'special' in many ways and I anticipate quite a few calls from prominent people to request I assist the Indonesians. I would be grateful if before taking any further action, this matter be discussed with our Minister (Internal security minister) who I hope will be prepared to instruct on how this should be dealt with."
The inquiry further heard that the Indonesian had illegally brought eaves-dropping communication gear and installed it in the house on Lenana Road, a walking distance from State House.
Walker spoke of an incident at the airport when he demanded to inspect a cache of arms imported, but the Indonesian lied that the guns were for bird-shooting only to discover among them were military-type rifles.
Besides, the inquiry heard that Njonjo had helped a Frenchman, Henry Roussel, import guns. Roussel owned Ojogi Ranch in Laikipia, not far from a ranch that Interior CS Matiang'i claimed is associated with DP Ruto and had six police guards. The DP has since dismissed the claims.
Another of Njonjo's friends, the rogue billionaire Adnan Khashoggi who also owned a ranch in Laikipia, had GSU bodyguards on instruction from Njonjo, the inquiry was told.
As in the CS Matiang'i in-camera session with National Assembly security committee, the Njonjo inquiry was told how GSU officers were used on personal errands that breached security protocols. Here is an exchange between a Customs officer at JKIA and the lead counsel:
Counsel: To your knowledge has the minister's (Njonjo) police driver collected luggage from the apron at the airport?
Customs officer: Yes my Lords
Counsel: You said it was common for ministers to send their police drivers to collect luggage, is it usual of them (drivers) to go without passing through the security?
Officer: Whoever comes has to pass through security desk.
Counsel: Did Chief Inspector Kabucho (Njonjo driver) always follow those procedures?
Officer: Not always my Lords
Counsel: You said you assisted Chief Inspector Kabucho on one or two occasions to identify Mr Njonjo's unaccompanied luggage?
Officer: That is correct.
Counsel: Why did you have to do so?
Officer: To make sure the minister isn't embarrassed in his luggage being opened.
Counsel: Is it correct to say it was for purposes of evading paying duty on the luggage?
Officer: Yes my Lords.
Njonjo lawyer: How do you know the minister's driver didn't go through security check?
Officer: On one occasion, I met him in a restricted area and he said he had passed without going through security
Counsel: Where did you meet him?
Officer: In the VIP lounge.
Counsel: How did he explain it?
Officer: He said he was in a hurry to meet very important guests of Mr Njonjo and had no time to waste at the security desk.
The two "very important" guests happened to be Americans whose sealed boxes contained unlicensed firearms ordered by the Indonesian.
The cache of seven guns and 635 rounds of ammunition were seized by police as it included firearms not allowed to be in the hands of civilians.
The police commissioner directed that the consignment be sent back to its country of origin.
Like Jubilee Secretary-General Raphael Tuju is keen to know whether the Deputy President pays taxes on the vast business empire he admitted owning, the Njonjo inquiry was also keen on whether he paid duty on usually heavy luggage he came back with on return from travels abroad.
The inquiry heard that the minister always carried excess baggage averaging 200-300 kilogrammes, which is way above the 30 kilogrammes allowed for passengers travelling first-class, but he never paid duty.
The inquiry was told of an occasion when a Sh36,000 (a big amount in early 80s) invoice was raised on Njonjo's excess luggage but then Kenya Airways managing director Lord Cole withdrew and tore the invoice.
The airways security services manager who had instructed the invoice written was immediately fired.