Decade of agony but Sinai oil fire survivors still hold on to hope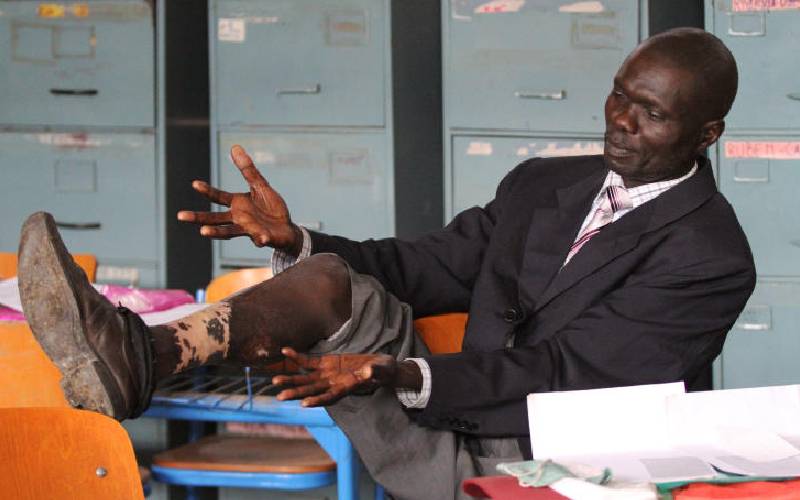 On September 12, 2011, a devastating fire tore through Mukuru Sinai slum in Nairobi, leaving more than 120 people dead.
Women lost their husbands. Children, some in school, others on their way there, never made it back home. Instead, their parents were at the end of that fateful day handed body bags with the remains of their children.
Most could not pick their loved ones out of the dozens who perished, as many had been burnt beyond recognition – they accepted to inter their dead by faith.
Instead of excited chatter that normally fills homes in the evenings, a cloud of grief, ash and the smell of burning flesh and petrol lingered, compounding the loss even more.
After 10 years of broken promises and the kind of grieving that never seems to end, residents of Sinai stay on, remembering the day that changed their lives forever. Remembering the event and the days that followed. Remembering the people and the things they lost. Remembering the hope that they had in a court case and the despair that a slow judicial process, characterised by postponements and shifts among their lawyers, is causing them.
Remembering the promises made by politicians who visited after the fire.
But most importantly, remembering how to live again.
Sinai, like many informal settlements in the city, is made up of small shacks tightly packed against each other. Some walls are made of iron sheets. Others of mud. Others, anticipating some sense of permanency, are built of stone.
The structural differences go a long way in dictating how much rent one pays. Some house doors open up to the main road. Others to a facing neighbour's door, separated from each other by an arm's length. Other doors open up to drainage pipes running beneath the houses and emptying their waste into the nearby Mukuru River, a tributary of Nairobi River, which is a black, nearly stagnant mass of water chocking under garbage and weeds.
Everyone in Mukuru Sinai, a settlement that has been in existence for more than 25 years, remembers the fire differently. Individual memories are shaped by the whereabouts of the affected on that cold drizzly morning.
However, all these stories have some familiarities in them. One being the smell that swept through the settlement on that day.
"It was as if the air was full of petrol," Julius Ondusi says. "It wasn't just in your nose. The smell was in your mouth and in your stomach."
Ondusi had just woken up and was on his way to a latrine. The journey took longer on that day.
"People lined up the corridor. Neighbours to and from the toilet met and started talking about the smell. Some had towels around their waists, others were carrying basins," he says.
By the time Ondusi had walked the 50 metres to the place where the latrine and two bathrooms were located, he heard a loud bang.
"It was like a gas cylinder explosion," he remembers. And then the chaos started.
"We knew there was a fire. We could see the smoke up in the sky. We could hear the screams. But we didn't know where it was coming from," he says.
Unknown to him, the epicentre of the inferno was just minutes away from him, and the flames were heading his way.
A report by the Kenya Red Cross that assessed the aftermath said the fire was made worse by pre-existing hazards.
"Most of the housing structures are shanties built from used iron sheets, tins or carton box material, which are highly flammable. The area is characterised by congested housing with no access road for vehicles," the report reads.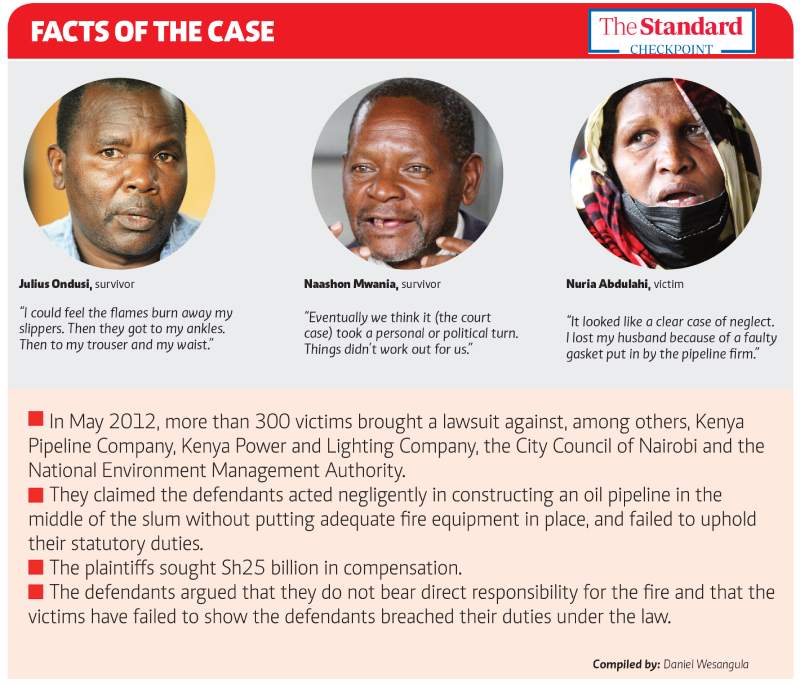 Of all these hazards, it is the narrow paths that did Ondusi in.
"Everyone was out of their house after the explosion. There was only one exit for the 30 houses. We couldn't all fit through it."
Ondusi remembers trying to get back to his house to get his children out.
He remembers walking on people who had fallen after missing a step on the slippery ground made worse by a drizzle. He remembers people stepping on him after he too fell as they tried to get to safety.
Before he got himself up again, the fire caught up with him.
"I looked back and saw it come my way," he says.
He tucked his face in the ground.
"I could feel the flames burn the slippers on my feet. Then they got to my ankles. Then my trouser and quickly moved up to my waist," he says.
The fire's progress only stopped after it had burnt his entire trouser. But it was on its way to his house where he had, just moments back, left his children in bed.
He tried to lift himself up, but he had no strength. He passed out, holding firm to the belief that his family would be protected. Somehow.
Enter politicians
Hours after the fire, Raila Odinga, who was then Prime Minister, visited the scene. He was among many government officials who made their pilgrimage to Sinai, promising that no government effort would be spared in assisting the people of Mukuru.
"The government will do everything possible to ensure the injured will be treated and the families who have lost their loved ones are compensated," he said.
The drizzle ended. The smoke began to clear. But the smell of petrol and burning flesh was yet to leave. The ground was soggy and the residents were dazed and confused.
Yet, they looked up to Raila the Prime Minister, who, after a brief tour of the scene, returned to his car and addressed them from its sunroof. "It is unfair for people to die like this," he said.
Among others who visited on that day was then Makadara MP Mike Sonko. Through his Sonko Rescue Team, he gave blankets and food to the displaced.
He, too, said someone had to pay for the loss of lives and property. From his speeches then, he knew exactly who was to pay.
A few weeks later, still in the grimness and sadness that defined the time, he offered some more hope to the people by taking on the government in what ought to have been one of the biggest lawsuits in the country.
According to Sonko, the State had neglected its citizens and needed to compensate them for the hardship they had endured from the fire and for everything that they might have been going through.
For this to happen, the people, Sonko said, had to go to court. The victims, such as Nuria Abdullahi, agreed.
Nuria's mother-in-law had called her into the house rather frantically. She said there was something on TV that she needed Nuria to watch.
Ashes only
There was something on the news about the area her son, Nuria's husband, lived. Some sort of tragedy. And everyone on the news was speaking about it. Nuria panicked and tried to call her husband.
"I couldn't get him on the phone," Nuria says. "I called a neighbour to go check on him and the children. They just told me that there was nothing. Only ashes stood where our house once was. My children had gone to school before the fire, but their father was nowhere to be found."
The following day, Nuria came back to Nairobi from Garissa determined to find her husband, hoping that he was sheltering with a friend or a neighbour.
Hoping that once she was in Nairobi, the two of them would rebuild the life they had started for their five children.
Her search started in Mukuru Sinai and took her to Mater Hospital, which received most of the victims. She then proceeded to the Burns Unit of Kenyatta National Hospital, then to the hospital's mortuary, onwards to City Mortuary and eventually ended at Chiromo Mortuary.
"He was badly burnt but I could recognise him," Nuria says. "He looked like he died struggling. His face was twisted. His arm was stretched out."
That afternoon, she broke the news to her children, and watched as his uncles and brothers buried him.
"It was not just him I lost," Nuria says. "We lost direction. We lost hope."
When the hearings of the court case started, Nuria was among the many upbeat people who had been affected.
"I thought it will just take a few months," she says. "It looked like a clear case of neglect. I lost my husband because of a faulty gasket installed by the pipeline company," she says.
"But it was hard for the court to look at it this way."
Often, the sessions would begin with a prayer, with the scarred arms of survivors raised in supplication.
Sonko, the sponsor of the case, was always at the forefront. Through him, many thought redemption would come.
That their material losses would be compensated. Somehow. That the pain from the loss of loved ones would be soothed.
"I can't criticise the government I serve... but the lawyers representing government are dragging this case," he said during a mention of the case in 2014.
"We know that the fire was as a result of negligence... just from failing to replace a gasket that costs Sh1,000."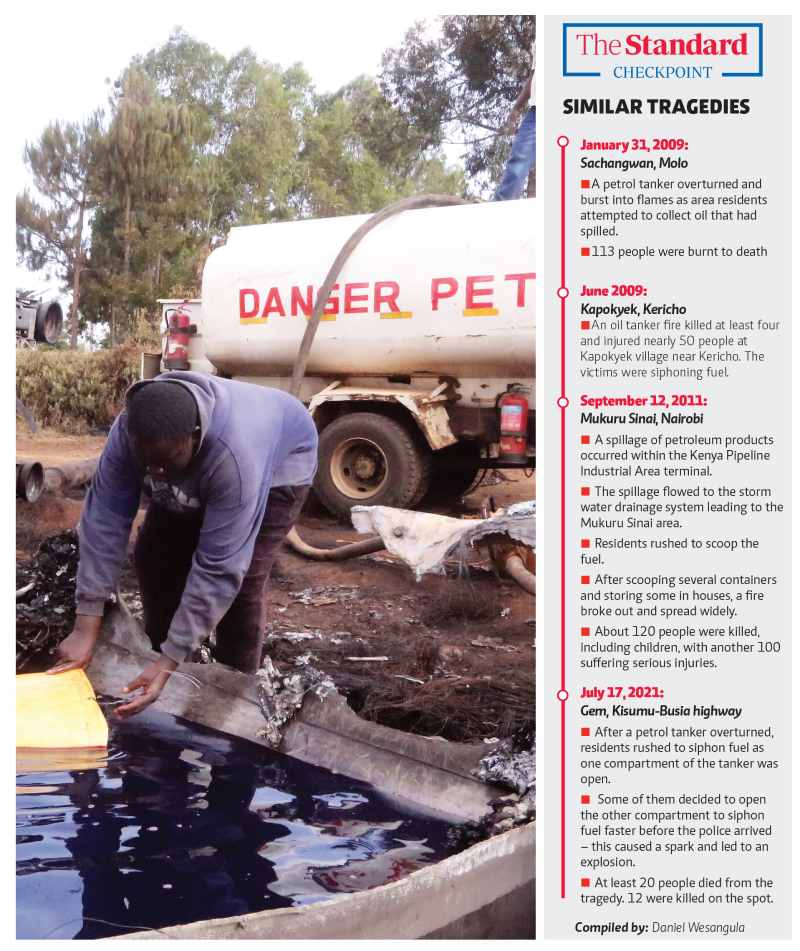 Afterwards, he would line up the survivors who turned up in court and hand each Sh500.
"Initially we appreciated the handouts. But that is not what we needed. We needed so much more than that. Soon, people knew that after every court mention, there would be some goodies. Eventually, even those not affected by the fire claimed to be victims," said Simon Kurwa Kenei, a survivor. At the time of the fire, he was 41.
As the legal process progressed, those we spoke to said the court rooms were filled with individuals who could not even point to where Sinai was. Imposters.
"For most of us, even bus fare to the court became a problem. Many went back to their villages to mourn or regroup. But the courts were still filled with these people who were bussed in. We did not know where they came from," Kenei says.
Soon, the people of Sinai lost whatever form of control they had over the court case.
"Eventually, we think it took a personal or political turn. Things didn't work out for us," Naashon Mwania, another survivor, says.
On February 6, 2017, the court declined to award them Sh25 billion in compensation from the government.
Judge Edward Muriithi told the Sinai victims to file a proper suit where each one of them proves his or her individual loss.
"It is unnecessary to decide whether the claimants may recover personal injury damages through a constitutional law as there is already a procedure in common law and statute through which the matter may be conveniently and fully resolved," the court ruled.
During the hearings, more than 300 residents from Hazina, Mukuru Kayaba, Tetra Pack and Sinai stated how they had resided in the area for more than 40 years and were victims of negligence by companies.
In July 2014, the victims wrote a proposal to the Attorney General, asking for an out-of-court settlement, but it was not taken into consideration by the State Counsel's office.
Picking up the pieces
When he came to, Julius Ondusi was in Mater Hospital. There were no familiar people around him. He saw doctors and nurses hurrying about.
He tried to ask them about his children.
About his wife whom he had left in the house when he was going to the toilet.
No one seemed to understand him. He passed out again.
The second time he regained consciousness, he was told he was at Kenyatta National Hospital on a bed that he would call his own for the next month.
This time though, he saw some familiar faces.
His wife had come to visit and she bore good news. The flames had devoured his house and everything within it, but his family was safe.
The days that followed the burial of her husband were rough on Nuria Abdullahi. With the family's sole breadwinner dead, the responsibility of feeding, clothing and educating five children lay on her shoulders.
But she picked up the pieces. She now owns and operates a hotel at the corner of New Likoni Road in Nairobi, before you make a left turn to St Elizabeth Primary School.
Cannot wait forever
"We had to move on. We cannot wait forever for something which may never come," she says.
Like her, Ondusi is trying to move on.
An extension protrudes outwards from his two-roomed house. Here, mended customers' shoes wait to be collected. He now earns a living as a cobbler. His wife operates a small shop next to his stall.
"It is not much," he says, "but it is enough."
Before the fire, he was a heavy machine operator in Industrial Area. Now, he cannot stand or sit for long. Effects of the fire.
"We have to make do with what we have."
Down the road from his business is the epicentre of the fire.
Today, it is hard to imagine the pain and loss that emanated from that faulty gasket that led to the petrol spill.
It is hard to imagine the anguish that came with the loss of 120 lives.
Now, the area is fenced-in with bluish iron sheets. Beyond the iron wall, construction is at a frenzy. Here, the Nairobi Metropolitan Services is putting up a hospital, one of 24 ordered by President Uhuru Kenyatta.
"This is a good thing. But we will not forget what happened," Kenei says.
He continues to hold on to hope that justice will come their way. He is excited that the survivors have taken their case to the Court of Appeal. He can only hope for a different outcome.
The Laikipia pain
No Kenyan with a conscience was unmoved by the 2007/2008 post-election madness. The violence mocked our independence.