What Matiang'i didn't reveal on deployment of police officers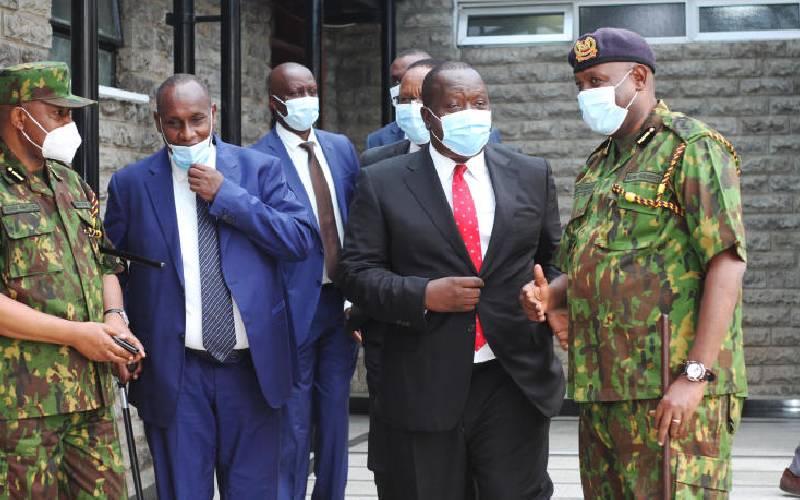 Wednesday's revelation by internal security Cabinet Secretary Fred Matiang'i on number of security officers attached to Deputy President William Ruto has lifted the lid on skewed police deployments in Kenya.
In the background of it all, is a confidential report prepared by the Independent Police Oversight Authority (IPOA) which summed up the conundrum of one out of every 10 police officers guarding a small class of government functionaries and elite political operatives.
While Dr Matiang'i revealed that Ruto is hogging over 200 police officers to guard his person, property and relations, he did not reveal the extent to which police are deployed to the other VIPs, their property and families.
The officers are either deployed by the State as part of their assignment or their services are requested and paid for by well-heeled Kenyans. Sections 104 of the National Police Service Act allow Kenyans to use police for private purposes. Additionally, Section 105 empowers the Inspector General on the deployment of additional officers on private property.
All a VIP need is to do is write to the IG requesting protection of their businesses, office premises or personal properties. The report conducted by IPOA and handed to the then IG Joseph Boinett in 2018, unfurled flagrant deployment of thousands of officers to guard prominent people at the expense of Kenyans.
"Regularly, the Authority receives complaints from police officers showing that they are largely deployed to guard private properties, and they end up becoming available only to a few, mostly in the wealthier segment of the society.
"It is commonplace to find armed police officers manning gates in the leafy suburbs of Nairobi, yet common citizens remain exposed and vulnerable to wide spread insecurity. As a consequence, security services become virtually non-existent for many poorer segments of the society," the report which was never shared in public, stated.
According to a biometric registration drive of the police concluded in March 2019, Kenya has 101,288 police officers. IPOA estimated that approximately over 11,000 police officers are deployed to VIP guard services through unaccountable system prone to abuse.
A 2009 task force — the Ransley Task Force — had established that between 3,000 to 5,000 police officers were involved in none core police duties. These include being used as court orderlies, personal assistants, clerks, sentries, drivers, receptionists, money escort services, secretaries, guarding of private premises, body guards/escorts of senior police officers, domestic workers and VIP protection.
The report even alluded that some were working as cooks, caterers and shamba boys in VIP homes.
IPOA estimated that with implosion of the number of elective and top State office jobs in 2013, the number of police officers deployed in these non core duties doubled. County governments also stepped in to suck in more officers into non-core use, including protection of members of county governments and their properties.
One of the members of IPOA who was involved in the investigation into the irregular deployment of police officers told the Saturday Standard that they were appalled at the findings:
"We discovered gross misuse of police resources with police being used to run errands for big people, guarding their personal properties, providing escort for their children. It a very bad situation. We have enough police to provide security but they are deployed on non core duties," the officer said.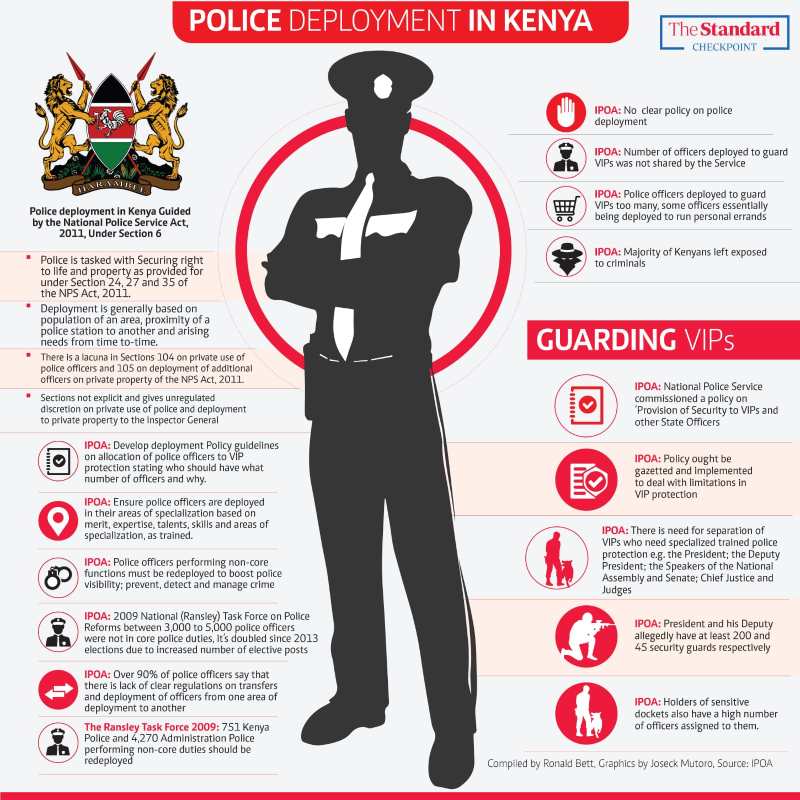 At the national level, all MPs are protected by the police, as are all senior government officials- CS's, principal secretaries, Chief Administrative Secretaries (CAS's) and chairman's of select parastatals. A Vice Chancellor of one of the country's top universities is one of the most guarded VC's, walking around with contingent of officers.
The IPOA report made a case for proper policy on deployment of officers using the despicable Garissa University terror attack where 147 students lost their lives. They linked the incident to improper deployment. Despite intelligence feeds on the threats posed, the university had only four officers deployed to guard the institution at the time.
"While shortage of personnel was being blamed, even with the alerts that had been shared, only four officers were deployed at the Garissa University College. Starving terror prone areas with low number of officers is a clear mark of poor deployment strategy by the Service, even after much shared intelligence reports," the report said.
In particular, IPOA was concerned that the security detail allocated to officials holding similar portfolios could be varied without adequate explanations for such variations. This could explain why a VC at one university would have more officers than a VC of another.
It recommended the standardisation of VIP protection so that it is not abused and misused by politically powerful and influential individuals.
Among the recommendations was to ease the burden of non-core duties by roping in other security officers like prison, National Youth Service, forest guards, and arming private guards.
IPOA chair Ann Makori conceded that deployment was a major issue in the police but said it could not be resolved without legislation.
She said IPOA had made recommendations, some of which were considered. For instance, she said, there were no police officers who were doing gardening and other domestic chores for VIPs.
"The best IPOA can do at the moment is make recommendations. However, without a law to guide how the police are deployed and to who the problem will persist," she said yesterday. Makori added that despite looking into the matter of deployment there were offices such as the Presidency were out of their purview.
She said parliament needed to legislate on the matter so that the police could be deployed appropriately to serve and protect the people and not the elite.?