Martha Koome: Lack of staff at CJ's office was my biggest shocker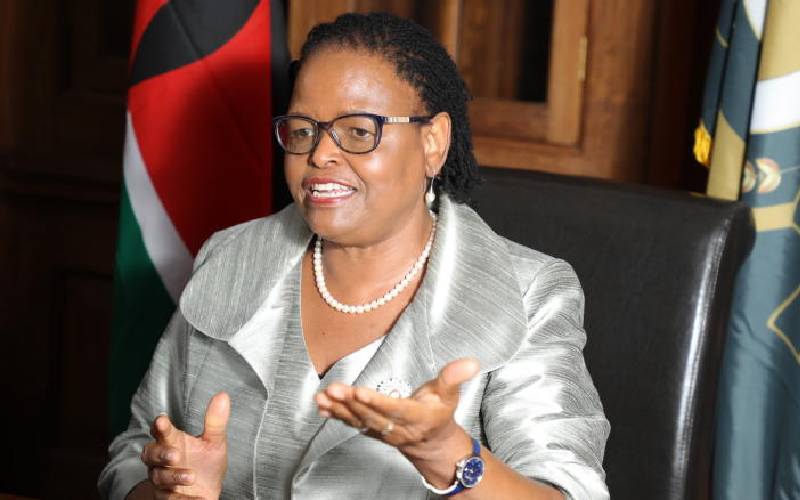 Chief Justice Martha Koome says lack of staff at the office of the Chief Justice was her biggest shocker when she assumed office.
Speaking on Spice FM's Situation Room, Koome said when she took over, she only found one secretary who was headed for retirement.
Koome said all the staff who served in the office left with her predecessor David Maraga.
"This was a bit surprising because my Predecessor left with all his staff as they were political appointees," she said. "I had to hit the ground running because Kenyans were already demanding to see work done and I had to deliver."
She said although it took time to recruit and induct new staff, 100 days later, the office is up and running.
Koome said she does not regret writing to President Uhuru Kenyatta requesting him to appoint judges who had been recommended by the Judicial Service Commission (JSC).
"I have been in this industry for over 33 years, having served as a Magistrate for 16 years and the rest as a Judge. This is a job that I had seen it done from a distance and I knew there was nothing to lose by trying to unlock the stalemate that had lasted over two years," she said.
She maintained she was provoked by the fact that the Judiciary was operating below the threshold of the constitutional requirement.
"For instance, the Court of Appeal had 11 judges forcing the judiciary to close three courts in Kisumu, Mombasa and Nyeri. As a result, we had Judges who had to serve over three counties. As the current President of the Supreme Court, I had to come up with a way to end the stalemate," she said.
The CJ said although the president did not appoint all the judges, those who were appointed have gone a long way to deliver services that had stalled.
"I am yet to learn how to communicate with executive and legislature, but understand dialogue takes many forms like letters or physical meeting. I am therefore still in dialogue with the executive over the remaining six judges," she said.
Koome said her vision for the Judiciary is built on what her predecessors had put in place.
She noted that said while retired CJ Willy Mutunga focused on building the Institution of the Supreme Court, CJ emeritus David Maraga looked at how to transform the Judiciary to ensure sufficient access to justice and ending corruption.
"I am therefore intending to build on this and reform the judiciary and society at large. We must empower the society to be aware of their rights so that we do not build a society that is prone to conflicts," she said.
Koome said her focus is, thus, to have, and empower small claims courts which would be a game-changer in the administration of justice.
"In these small claims courts, cases will be finalised within 60 days. We cannot have a society where people travel for over 175km to access justice, find a police station or health services. A time has come for us to reduce the gap between the judiciary and the people," Koome said.
She said so far, the small claims courts have been established in Nairobi's Fuata Nyayo, Embakasi and Mathare slums.
The CJ said her office is currently building the capacity of magistrates and litigant officers in the small claims courts to have standards for efficiency so that cases do not drag.
"I believe that no case should drag in court for more than three years. Nobody wants to be a jockey; tossed in court for five years," she said.
According to Koome, this can only be achieved if the three arms of government support each other.
"Judiciary is unique and independent. Everyone is concerned with the administration of justice, so if the parliament denies us money, Kenyans will suffer and they will also suffer," she said. "If you remove one leg from a three-legged stool, how is it going to function, we must work towards ensuring that as much as we are independent organs, that unity must prevail."
Koome said for over 10 years, the judiciary has made several requests to the National Police so that the institution can have its own police unit.
She said just as other arms of government have their own police units, Judiciary as an organ that handles sensitive matters must also have its own unit.
"We have offices and judges that deal with sensitive matters like terrorism and corruption. Sometimes people have come to courts armed with guns frightening judges and magistrates, this is why if we have such a unit, it will ensure Judiciary premises are properly secured," she said.
In that regard, she added, there is hope as the interior CS Fred Matiang'i and Inspector General of Police Hillary Mutyambai have agreed to establish the unit and deploy about 3,000 officers to man the 130 court premises across the country.
"If it were not for the current Covid-19, the unit would have been officially launched. We hope that things will normalize to allow us to move forward," Koome said.