Anxiety as anti-riot police spotted near DP's Karen home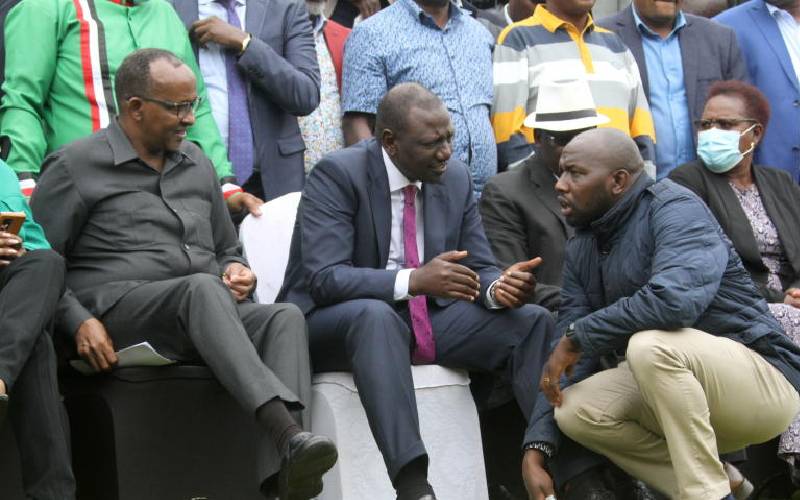 Anxiety gripped Deputy President William Ruto's camp after anti-riot police officers were spotted in Karen as he held a meeting with youth leaders from Nairobi.
Speculation was rife after it emerged that some people, who were outside the entrance to the residence, had fled on seeing the officers.
The Deputy President is reported to have been meeting a delegation from Embakasi.
The 11am incident has now caused panic among the DP's handlers, who see it as an attempt by the police to raid his residence.
Emmanuel Tallam, Ruto's spokesman, told Saturday Standard that they believe the officers in a police lorry were deployed to intimidate the DP's supporters.
"We spotted them at a petrol station in Karen," said Tallam.
But National Police spokesman Bruno Shioso downplayed the incident, saying the officers were on routine patrol.
"It's our business to maintain security and we patrol each and every corner of this city to make sure that security is tight," said Shioso.
This latest incident comes a day after Inspector General of Police Hilary Mutyambai instructed his officers to firmly deal with those flouting the Ministry of Health's Covid-19 containment measures.
Mutyambai on Monday held a meeting with top security chiefs at the National Police Service grounds in South C.
Also present at the meeting were 47 county police commanders who were instructed to, among other issues, enforce the Covid-19 guidelines.
Sources familiar with the deliberations told Saturday Standard that the police have been instructed to crack down on violators, including those holding public gatherings, burials and political meetings.
What has further caused panic is the change of tactics by the police who have now been instructed to go for conveners of meetings as a way of dealing with errant politicians. The police commanders are under instructions to arrest those leading meetings irrespective of their positions in the society.
Some insiders in the Ruto camp believe that there is a plot to derail their boss through use of police officers.
Last week, Saturday Standard revealed that a high-ranking police boss had raised concerns of security chiefs over frequent DP meetings.