The Caroline Kangogo we knew was humble, family says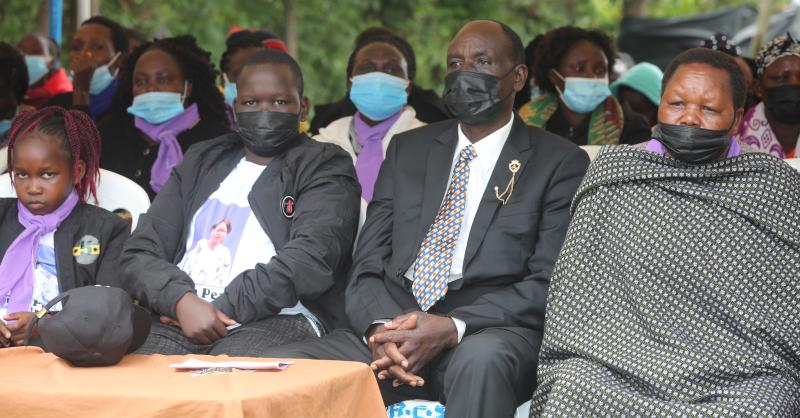 The convoy of cars snaked its way from Iten County Referral Hospital mortuary in the early morning chill, down Iten-Kabarnet road, weaving its way around the Kerio escarpment.
A hearse with a banner emblazoned with the photo of policewoman Caroline Kangogo led the fleet of about 40 cars, decked in white and purple ribbons. Accompanying the cars were dozens of boda boda riders.
Along the road, curious residents craned their necks to catch a glimpse of what seemed like a bridal procession. It was, perhaps a way of honouring some of Kangogo's wishes that included having her body dressed in a bridal gown.
Kangogo, 34, whom many in Nyawa village, Elgeyo Marakwet County, knew as a humble and disciplined officer, was finally coming back home. This time for good.
The weather, chilly, cloudy, with little bursts of sunshine, was exactly as it was on the day Kangogo's body was discovered in a bathroom at her parents' home. That was 11 days after John Ogweno, a police constable, was found dead in his car at Kasarani police line in Nakuru. Kangogo was linked to his shooting.
A few days later, Peter Ndwiga, a businessman, was also found dead in a lodging in Juja. His shooting, too, was linked to the policewoman. Police thereafter announced they had launched a manhunt for Kangogo, who they said was a key suspect in the murders.
Kangogo would later be found dead, taking with her anything she may have known about the killings to the grave.
An iron gate painted blue was the final stop for the convoy after a 30-minute drive to Kangogo's parents' home where she would be laid to rest. Then the programme began, with speaker after speaker eulogising the woman they commonly knew as 'Caroline Jemutai'.
Yesterday, hundreds of residents and a section of leaders attended her burial ceremony conducted within the same compound where her lifeless body was discovered in the morning of July 16.
Kangogo was buried in a white gown as she had requested in a draft message found in her phone that she is believed to have authored before her death.
According to the message, she had also asked to be cremated – a wish that her family did not honour, and instead buried her at her father Barnaba Kangogo's farm.
There was no usual gun salute as is the tradition in the send-off of police officers who die while on duty.
Police officers from Nakuru where Kangogo worked and others who came to bid her farewell were dressed in civilian attire and sat inside a tent reserved for leaders. They would later lay a wreath on her grave.
Large crowd
No uniformed officer from the nearby Iten or Tambach police stations showed up to maintain order at the ceremony where a large crowd of villagers gathered.
Kangogo's husband Richard Ngeno sat pensively with their two children next to his parents-in-law.
Ngeno, a Mombasa-based police commissioner, as well as Kangogo's parents, did not speak at the funeral.
At 2.27pm, Kangogo's body was lowered to the grave.
"Many things have been written and said about my sister. The Caroline you read and heard about is not the one we know. She was a humble girl and we were happy whenever she was around," her brother Mark told mourners.
"If my sister did anything wrong, then it was by mistake. It has not been confirmed by the DCI whether she killed anyone or not."
He said his sister was religious and often went to the nearby St Joseph's Catholic Church, Anin, for prayers.
Kangogo's uncle Robert Kipkorir, who was the family's spokesman, said until yesterday, the family was yet to know whether Kangogo committed suicide or she was murdered. "It is only God and Caroline who know what caused her death," Kipkorir said.