Christine Ambani's suspected killer Innocent Makokha linked to earlier killings – family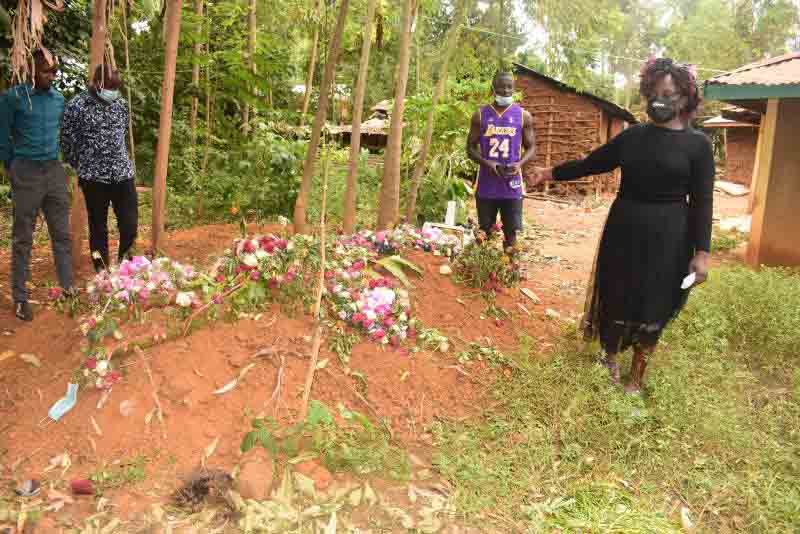 On July 12, when Christine Ambani, a student at Kiriri Women's University was reported dead in a lodging at Githurai, Kiambu County, a suspect was arrested in connection with the death.
Innocent Kalio Makokha, a Bachelor of Special Needs Education student at Mt Kenya University, was nabbed by detectives at 2am on Tuesday in a rented house in Kayole's Chokaa area, Nairobi.
Police said Makokha "had been on the run" since the day he allegedly killed Ambani.
A postmortem examination conducted on her body on July 19 at the City Mortuary indicated that she died of excessive bleeding following a stab on the neck and back.
Police reported that Makokha had earlier this year been released in unclear circumstances when he was linked to the murders of his brother, the brother's wife and their one-year-old child.
Without his knowledge
Now Makokha's father and the main complainant in the case has revealed that his son was released without his knowledge. Apollo Kalio said he was surprised to see his son in the news in relation to the killing of his lover, Ambani.
Kalio said he knew his son was in custody all this time for the crime he committed on January 30.
"I was surprised to see him (Makokha) on TV. Being one of the witnesses in his case where he is suspected to have killed three of his relatives, I knew he was in custody awaiting trial," said Kalio.
Kalio is adamant that his son was involved in the fire incident that claimed the life of his elder brother Eugene Omunyore, 23, his wife Miriam Echesa and their one-year-old son.
The three died when their house at Shikalame village in Mumias West Constituency, Kakamega County, was set on fire.
The man and son died at a local hospital a day after the arson attack while the woman succumbed to her burns a week later. Initial investigations showed that someone poured petrol around the house before setting it on fire. Makokha was adversely mentioned.
According to Kalio, his son, a third year student, had earlier threatened his mother and brother.
"He had demanded some money from my wife but she told him to be patient as she looked for it. That didn't go well with our son who started insulting and threatening them," said the father.
The family said Makokha would leave in a rush after telling his parents that he was going to do something they would regret forever. He blamed his parents for favouring his elder brother and his young family over him.
It was not until his arrest on Tuesday that the world heard of Makokha again, a son who, according to his father, has been destructive since his teenage days.
"My son has gone to many schools due to his indiscipline and we thought he would change," he added.
Kalio wants justice for his deceased son and family, and demands to know how Makokha was released without his knowledge. "I waited to be summoned by the police about my son but I wasn't. I don't know who released him and why," said Kalio.
At his rural area in Eshikalame, two kilometres away, is the family of his alleged lover Ambani.
Ambani, 23, known to her friends as Chrizo, was buried at her parents' ancestral home in Musanda village, Mumias West Sub-county, Kakamega on July 24.
On July 12, Ambani, who had visited a friend at Mwihoko, said she was planning to meet her lover, Makokha, at Githurai town, 15 kilometres away.
She was last seen that day after leaving her friend's house at around 10am and promising to return by midday.
"After the two lovers met in Githurai town, they booked themselves into a guest room in an arrangement that, according to the management, was only going to last a few hours," the DCI said on Tuesday in a statement posted on their Twitter page.
Detectives say Makokha and Ambani settled on such an arrangement to allow Ambani to return to school and sit her exam that afternoon. Ambani's body was later discovered by the guest house security guard, who alerted police.
Ambani's mother, Grace Chitechi, while speaking at their rural home, said she received worrying calls from her elder daughter that Ambani's phone was not going through and she had not reported to school for some days.
The family told The Standard they had received threatening messages from the suspect and now want the culprit kept in custody, claiming that their lives were in danger.