With BBI on life support and proving to be a fragile bet, what's next for political elite?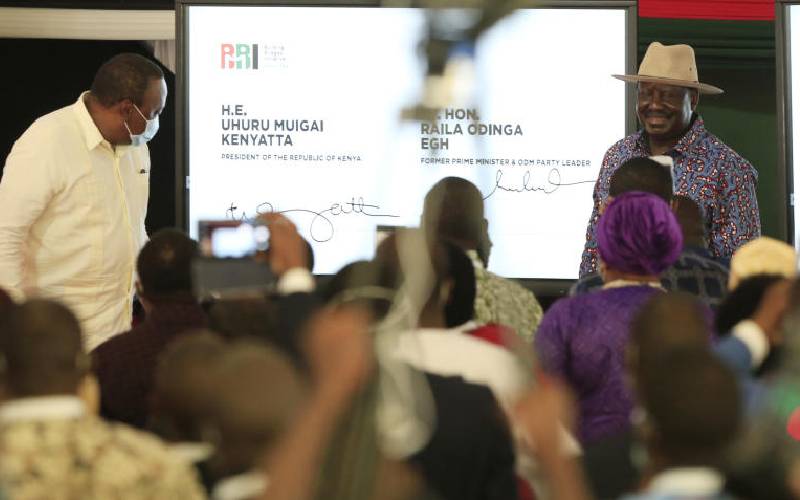 The Building Bridges Initiative (BBI) is facing serious constitutional timelines that have sent the political elite back to the drawing board. The shrewd in Kenya's political top brass know that the initiative is on life support as a factor of constitutional time barriers for next year's General Election. The barriers make BBI a fragile bet for those looking for power next year. They have now begun groping their way towards the election, without banking heavily on BBI, whatever good it has promised this far.
At this time next year, the country will be on the homestretch to the election, with less than a month to go. Political party primaries will have been done by May 9, in line with section 13(a) of the Election Laws (Amendment) Act of 2017. The section says, "A political party shall nominate its candidates for an election under this Act at least 90 days before a General Election, in accordance with its nomination rules."
Nomination rules must be submitted to IEBC by February 9, according to Section 28(a) of the Act. The section makes it mandatory for the rules to be submitted six months before election day. Parties will also have submitted their party membership lists by March 19, being 120 days before the election.
In short, there is no time to gamble with BBI ahead of August 9, for BBI cannot stop time. Parties and politicians should be busy now, getting their statutory act together, or risk locking themselves out of the race.
Emerging political moves by ODM leader Raila Odinga and President Uhuru Kenyatta speak of individuals who recognise that the ground has shifted.
Their spirited trips around the country are now taking on the character of an election charm offensive rather than a BBI promotion mission. Their sights are now cast on the best way to capture the ultimate prize next August, with or without BBI. Allusions to BBI are now likely to be diversionary, possibly to mislead those who are not squarely in the throng.
Where the promise of an expanded Executive through a constitutional referendum once provided the ideal opportunity for alliance formation in the topmost political class, serious timeline challenges are set to throw that option overboard.
Political heavyweights who have in recent times assembled around BBI are lately disowning one another, even as the August 2022 battlelines get increasingly defined as a two-horse race affair between Raila and Deputy President William Ruto. The NASA principals of Musalia Mudavadi, Kalonzo Musyoka and Moses Wetang'ula have publicly accused Raila of treachery and selfishness.
For his part, Raila has told them off, saying he owes them nothing. It is all courtesy of a time-barred BBI, with the need for everyone to think afresh.
The 17th Century French playwright Jean-Baptiste Moliere once dramatised the futility of time-barred interventions into urgent situations.
In the play titled The Imaginary Invalid, a doctor urgently dispatches himself "to see a dead man." He says that he wants to find out what should have been done to save the dead. Put differently, the medic goes out not to cure the man, but to investigate what killed him and how death could have been avoided. That is where BBI seems to be today. Time is out of joint and the future must be confronted differently.
Whatever verdict the Court of Appeal returns on the condemnation of the Constitution of Kenya (Amendment) Bill, 2020 it is unlikely to save the initiative. After the High Court condemned it as unconstitutional, on May 13, its owners filed an appeal, last month. The appeal has since been heard and judgement is expected on August 20. This will be 11 days outside the period when an amendment of the Constitution for purposes of next year's elections can be made.
Article 89(4), for example, outlaws creating new constituencies for purposes of an election within one year of the revision. It specifically reads, "If a General Election is to be held within 12 months after the completion of a review by the Commission, the new boundaries shall not take effect for purposes of that election."
It is a complicated affair for the sponsors of the idea of 70 new constituencies. It will be interesting to see them try to juggle past article 89(4), even if the High Court's decision is voided. Besides this article, more hurdles lie ahead.
Delineate new areas
Article 89(7)a requires that IEBC will "consult all parties interested" in the revision of constituencies before it can delineate new electoral areas. This is to say it must listen to voters from all the 290 constituencies. Even if a referendum were to enact an additional 70 constituencies, IEBC must breathe life into them, in line with the Constitution.
Chairman Wafula Chebukati last month said it was not possible to delineate the constituencies ahead of next year's election. Speaking on a TV interview on Thursday, however, Raila downplayed this sentiment, saying it was still possible to have both a referendum and new constituencies before the August 9 election.
It remains to be seen how that could happen. As if this was not bad enough, article 89(10) authorises "any person (to) apply to the High Court for a review of a decision of the Commission under this article." Latitude of three months is allowed for the determination of the contestation before the courts. It is difficult to see how BBI activities could be sneaked in, even if only edgewise.
But, even before getting to these later stages, the contestation surrounding the BBI is likely to go all the way to the Supreme Court after the August 20 judgment, regardless of the verdict. This will delay the process further, even if the appeal is successful in the Supreme Court. Put simply, BBI is on fragile life support.
They say time and tide wait for no man. The election day will continue drawing closer with nothing inherent in BBI to stop the election. Raila and Ruto have defined each other as the people to watch. They see everyone else as either part of supporting casts, or spoilers. They are, accordingly, rolling out their agenda, with focus on each other, and almost none on the rest of the top politicians.
Ruto has defined "a bottom-up economic development agenda" as his campaign platform, while for Raila it is "war against corruption." Each leader believes that he can take the war to the other with these mantras. For Raila, the strategy is to paint Ruto in the worst of the colours of corruption, while Ruto's approach is to cast Raila in the mould of a terrific self-seeker with nothing to give the downtrodden. Raila paints Ruto as the high priest of avarice and corruption, while Ruto casts Raila as power hungry and the ultimate king of avarice.
With these positions taken and the battle lines drawn, ANC's Mudavadi and Kalonzo Musyoka of Wiper Democratic Party are left in an awkward place. Whenever they speak about greed, corruption and selfishness, they risk being interpreted as echo chambers with no agenda of their own. They have so far not surged ahead with exciting messages of their own. They are likely to be left talking about BBI, even as Raila leaves the initiative behind and moves on to other strategies. They could wake up to discover that the battle is irreversibly between Raila and Ruto with little fighting room for them.
They will probably soon wake up to the reality of the need for Plan B, without which plan some could very well be in their last political act. A false move for Kalonzo and Mudavadi at this point, especially, could consign them into political oblivion, in an increasingly youthful electorate that yearns for freshness. Campaign strategies whose focus is verbal assault against Raila and Ruto may not go very far. The two leaders are already doing a good job in that arena, on their own. Mudavadi and Kalonzo must find their own scripts or take up second fiddles.
Download the BBI Judgement by all seven Judges - Civil Appeal No. E291 of 2021