Raila recalls Kibaki road accident and 2002 election win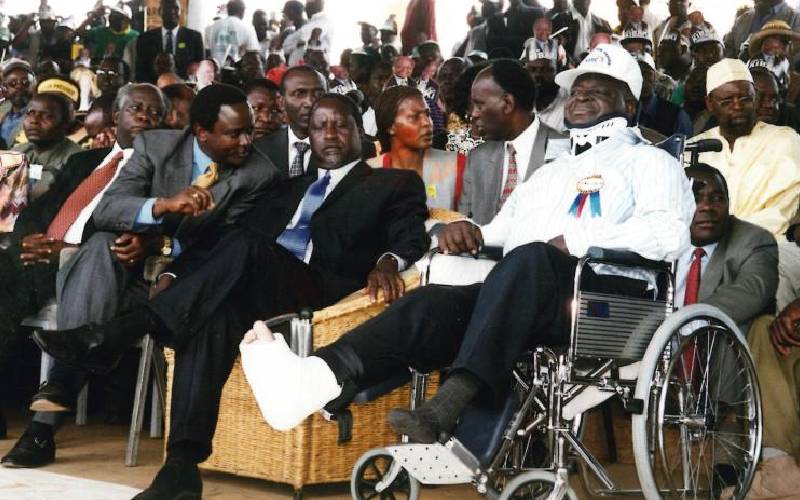 Orange Democratic Movement (ODM) leader Raila Odinga has recounted how he and retired president Mwai Kibaki forged a triumphant bond during the 2002 presidential campaigns.
Speaking at the burial of Esther Ngonyo, mother to former East African Legislative Assembly MP Mumbi Ngaru in Kieni constituency, Nyeri County yesterday, Raila said he stood with Kibaki and Mt Kenya to secure the presidency.
Raila said his declaration of Kibaki's candidature at Uhuru Park changed the tide for the two leaders. "My declaration that 'Kibaki Tosha' was because I recognised he had the experience to lead us and although people thought I would never support a Kikuyu, I was very aware of my decision," he said.
He revealed he threw his weight behind Kibaki till the duo secured the presidency in 2002, and never hesitated because of ethnicity. "I stood with Kibaki because all communities including those in Central Kenya are citizens, we are all equal," he said.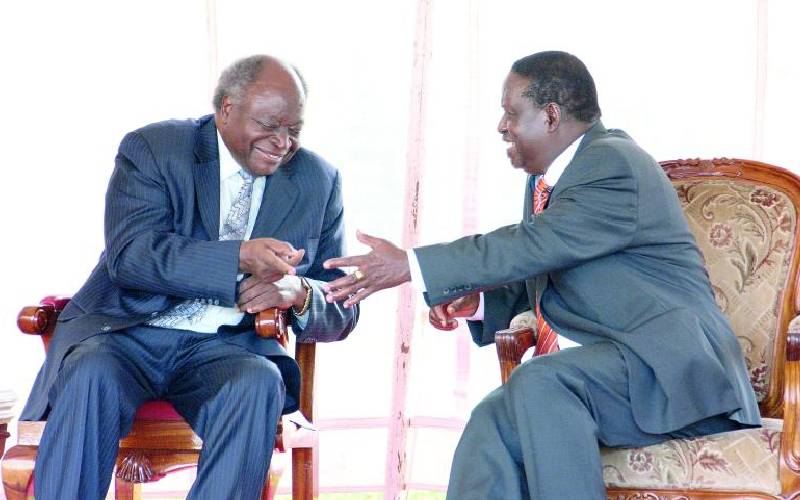 Raila also spoke about Kibaki's accident that saw him injured ahead of the election, as they were traveling from Kitui to Nairobi.
"We were in a convoy with Kibaki, when he was injured in a road accident and his car ended up in a ditch. We rushed him to Nairobi Hospital and he had broken bones and back, it was terrible," he recounted.
However, he said, despite the unfortunate turn of events, he chose to carry on with the campaigns for Kibaki as he was flown to London for treatment and as he recuperated from his injuries.
"People were worried about the fate of the campaign, but I told them that although our captain was injured, we would continue and despite the accident, we won," he said.
After the win, the duo led a victorious convoy from Nairobi to Othaya, Kibaki's home town, a historical implication of the win for Central Kenya.
"We brought Kibaki home, we led that convoy and crossed River Chania and we came past Kenol, Murang'a, Sagana, Mathira, Mukurwe-ini and finally, Othaya and everywhere we went, they called me (the brave leader) Mutongoria Njamba," he said.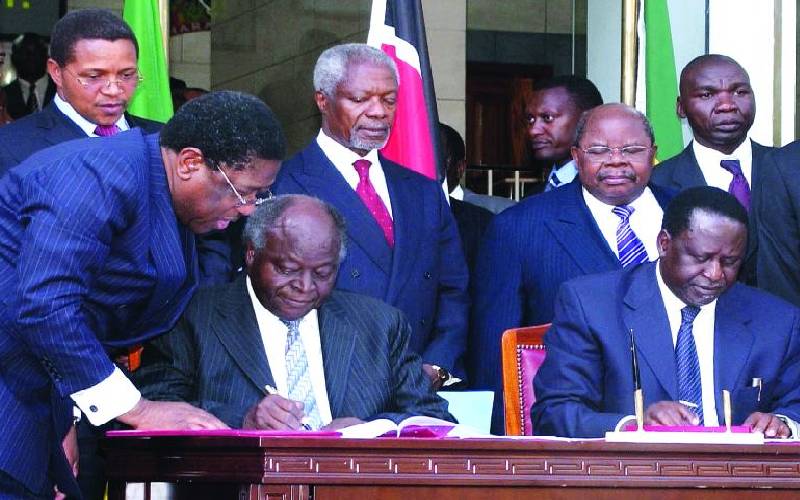 Raila recounted how they came up with Vision 2030 to push the economy from that of a third-world towards a middle-income economy.
In an effort to make inroads into Central Kenya ahead of next year's General Election, Raila spoke of the close relationships he had established with Nyeri leaders, Mumbi Ngaru and her family, Waruru Kanja, who he noted was his friend and had campaigned for him to secure Nyeri constituency seat.
"When I were a young boy, I saw Kanja visit my father a friendship formed when he was detained by the colonial government for being a Mau Mau fighter in Mageta Island, where they were held because they couldn't swim," he recalled.