Why Uhuru couldn't leave Kirubi behind during foreign trips: CS Macharia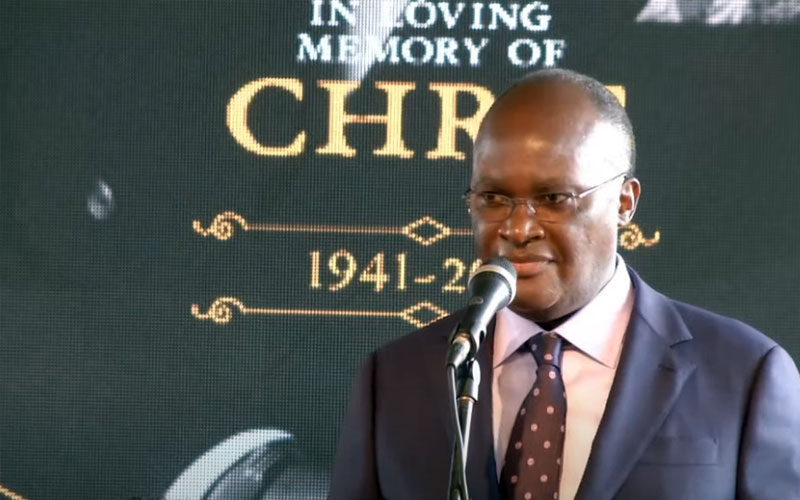 Transport Cabinet Secretary James Macharia on Saturday revealed rarely did President Uhuru Kenyatta leave industrialist Chris Kirubi behind while going on international business-related trips.
The CS was among mourners who attended Kirubi's burial at his Thika Farm in Kiambu County.
Macharia said Kirubi's nonpareil boardroom courage endeared him to the President, who would ask the businessman to tag along every time the Head of State was flying outside the country for bilateral and business-related engagements.
"Each time we travelled with the President overseas, the Head of State would tag him (Kirubi) along. In an international forum, with international investors, where many people would not be courageous to speak, Chris would be the first to raise his hand. This [courage] is basically what has transformed many people [who worked under him] to the standards he desired," Macharia said during his speech at the burial service, branding Kirubi as a "smart investor".
The CS said the President couldn't attend the function because of his two-day engagement in Turkey. On Friday, Uhuru joined other Heads of State and Government at the Antalya Diplomacy Forum (ADF) on the coast of the Mediterranean.
The President arrived in the Turkish resort city of Antalya on Thursday evening, June 17.
ADF brought together diplomatic actors from across the world, among them political leaders, diplomats, opinion shapers and academics, to find solutions to identified global challenges as well as identify opportunities for international collaboration.
President Kenyatta was among the 12 Heads of State, 43 foreign ministers, four former Heads of State, Representatives of international organisations and intellectuals from the world, who graced the convention.
"You are aware the President is out of the country, and he would have loved to be with us today. However, we spoke last night and we agreed that he is still remembering you in thoughts and prayers," said Macharia.
Uhuru, in his speech read by Macharia, said Kirubi's death robbed him of a personal friend.
"It is with immense grief and a deep sense of personal loss that I send you this message of condolence and encouragement following the death of Dr. Christopher John Kirubi.
"In the passing of this powerhouse of a man, we have been robbed of a seasoned businessman, entrepreneur, industrialist, innovator and philanthropist whose influence spanned real estate, media, retail, charitable works, financial services, banking, among many others. Mr. Kirubi was also a celebrated mentor and role model with a passion for uplifting and supporting others.
"Under his wing, many of the past and present crop of business leaders and media personalities rose to prominence.
"Socially, Chris was a cheerful, approachable and accessible corporate leader who interacted with Kenyans of all walks of life with ease. He was one of the most accessible corporate leaders Kenya has ever produced.
"Due to his wise words of wisdom and advice, generations after generations of Kenyans and Africans improved the personal and business circumstances. Death is not the end of the legendary Chris Kirubi. He is immortalised through his many achievements; the many millions of lives made better by his business brilliance, the billions of [Kenyan] shillings added to our economy through his innovative projects and the immeasurable number of ways he brought happiness in all our lives.
"We are privileged that Dr. Kirubi lived amongst us. May the Almighty God rest his soul in everlasting peace," read the President's speech.
The function was also attended by Information Communication Technology (ICT) Cabinet Secretary Joe Mucheru, who eulogised Kirubi as the "man who loved life".
"He (Kirubi) taught me many things, and many of those I have been implementing. I love that he loved life. I do not think anyone of you would believe he was 80 years old. He just enjoyed life. Even during the time of illness, he never lost who he was; he continued to love people, family and God. I would continue to cherish many of these things about him," said Mucheru.
Reverend Teresia Wairimu of the Faith Evangelistic Ministry Church in Karen, where the late businessman's memorial service was held on Friday, June 18, revealed she read to Kirubi his favourite Bible chapter, Psalms 23, shortly before his death at 1pm on Monday, June 14.
The service ended at 2:30pm, and Kirubi was immediately interred, with a lunch scheduled thereafter.
Kirubi died of colon cancer aged 80 after a spirited five-year battle. He is survived by two children (a son and a daughter) and five grandchildren.