Counties threaten to shut down over delayed release of Sh102b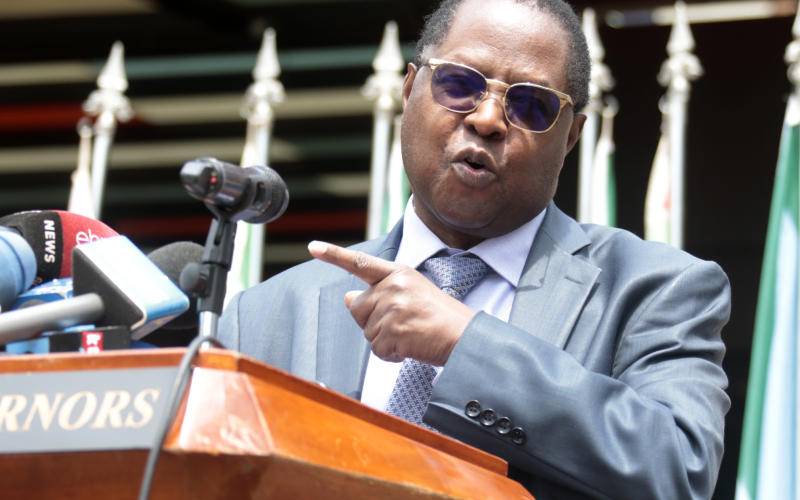 Governors have threatened to shut down county government operations by June 24 if they do not receive Sh102 billion from the National Treasury in the next four days.
The county bosses warned of delay of salaries, remittance of employees' statutory deductions and payment of suppliers' pending bills if the National Treasury does not release the funds, which is the balance of Sh316.5 billion to counties as per the Division of Revenue Act, 2020.
Council of Governors chair Martin Wambora accused the National Treasury of violation of the law over delay to disburse the funds before the end of the 2020/2021 financial year.
"It is with dismay that we report that the Treasury is yet to disburse resources to county governments amounting to Sh102.6 billion two weeks to the end of the financial year. Unfortunately, if the National Treasury fails to release the required funds, counties will not be able to offer services, including payment of salaries," said Mr Wambora
He said the delay to release the funds will also affect the implementation of development projects and the response to Covid-19 pandemic.
"In this regard, the National Treasury should release these funds by June 18. This will offer counties the remaining eight working days to satisfy the stringent requirements by the Controller of Budget in accessing and spending the funds," he said.
"The continued delay in disbursement is eroding gains made in devolved governance and affecting the economic growth in the counties. The Treasury has not only failed to comply with the Constitution, but even with its own document - the cash disbursement schedule, 2020," said the CoG chair.
Wambora noted that operations of the national government continue uninterrupted owing to timely financing from the National Treasury, while those in the counties are slowly grinding to a halt.
"This should not be tolerated by those who support the success of devolution in Kenya," he said.
The National Treasury Cabinet Secretary Ukur Yatani, while delivering the budget speech, directed county governments to clear eligible pending bills by June 30.
Out of the verified pending bills by Office of the Auditor General, county governments have outstanding eligible pending bills amounting to Sh11.5 billion.