President Uhuru says he also defends the Constitution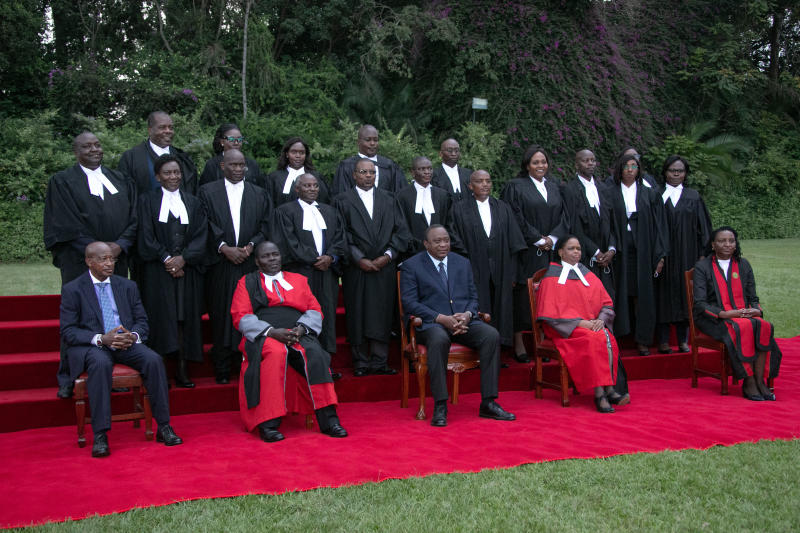 "I took a similar oath to defend the Constitution and I cannot turn a blind eye to things happening in other State organs."
Those were the words of President Uhuru Kenyatta to the judges who were sworn-in yesterday, and to the nation a day after he appointed the judicial officers who had been given the nod by Judicial Service Commission in 2019.
"I am not doing the duty for myself but on behalf of Kenyans. We have a collective duty to serve the people," said the president during the ceremony at State House, Nairobi.
For the 34 judges, the wait was finally over, even as the president who did not appoint six of their colleagues from the list of 40, told them to take their oath of office seriously.
It has been a long wait from 2019 for the judges appointed to the Court of Appeal, Employment and Labour Relations Court and the Environment and Land Court.
The relief on their faces could be seen as they came one after the other to take the solemn oath administered by Chief Registrar of the Judiciary Anne Amadi and witnessed by the president.
Unlike the fanfare witnessed during the swearing-in of Chief Justice Martha Koome and Supreme Court Judge William Ouko two weeks ago, theirs was low key event that culminated in a photo session with the president.
Chief Justice Koome attended the function.
President Kenyatta, in his brief speech after the swearing-in ceremony, reminded the judges to serve the people diligently. He did not give reasons why he declined to appoint six other judges.
Those sworn-in were seven judges of the Court of Appeal, nine of the Employment Court and 18 of the Environment and Land court.
The seven new Appellate Judges are Francis Tuiyot, Hellen Omondi, Pauline Nyamweya, Msagha Mbogholi, Jessie Lessit, Mumbi Ngugi and lawyer Kibaya Imaana Laibuta.
Their elevation to the second top court came a relief to the court which has been struggling to raise quorum to hear appeals and had stopped court operations in Nyeri and Malindi .
The Appellate Court had only 13 judges out of the requisite 30 judges. It will now have 20. Those appointed to the Land Court are Joseph Mboya, Lucas Leperes, Michael Ngolo, Edda Dena, Lillian Gathoni, Joseph Mugo, Edward Wabwoto, Anne Yatich, Maxwel Gicheru, Jacqueline Mogeni and Fred Nyagaka.
Others were Christopher Nzili, David Mwangi, Lynnette Achieng, Emmanuel Mutwana, Annet Nyukuri, Theresa Wairimu and Esther Asati.
The new Employment and Labour Court judges are Jacob Kariuki, Christine Noontatua, Jemima Wanza, Ann Ngibuini, Benard Manani, Stella Rutto, Kebira Ocharo, Agnes Kitiku and David Nderitu.