Ruto calls for unity, justice, strong institutions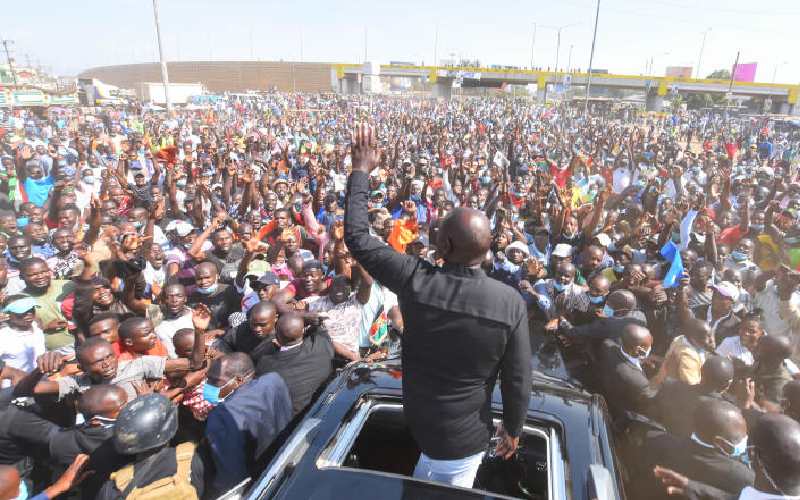 Deputy President William Ruto has said time is ripe for Kenyans to enter the second phase of politics grounded on constitutionalism and not personalities.
Speaking during the 58th year Madaraka Day celebrations at the Jomo Kenyatta International Stadium in Kisumu on Tuesday, Ruto paid tribute to the painful and bloody sacrifices made by champions of independence across the country unified by their common goal of self-rule.
In a short, speech mostly applauding the president and his government, the deputy president reminded Kenyans that for Kenya to succeed, it should not be built on, "the foundation of tribes or ethnicity but built on the foundation of institutions, a robust legislature, a performing executive and an independent judiciary."
"It will be an act of great betrayal if we let ethnic bigotry and personality cults to destroy the firm foundation of constitutionalism and the rule of law in our nation," said Ruto.
His statement contradicts the reality of the day that has seen President Uhuru Kenyatta under sharp criticism especially by former Chief Justice David Maraga for "routinely" ignoring court orders.
Last month, the president reopened the renovated Kenya Meat Commission (KMC) factory in Athi River despite a High Court ruling in February that its transfer to the military was illegal.
The president is also yet to approve 40 judges recommended by the Judicial Service Commission, despite two court orders requiring him to do so.
Applauding the president's two-day visit which has seen the launch of different projects in the lakeside region, the DP yesterday said, "it is possible to develop Kenya equally and bring everybody on board."
"It is a testimony that there is a government that works and delivers and it goes to confirm two things, that a government that delivers is good for everybody irrespective of who they voted for and secondly that a government that delivers, brings the country together," the DP added.
Classic to his style of rhetoric, Ruto did not miss the chance to woo Kisumu residents with a struggling attempt at Dholuo which left the masses amused and later elated when he referred to ODM leader Raila Odinga as his "friend" and "aka, Baba".
The DP also called the government to enter the next stage of development which according to him is uprooting the twin challenges of poverty and unemployment.