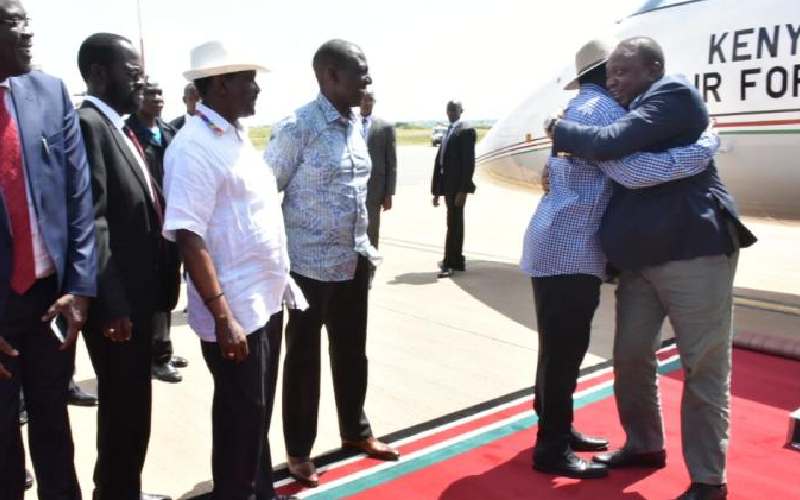 President Uhuru Kenyatta's invitation to ODM leader Raila Odinga to address Madaraka Day celebrations yesterday underscored the rate at which his rapprochement with the latter has grown since March 2018 Handshake.
Uhuru had just moments earlier been called upon to give his speech by Deputy President William Ruto.
"Let me break protocol and ask my elder brother to speak," Uhuru who had been expected to speak before inviting Burundi President Évariste Ndayishimiye who was chief guest, said.
Uhuru's move pointed to the deepening camaraderie with Raila, which continues to astound both friends and foes as next year's elections beckon.
The two former political foes whose major political war started in 2002 when then-President Daniel Moi declared Uhuru his heir apparent with Raila leading a mass exodus from Kanu to back Mwai Kibaki for the presidency, are now like conjoined twins.
Moi's choice of Uhuru caused a split in Kanu, with some top officials such as Raila and Vice-President George Saitoti leaving to form the opposition Rainbow Alliance.
After 2002 General Election which Kibaki won, Raila and Uhuru found themselves in different political camps with Uhuru backing Kibaki's re-election while the ODM leader sought to become the country's fourth president, but lost.
The disagreements over the outcome of the presidential election paved way for Raila and Uhuru to work together in government as Prime Minister and Deputy PM respectively before squaring it out for the presidency again in 2013 and 2017.
The 2017 post-election chaos however appear to have disturbed the status quo with a new unity deal between Uhuru and Raila that appear to have secured the ODM leader pole position for the 2022 duel.
Since the handshake, the two leaders whose families-the Odingas and Kenyatta's have had strong history dating back to pre-independence, have shown strong unity with the ODM leader being made African Union High Representative for infrastructure and enjoying various state largesse.
From the handshake, Nyanza started witnessing tremendous progress in development especially on infrastructure, with Uhuru now making frequent visits. On Sunday, Uhuru landed in Kisumu at 3pm to a rousing welcome.
Not even fear of coronavirus would deter the two leaders from a tight hug which epitomised the zeal to reconcile with one another and bury the hatchet.
Today, Raila enjoys unfettered access to the president at will and has whipped his foot soldiers to avoid any statement contrary to the establishment. While receiving the president at the Kisumu International Airport, Uhuru smiled at Raila as they walked to the VIP holding room for a brief.
Raila was in a happy and free mood. So was the President who chatted happily with the few leaders he interacted with him on his visit including Kisumu Governor Anyang' Nyong'o.
Since 1963, Luo Nyanza has borne the brunt of economic marginalisation. This was largely aimed at taming the "radical" Luo Nyanza leaders, most of them with an emphatic record in fighting for pluralism.

No other high-ranking politician has borne the burden of personal attacks than Raila.
Raila has for years led the opposition, styling himself as the anti-establishment candidate trying to unseat either the incumbent or the incumbent's preferred successor.
But since his truce with Uhuru, Raila is regarded in some quarters as a pro-establishment candidate, even often hosting top government officials in his office.
In November 2016, just a few months to the 2017 elections, Raila scoffed at President Uhuru over his remarks to have the ODM leader retire from politics. "I am dedicated to fight for the rights of Kenyans regardless of their tribal affiliation. Labelling me a noisemaker shows Uhuru's poor reception to positive criticism."
Early in June 2017 during the campaigns, Uhuru had said to Raila and NASA leaders, "They have nothing to tell Kenyans. He is only good at propaganda. He is now saying he will provide free secondary school education after he heard me telling Kenyans about it. He's good at copying," President Uhuru said.?
Today, Raila's exuberance about State matters is, however, a show of how the political landscape has changed with Deputy President William Ruto's relationship with Uhuru worsening.
The opposition speaks for the government, while a section of the ruling party, Jubilee, embittered lot by the handshake circles around DP Ruto has veritably become the opposition.
While on a local radio talk show on Monday, Raila asked his supporters to be patient and calm, saying they will not come out empty handed in next year's elections.
He said the handshake was still rock solid and hoped that the Building Bridges Initiative (BBI) legal stand off would be resolved soon to make Kenya realise its dream of a cohesive nation.