Italian priest returns home after 52 years with bag of memories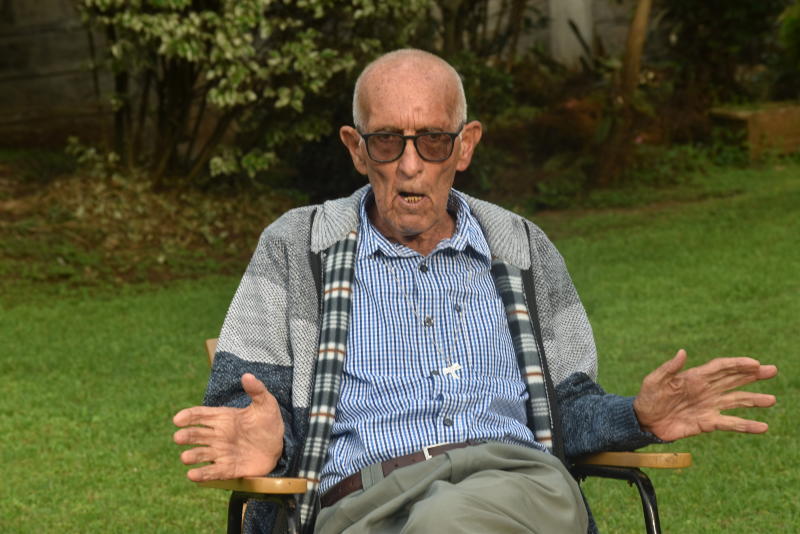 In a few days, Father Adolf Poll, popularly known as Alleluia, will leave the country. Father Poll, a missionary who has been in Kenya for more than five decades, will be returning to Italy with nothing more than a small bag and memories.
He also takes with him the nickname "Alleluia", one that defined his stay in Kisii where he was first posted when he arrived at the Port of Mombasa as one of the last missionaries aboard a boat from Europe.
He did not speak Ekegusii, the language of the people he was supposed to preach to. Anytime they greeted him, he responded by saying "Alleluia". It became his standard response whenever locals spoke animatedly to him in Ekegusii. Now, it has become the name many people know him by.
"Not many people know my real name. To many Kenyans, I will always be "Alleluia"," he says.
The priest has offered selfless service for the past 52 years.
During his last Holy Mass on Tuesday at the St Josef Freinademtz Catholic Church in Witu trading centre in Lamu, Fr Adolf received simple gifts from his parishioners. Two simple travelling bags, which he was photographed carrying as he left the church compound for a trip to Nairobi and two sculptures – one of a Maasai warrior holding a spear and the other of the Holy Virgin Mary – were a testament of a man who enjoyed simplicity in life but had a heart of gold.
However, his achievements are remarkable. About 300 students have benefited from sponsorships to go to school and even join university. At the Parish centre, Fr Adolf set up a rescue centre that currently has 50 girls.
Fr Adolf will be remembered for his unrelenting efforts to ensure communities in Witu, Kipini and even Mpeketoni had access to fresh drinking water. In his 20 years of service in Lamu County, Fr Adolph sunk 95 wells for domestic use.
"He touched the lives of so many people wherever he went. He was never afraid and would venture out to help those in distress. In fact, in Witu, which has borne the brunt of insecurity owing to sporadic attacks by remnants of Al Shabaab, Fr Adolf was among the first responders at scenes of crime," said Fr Alex Kimbi, who until last week was the deputy presiding priest at the Witu-Kipini parish.
Fr Alex said during times when Fr Adolf would be travelling back home for holiday, he travelled simple. "You would think that he was only taking a walk to the next trading centre," he said.
"Majority of people he helped and touched were not even Catholics. Witu and Kipini are areas predominantly inhabited by our Muslim brothers and sisters. Fr Adolf was easy with all," Fr Alex said.
There are many other things people do not know about the Catholic priest who has served several parishes in western Kenya and the Coast: He has escaped death on many occasions. The most memorable one was when the car he was travelling in was sprayed with bullets. It was during the chaos after the death of Tom Mboya and he was going to officiate at the burial of a soldier when he heard gunshots.
"They were so many. An explosion. I felt something hit my stomach. I thought it was the end of me. My bowels had to be operated on, but God stepped in, and I am still here," he says.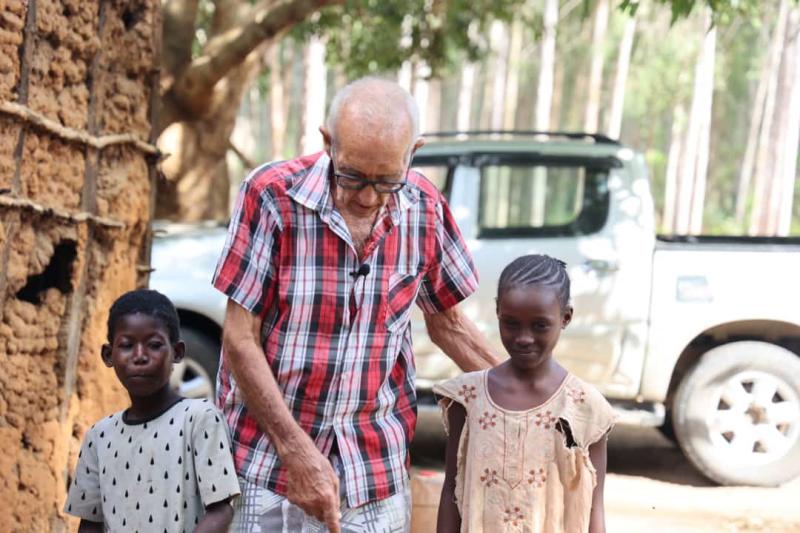 Adventurous spirit
He was later involved in another road accident at the Coast that broke his neck and saw him hospitalised for several days. He came out with a slight limp, but his adventurous spirit remained untouched.
Then there was a time, just a few years back, when he was praying in his room, and gun-wielding thugs stormed the place demanding money.
"I was scared. I gave them the offering that had been collected, and they left. They did not harm me," he says.
Adolf's love for priesthood started when he was a young shepherd taking care of his parents' livestock in South Tyrol, Italy, where he was born and raised. He was ordained as a priest in 1967. He then left in December 1968 for Kenya and was first posted to the Catholic Diocese of Kisii where he served for 31 years – from 1969 to 2000.
In 2001, he was posted to Witu in the then Lamu District under the Catholic Diocese of Malindi, where he served for 20 years until his retirement. In between, he had to learn several languages, including Dholuo, Kiswahili and Latin.
"Learning a new language was hard, especially when I was in Kisii and there was not even a Bible that had been written in that language," he says.
His peers describe him as a steadfast priest who went out of his way on several occasions to care for the needs of the people he served.
"He was never afraid and would venture out to help those in distress," said Kimbi.
There are others who know him as an impatient man who always wanted things to go his way. One of the worshippers in Malindi where he worked for 20 years remembers him as a fast driver.
"We knew his car from how it was always being driven - very fast. You would just see dust swirling in the horizon and you would know that Alleluja is on his way," she says.
At 81, he says life has handed him a fair share of lessons. The greatest one, he says, is that humans are complex and one cannot understand them. What has continually disappointed him over the years is when he celebrates with couples who have a church wedding only to hear that their marriage failed.
He does not regret that he never got married. He says the travels he has made would not have been possible if he had a family. "Seeing marriages not working out is the worst thing for me as a priest," he says.
He, however, says things are changing and very soon, the Catholic Church will have to embrace the idea of having priests who have wives and children. He says most families, especially Europeans, now have less than two children and parents are not as enthusiastic to encourage them to get into priesthood.
"If a man is of good standing and has good values, he can be ordained," he says.
He has flaws that he acknowledges. The one that he says has troubled him for a long time is that it sometimes takes him long to forgive. He says he has had conflicts with people and it took longer than it should have for them to work things out.
Death does not scare him. He says he has had a close shave more than once. The thing that scares him is that with age, he has noticed he is beginning to forget little things that used to excite him.
People's names now take him longer to remember. Some past events are starting to slip off his mind. He fears that he might forget the beautiful memories that he gathered in his youth.
"I cannot imagine not remembering the days I spent on the mountains. Both the Alps and Mount Kenya. Standing on the mountains and looking down at what God created gives me a thrill," he says.
As soon as he gets his dentures fixed, because his teeth have started getting wobbly, he will be off to Italy. In his bag, he will have Maasai artefacts that were gifted to him by congregants, and a few personal belonging.
"What I am carrying with me in abundance are the beautiful memories I made here," he says.
[Additional reporting by Philip Mwakio]