Inside Naivasha sharpened spoon inmate murder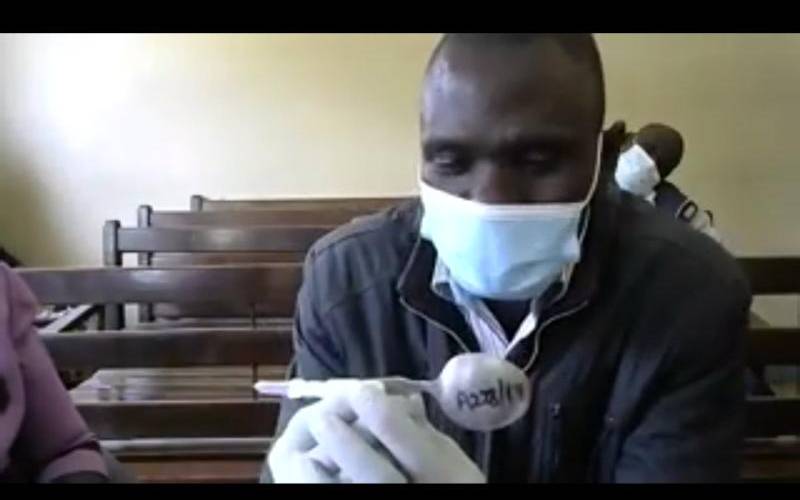 Business deals are struck every day but rarely do you hear one that is cut inside a prison, more so among inmates.
But at the Naivasha Maximum Security prison, an inmate is accused of of killing his colleague over a deal gone sour inside the fortified walls of the penal institution.
A prison warder told a court that an inmate serving a life sentence at the prisons used an improvised knife to kill a cell mate after they differed over a business deal.
Detei Manzi while testifying in the murder of Harun Karanja on Thursday told High Court judge Teresia Matheka that Victor Ochieng attacked his fellow inmate on October 4, 2017.
Mr Manzi, a prosecution witness in the case, said Ochieng had improvised a spoon into a sharp knife that he used to stab Karanja in the neck as they were waiting to be served lunch.
"I was serving vegetables as the inmates queued for lunch. They start with Ugali and then vegetables. But as I was busy serving, Ochieng jumped the queue and attacked Karanja," he narrated during a virtual court session on Wednesday, May 19.
Manzi said a scuffle ensued for a few minutes and when they were separated, Karanja was bleeding profusely from the neck. "At this point, Ochieng dashed to the exit and Karanja fell on the ground as the guards pursued Ochieng."
According to Manzi, a scuffle during lunch or dinner was normal at the facility, but this particular one was different as it was serious.
His colleague Vincent Kipyegon also testified, saying he heard a commotion and rushed to see what was going on, only to find an inmate bleeding.
"I saw him (Ochieng) drawing something under his shirt. It was wrapped in a piece of blanket. He attacked his fellow inmate on the neck twice," Kipyegon told the court.
He added that as Ochieng was escaping from the scene, he bumped into another inmate, Douglas Maina, whom he stabbed twice using the same object.
Kipyegon said Ochieng' surrendered himself to guards manning the gate and also handed over the weapon he used to stab his fellow inmates.
Inspector Aroo Achuka, who was the officer in charge at that time of the incident said that the two warders reported the incident to him. And when he proceeded to the scene, he found Karanja lying in a pool of blood.
He produced the improvised knife as exhibit and also identified the shirt that had blood spots in the front and around the neck which was worn by Karanja.
The officer said Maina was taken to the hospital for treatment, but Karanja was pronounced dead on arrival at the hospital.
"Maina was referred to Kenyatta National Hospital for specialized treatment," Achuka said, adding he knew Ochieng' for over 20 years.
He also had an understanding that Ochieng' and Karanja were not in good terms.