700 apply to join Wafula Chebukati team of Commissioners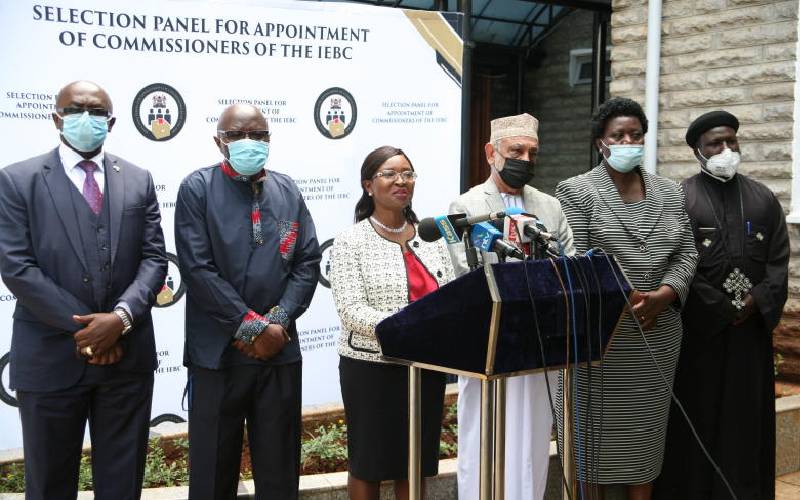 The Selection Panel for the appointment of commissioners of the Independent Electoral and Boundaries Commission has received over 700 applications for the four vacancies in the position of member of the IEBC.
Addressing the media this afternoon at County Hall, Nairobi, the Selection Panel Chairperson, Dr. Elizabeth Muli, said the team will proceed to collate the applications received.
"The Selection Panel shall publish the names of all the applicants whose applications were received by the close of the application period yesterday evening, together with their qualifications, in the Kenya Gazette, in two newspapers of national circulation and on the website of the Parliamentary Service Commission," said Dr. Elizabeth Muli.
After the publication of the long list, the Selection Panel will move to short-list the applicants and thereafter publish the names of the shortlisted candidates.
"The Selection Panel shall also invite the views of the public on the suitability of the shortlisted candidates to serve in the position of member of the IEBC."
When the Selection Panel was sworn into office on April 28, 2021, the Chairperson said interviews for the shortlisted candidates were to be conducted for five days from May 31 and June 4. The Selection Panel hopes to forward the names of successful candidates to President Uhuru Kenyatta on or about June 9, 2021.
IEBC is currently operating with three commissioners – Chairman Wafula Chebukati and Commissioners Boya Molu and Abdi Guliye – after exit of four commissioners after the 2017 general elections.
On Thursday last week, a five-bench judge of the High Court Constitutional and Human Rights Division, while declaring the Building Bridges Initiative (BBI) null and void, also issued a permanent injunction against IEBC, stopping it from organizing or conducting a referendum until proper voter registration and education is done. The judges said IEBC lacked the quorum of carrying out its mandate, including verification of BBI signatures. The IEBC is in the process of lodging an appeal to the Thursday High Court ruling.