Atwoli calls for crackdown on illegal employment agencies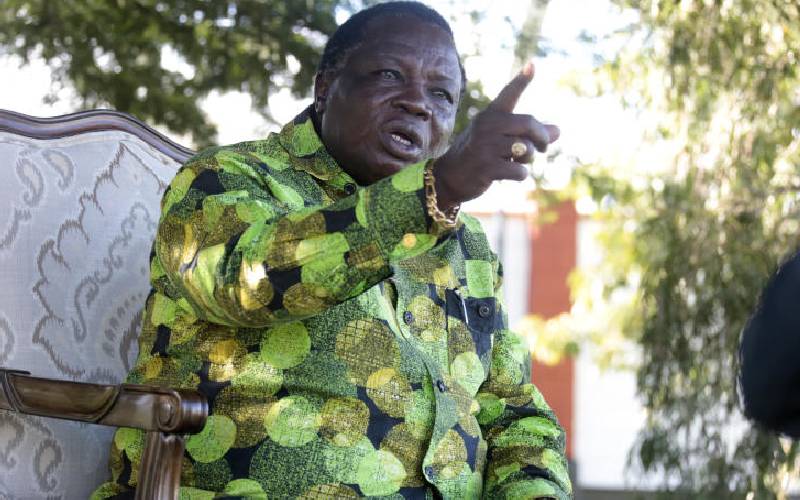 Cotu Secretary General Francis Atwoli now wants the government to crack down on employment agencies sending Kenyan youth to their death traps abroad.
Atwoli on Tuesday said the state should revoke licenses of the agencies that do not meet the minimum qualification standard.
The Cotu boss said the government of the day should immediately stop the operation of those employment agencies notoriously known to corruptly facilitate the travel of Kenyans to Saudi Arabia.
This comes amid concerns of increased incidences where families have been left in agony after their kin die overseas.
He spoke in the wake of an expose by The Standard ran a story revealing how Kenyan women are flocking the middle East especially Saudi Arabia, Qatar, Oman and Bahrain despite the reports of horrendous deaths and torture, synonymous with modern-day slavery.
This is made possible by the help of faceless and interconnected agents who lure their victims.
The Standard established that one team of these agents is in Kenya and another comprising Asians is based in the Gulf.
In a symbiotic manner, they connect Kenyan girls to wealthy families in Saudi Arabia and neighbouring countries with a commission ranging between Sh100,000 and Sh200,000 for every girl, according to a source working for an agent in Nairobi.
But Atwoli said the government must establish bilateral engagements with the Kingdom of Saudi Arabia to sign agreements touching on the rights of Kenyans working within Saudi Arabia.
"We must post more Labour attachés to countries in the Middle East, where many Kenyans are present, to help in protecting the rights of Kenyans working in Saudi Arabia," he said.
He said the government must also come up with policies that would create employment for the youth to avoid having them going to poor foreign countries in search of employment.
"Reading stories, watching the news and viewing images of how innocent Kenyans are suffering in a foreign land in the name of seeking greener pastures is extremely heart-wrenching. It is not just painful for the Labour Movement fraternity in the country when young boys and girls come back in coffins but I believe it is equally disturbing to any Kenyan who loves his country and its people," he said.
Atwoli said COTU has been opposed to having employment agencies because most of them do not meet the minimum requirements of an employment agency.
He said the same agencies are notoriously known to collude with top government officials to have the paperwork done and also get registered without following the due process.
"It is an established fact that some officials in authorities are known for being bribed and receiving bribes to facilitate the transportation of innocent Kenyans to a foreign land for torture in the name of employment.
With these reports of Kenyan job seekers being mistreated by their employers in the Middle East being on the rise, questions are being raised on why so many are still seeking these jobs.
The article by Standard revealed that many employers in Kenya require that job seekers meet the cost of training and the hassle of securing documents -- such as a Certificate of Good Conduct -- agents recruiting for jobs in Gulf countries require little apart from basic identification documents and the willingness to travel.
But the fact that these recruiting agencies meet the cost of training and processing of travel documents is a major attraction that later turns into a trap for those who would not have been able to meet the cost themselves; those who change their minds about taking up the job once the training is done are asked to refund the money that has been spent on them.