Odindo: Philip Ochieng made many journalists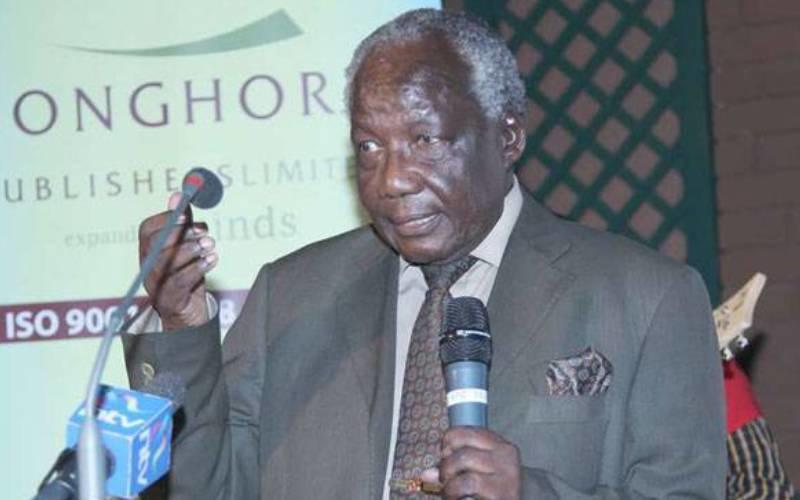 Philip Ochieng – the veteran editor, columnist and author – who died on Tuesday aged 83, can be remembered for a number of things, key among them his contribution to the journalism profession in Kenya.
Ochieng', renowned for his The Fifth Columnist and Mark my Word columns published in the Sunday Nation and Saturday Nation, respectively, rubbed off on a number of journalists in the course of his long career in journalism.
Veteran journalist and former Standard Group Editorial Director Joseph Odindo says his first encounter with Ochieng was in the late 1970s.
Odindo had just left school and was a trainee reporter at the Nation.
"You immediately got the sense that he was very widely read," said Odindo.
"He was very dedicated to the craft of journalism and one of the most knowledgeable journalists you will meet. He had a passion for journalism and what one could not help admiring was his commitment to principle and his readiness to train young people."
But Ochieng was a stickler for grammatical accuracy, hard to impress and, especially to cub reporters, scrupulous.
A generation of reporters that came up in the newsrooms at Nation and Kenya Times owe some of their knowledge to Ochieng', Odindo says.
"He trained many of us and taught us valuable things, there was something new you learned from Philip," he said.
"People like Philip would show you how it is done. It was not very difficult. In fact, a good reporter who wants to grow came to appreciate Philip as one of their best friends in the newsroom."
Yet, Odindo said, while Ochieng' was not everyone's cup of tea, he was the best person to have around when growing into a career in journalism.
"It is always difficult when you are young and learning and working in a rigorous newsroom. But it is more difficult if you are unwilling to learn because a thorough and rigorous newsroom insists on high standards but understands that a beginner makes mistakes," he said.
Ochieng was not just creative with language, he was also bold.
"You saw the bold in his book, The Kenyatta Succession, because it was a precedent-setting book and there have been few that match it," Odindo said.
But certain attributes about Ochieng' jump at you from the pages of Liz Gitonga-Wanjohi's The Fifth Columnist: A legendary journalist, Ochieng's biography published in 2015.
He was arrogant and sometimes rude, a mystery even to the family members closest to him.
Ochieng was born in a family of six in Awendo, Migori County, in 1938.
He was educated at Alliance and went on to the Roosevelt University in Chicago, US, and later Germany, being one of those who benefitted from Tom Mboya students airlifts. [Allan Mungai]