Politics, revenue collection fuel inter-county border disputes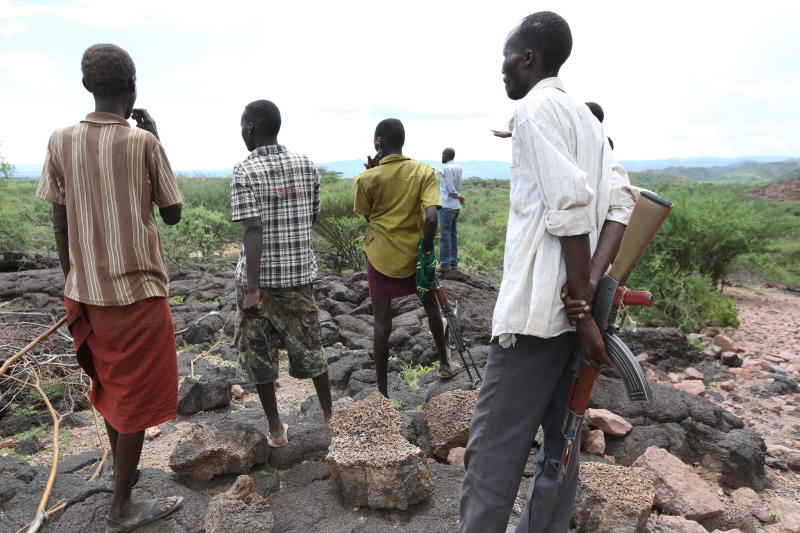 Political interference and revenue collection are among issues fuelling inter-county boundary disputes in at least 15 counties.
The inter-county clashes are also heightened by persistent drought, competition for pasture and water, and retaliatory attacks.
Interior Cabinet Secretary Fred Matiang'i said politicians seeking elective seats, spark emotive border debates to win votes, leading to clashes, sometimes deadly.
Dr Matiang'i noted that sometimes disputes arise due to competition for pasture and incitement by politicians who initiate development projects across the common border.
"Political incitement and interference has contributed to the conflict especially before and during the election period. Some politicians bring up the issue of boundaries to win votes," he said.
"The government has directed that all administrators who had established offices across the common border to pull back to their respective areas of jurisdiction," the CS added.
Also fuelling the tension and clashes are 'expansionist tendencies' by some communities, delay in the adjudication of the boundaries and discovery of natural resources in some areas.
Some disputes, the CS said, are historical with attempts by previous administrations to resolve them proving futile.
"Some disputes are historical and attempts by previous administrators, have not been successful," he said.
Matiang'i made the disclosures in a report tabled before a joint Senate committee on national security, defence and foreign relations and justice, legal affairs and human rights.
The report was presented by Interior CAS Hussein Dado on behalf of the CS during a meeting with the joint committee inquiring into inter-county boundary disputes.
The investigation was triggered by senators seeking answers from the ministry on the escalating clashes among communities allegedly over boundary disputes.
According to the report, at least 15 counties are engrossed in disputes over borders, leading to physical fights.
Besides Kisumu-Siaya-Vihiga counties which are fighting over Maseno, other counties caught in fights are Turkana-Marsabit-Samburu. Others are Machakos-Makueni counties who are fighting over the exact location of Konza City. Makueni and Taita Taveta are also embroiled in a fight over Mtito Andei.
There has been protracted boundary dispute between residents of Kajiado and Makueni counties, at a place where the Kamba refer to as Mikululo while the Masaai refer to it as Oloirien. The dispute has been before various courts.
CS Matiang'i said: "The dispute has subsequently led to clashes between the two communities leading to loss of lives, destruction of property and cattle theft."
There are also boundary disputes in Kajiado-Taita, Taveta-Isiolo and Meru counties where many people have died.
There is also a conflict among Turkana, West Pokot and Baringo counties.
There is also a dispute in Kapedo between Turkana and Baringo.
"Both communities have remained adamant that they are the rightful owners of Kapedo since they both occupy the centre," the CS said.
The boundary dispute between Isiolo and Meru counties has been a persistent problem which escalated with the inception of county governments.
In the report, Matiang'i said the historical boundary conflict among Kisumu, Vihiga and Siaya counties has been fuelled by the perceived exclusion of the Bunyore community in the management of Maseno University and other public institutions within the area.
In addition, the counties are also fighting over revenue with Vihiga, claiming the right to collect revenue in the contested area.
"Some leaders incited some youths who uprooted the Maseno school fence. The youths were bailed out by a deputy governor after they were arrested," Matiang'i said in the report.
Political incitements, rivalry among university students, environmental conflict and claims of skewed development have also fuelled tension at Maseno.
Machakos and Makueni are battling for Konza City due to opportunities that are expected to come with the completion of the techno city.