Picture evidence mix-up delays hearing of Sh144m property damage dispute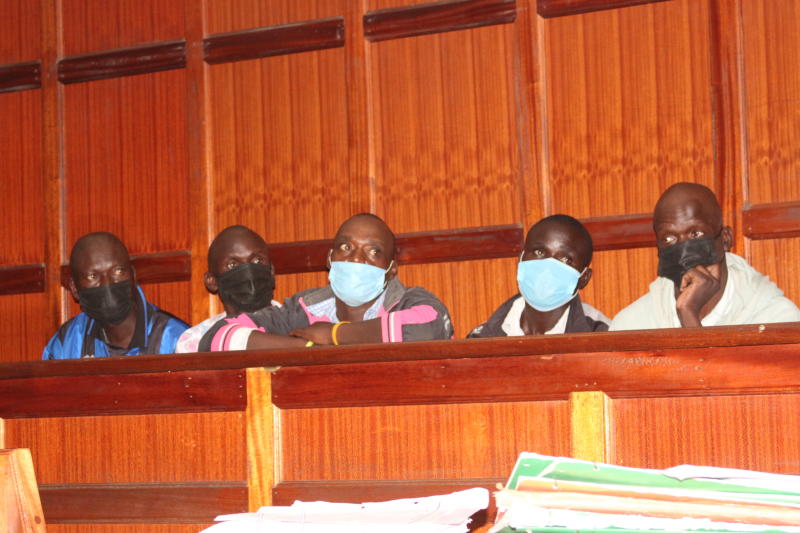 A case in which members of two self-help groups have been accused of forcefully entering private property in Donholm, Nairobi, and destroying property worth Sh144 million failed to start on Tuesday.
The first witness, Dickson Kitoi, was stood down after it emerged that the exhibit photos in the prosecution's file did not march what the defence team had.
Kitoi is a supervisor at the Gidjoy Investment Ltd's farm, which the suspects allegedly invaded.
The suspects, Benita Alando Nathanel, Peter Keya Owino, David Mutuku Makau, Kennedy Odhiambo Alex, Titus Ochieng Okoth, Boniface Oduor Anyiego, Calvince Ochieng Ooko, Patrobas Awino, Nick Omondi Owango and Philemon Otieno, are said to have stormed the farm armed with crude weapons.
Principal Magistrate Gilbert Shikwe ordered that the sixth accused person, Mr Oduor, who is representing himself, be provided with all photos that are part of the exhibits.
Shikwe also directed the prosecution and defense teams to meet and ensure documents they are using march.
Kitoi told the Milimani court the accused invaded on March 27, 2018 claiming they were original owners. "They chased me and two of my colleagues out of the farm. We tried to resist but they hurled stones at us. I informed my employer Mark Munge and he directed me to report to Caltrex Police Post," said Kitoi.
He said the over 20 invaders came in groups of four, and were armed with pangas and other weapons.
The case resumes on November 16.