We're suave Nairobi goats… and smart pedestrians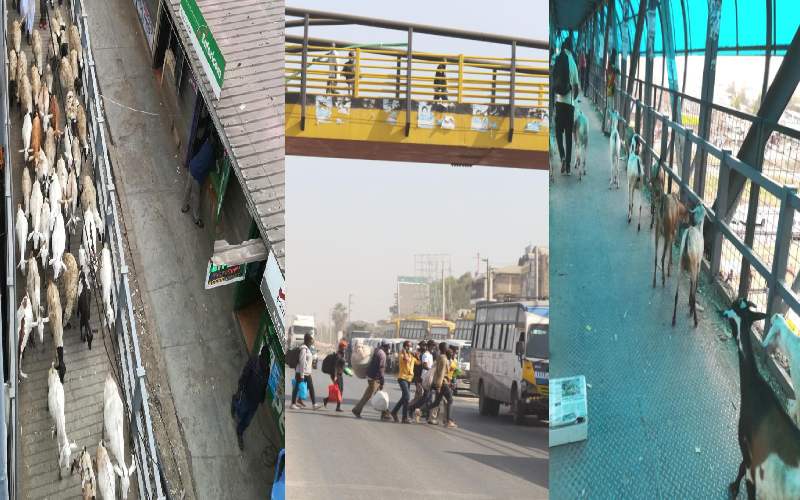 Some 'streetwise' animals have created a sensation for using footbridges, which have been largely ignored by pedestrians.
Two weeks ago, many were awed after spotting cows crossing a footbridge on the busy Outer Ring Road in Nairobi's Eastlands. The animals were captured on camera at the Stage Mpya footbridge within Fedha in Embakasi.
The animals, among them goats and sheep, have been adapting slowly to the changing design of the road that cuts through the estate from Mombasa Road to Thika Road's GSU roundabout.
Interestingly, as the animals opt for the 'safe route' many pedestrians insist on flirting with death by darting across the busy road.
"The cows have been here for long but what is shocking is how they cross the road," explains a trader on Outer Ring Road, "They find their way to the footbridges and rest and sleep on top sometimes. Since I started working here, I have never seen any animal knocked down."
At Kware where there is a footbridge, some herders make their animals to scramble for space with pedestrians who use the bridge, but majority of pedestrians prefer crossing under the footbridge.
"Sometimes back, we used to risk crossing the area but when the footbridge was completed last year, we found it safe to use it instead of risking our lives and those of our animals," explains Samuel Lemein, a herder.
On a daily basis they cross to an open field between Donholm and Likoni Road in search of pasture for their animals.
There are three footbridges between Taj-Mall and Donholm which are used by few pedestrians, mostly during weekends to while away time and to enjoy the view of airplanes landing at the Jomo Kenyatta International Airport.
For this reason, some of the footbridges are littered with sugarcane waste and maize cobs; which could be luring the cows to use the walkways.
Outer Ring road has been cited as one of the most dangerous roads in Nairobi. Many pedestrians have lost their lives in road accidents.
Non-designated points
In the last five days, more than 200 pedestrians crossing the road at non-designated points have been arrested following an operation launched on October 15.
During the multi-agency operation conducted by police from Nairobi Area and officers from the Kenya Urban Roads Authority, over 200 pedestrians were arrested.
Inspector John Njoroge, who led the operation, said the move is aimed at encouraging pedestrians to observe road safety rules to reduce accidents along city roads.
"We will go across the city to ensure that pedestrians only use footbridges to cross the road and not any other place," said Njoroge.