MCAs launch probe into KRA operations amid revenue dip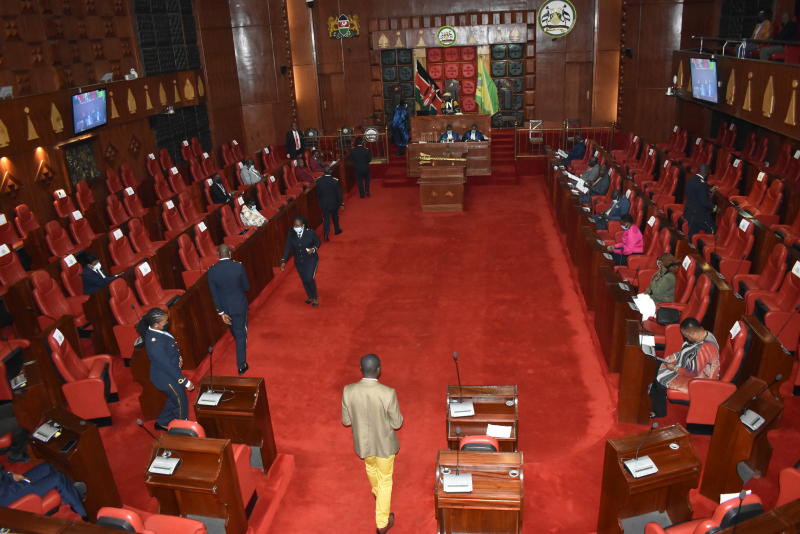 Members of the County Assembly (MCAs) have launched investigations into the operations of the taxman following concerns over the continued dip in revenue.
This comes after the Nairobi county government missed revenue target for the year ended June 30 by Sh6.6 billion despite City Hall appointing Kenya Revenue Authority (KRA) as the main revenue collector.
The probe started following a request for a statement by Kilimani MCA Moses Ogeto, who wanted the taxman compelled by the County Finance Budget and Appropriations committee to shed light on its operations.
In his statement tabled in the assembly, Ogeto sought to have KRA submit details on the total monthly revenue collected and accompanying bank statements from 2020.
He also wanted the House to be furnished with receipts to County Revenue Fund (CRF) from all revenue streams managed by KRA.
"…Hon Speaker, I wish to request for a statement from the chairperson of Select Committee on Finance Budget and Appropriations Committee Regarding revenue collected by the Kenya Revenue Authority," stated Ogeto.
Notably, KRA commenced revenue collection for Nairobi City County Government in line with a February 2020 gazette notice following the Deed of Transfer agreement that saw City Hall cede four functions to the Nairobi Metropolitan Service (NMS). Under the deal, revenue collection was abdicated to KRA.
The Gazette notice provided KRA officers with full and unlimited access to Nairobi City County Government Revenue processes, information data and systems. This included and not limited to the records and documents necessary for the effective execution of its mandate.
The inquest by the Robert Mbatia-led Finance committee comes against the backdrop of a report that showed KRA did not meet its revenue collections target for Nairobi County by Sh6.6 billion.
The Nairobi County Revenue and Expenditure report noted that there was dismal performance in own source revenue collections.
According to the report tabled before the assembly, City Hall collected Sh9.9 billion in the 2020/2021 financial year against a revenue target of Sh16.5 billion. Despite the overall collections being a Sh1.4 billion improvement from the previous financial year, the county was shy of the target.
"The underperformance is largely due to Covid-19 that has slowed down the economy translating to reduced business activity as customers adopt a wait and see attitude. The underperformance is expected to have a negative effect on the overall spending of all county government entities," read the report in part.
The county treasury has promised strategies to improve revenue collection following a meeting with the Nairobi Metropolitan Service and KRA.