KR prohibits disorderly conduct, shouting in trains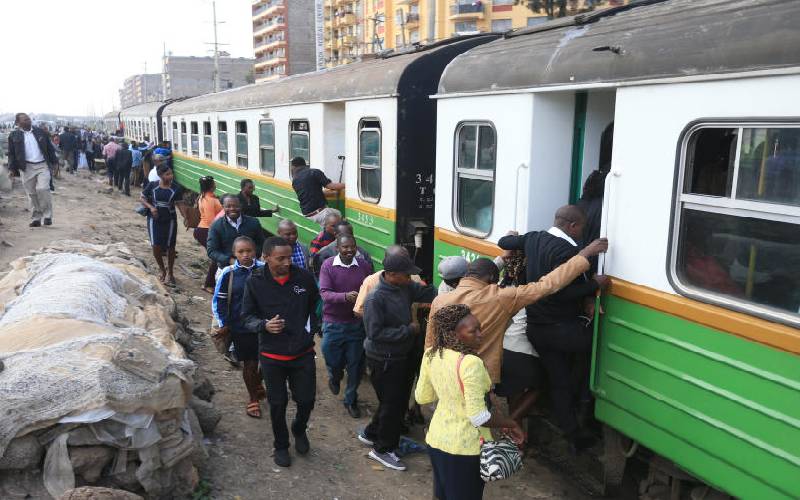 The Kenya Railways (KR) has cautioned passengers against disorderly conduct in commuter trains during travelling and at their stations.
In a notice seen by The Standard on Saturday, KR warned they will punish any actions that may disrupt the peace and comfort of the people at the stations and those riding in the trains.
"Kenya Railways hereby notifies passengers that engaging in actions that cause or are likely to cause a breach of peace at the railway stations is strictly prohibited," read the notice.
Some of the actions prohibited include playing loud music, dancing, use of threatening or abusive language, violent acts, shouting, fight and other forms of misdemeanour.
KR has also prohibited alcoholic drinks in the stations and the trains, adding that anyone found drunk will be removed from the train in the next station.
"Anyone who shall be caught drunk on the trains shall be kicked out immediately, and shall be disembarked in the next station," the notice said.
The management will also not allow drunk and disorderly passengers to board the train.
Those found flouting the new regulations shall be punished in accordance with the law.
"Any person intentionally or seen to have the intention to disturb the peace at the railway stations or onboard the trains shall be guilty of an offence and liable to punishment under the Alcoholic Drinks Control Act 2010; Sec 33," the notice reads.
They have therefore asked their passengers to display their best possible conduct while at the railway stations.
KR said the new regulations will improve services to those who use trains as a mode of transport.
"We don't take it for granted that you have chosen to ride with us. We make it our priority to ensure your comfort every step of the way."