Nairobi traffic jams may ease on October 15, says KeNHA boss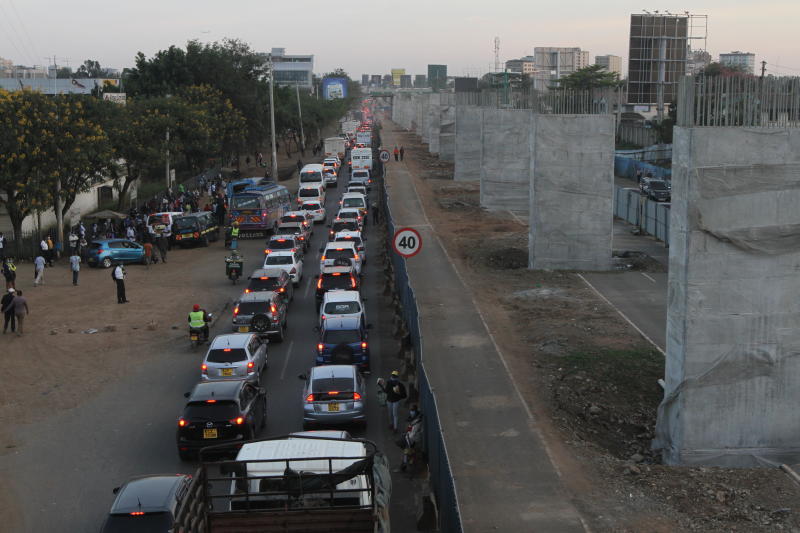 The headache that has become Mombasa Road and some key roads leading out of the city, owing to the ongoing construction of the Nairobi Expressway will persist up to mid-October.
According to Kenya National Highway Authority (KeNHA) acting Director General Eng. David Muchilwa, the opening of the last section of the closed road will be done around October 15.
The communication comes few days after the chaos witnessed last Thursday along Mombasa Road when many motorists and passengers spent more than eight hours waiting after an accident between Mlolongo and Cabanas stretch.
The construction of the Sh62 billion and 27km Nairobi Expressway road will begin at Mlolongo and will end at James Gichuru Road, where motorists will be charged for use.
It is being constructed by Chinese contractor China Road and Bridge Company(CRBC) is expected to be complete by next year February.
According to the public notice, KENHA said it expects to open road sections between Jomo Kenyatta International Airport(JKIA) to Mlolongo on September 10, Westlands to James Gichuru on September 30 and Haile Selassie to the University of Nairobi on October 15.
''This weekend, major works have been ongoing to manage traffic flow concentrated along the JKIA-Mlolongo section, which has been identified as a section where motorists experienced a lot of traffic congestion,'' said Eng. Muchilwa.
The authority also said so far, elevated section (viaduct) stands is 71.6 per cent complete. KeNHA has also promised to keep Mombasa Road users updated on the flow of traffic.
''In light of the recent traffic flow disruptions and delays along the Mombasa Road stretch, currently under construction, KeNHA is determined to reduce the time spent to the bare minimum. In this regard, the Authority endeavours to keep the road users up-to-date with the flow of traffic along the road,'' Eng. David Muchilwa added.
Muchilwa said: ''Of course we shall use social media as we always do but we are also looking for radio stations that Nairobians listen to frequently to update them.''
According to Nairobi Area Traffic Commander Joshua Omukata, last week's chaos was brought by an accident but breakdown services were not able to access the scene on time to clear it due to the traffic jam.
Muchilwa also said a multi-agency team has been established to guide on the traffic control interventions
''This will include ensuring that construction sites have adequate and well-signposted lanes, rapid intervention in case of accidents and well-defined U-turn points,'' he explained.
The official urged motorists to be cautious as they drive along this road and keep within speed limits indicated along with other traffic signs.
''We appeal to all road users to exercise road courtesy as that will help manage the traffic even better. The authority is determined to fast-track the ongoing works as we assure all road users that we will continually provide adequate diversion for smooth traffic flow,'' he said.