Nairobi MCAs award themselves extra Sh2 billion in new budget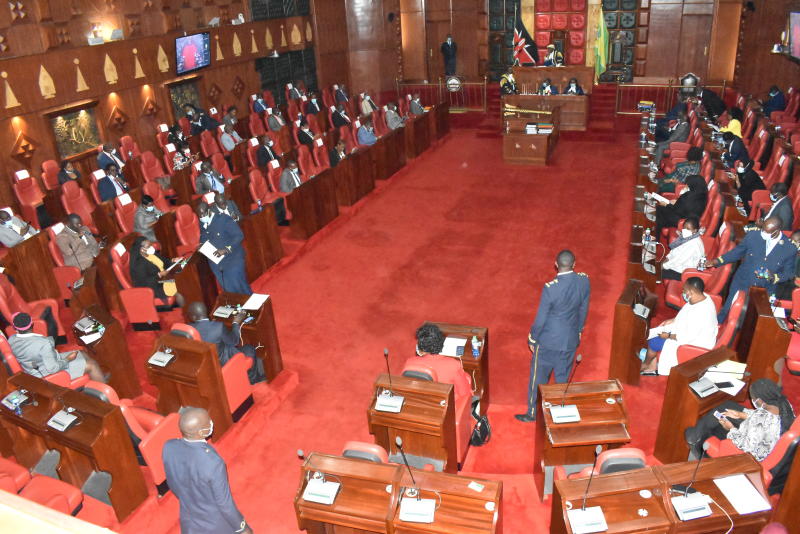 Nairobi county MCAs have awarded themselves an extra Sh2 billion in the new budget.
In the current financial year, the assembly had been allocated Sh2 billion to fund operations but this has since been reviewed upwards to Sh4.1 billion.
The funds will go towards MCAs allowances, administration, renovations, staff salaries and maintenance among other expenditures.
During a special sitting, the assembly approved the County Fiscal Strategy Paper (CFSP) which contained a Sh39.6 billion budget for the 2021/2022 financial year.
According to the revised CFSP, the budget increased by Sh1.9 billion to stand at Sh39.6 billion from the current Sh37.7 billion.
This will see Sh27.01 billion go towards recurrent expenditure while Sh12.59 billion on development expenses.
Nairobi Metropolitan Services was also affected by the changes after its budget for the financial year ending June 30, 2022 was slashed by Sh5.92 billion.
Transferred functions
According to the strategy paper, NMS has been allocated Sh21.18 billion for the four transferred functions of health, transport, public works, utilities and ancillary services, out of which Sh12.05 billion will go to recurrent expenditure and Sh9.12 billion to development.
This is inclusive of Sh1.5 billion Ward Development Fund which was transferred by MCAs last year from the office of the governor to NMS.
"City Hall has been allocated Sh14.3 billion for the retained functions with the remaining Sh4.1 billion going to the county assembly for its operations up from the current Sh2 billion," said the assembly's Budget and Appropriations committee chair Robert Mbatia.
To support micro and small enterprises, Sh1 billion was allocated to the trade, commerce and tourism sector.
Another Sh2.2 billion has been allocated to the education sector to improve learning at ECDE centres, establish new vocational training centres as well as promote youth welfare in Nairobi.
To fund the budget, City Hall is targeting to achieve Sh20.4 billion internal revenue collection as well as receive Sh19.25 billion equitable share from the national government.
This could however prove a daunting task given that the county collected only Sh8.6 billion internal revenue in the financial year ended June 30, 2020. This was the lowest ever recorded revenue against a target of Sh17.2 billion.
Allan Igambi, the Finance CEC however says to boost revenue collection, Nairobi will implement the planned roll-out of a GIS-based valuation roll.