Juja land owners to be issued with title deeds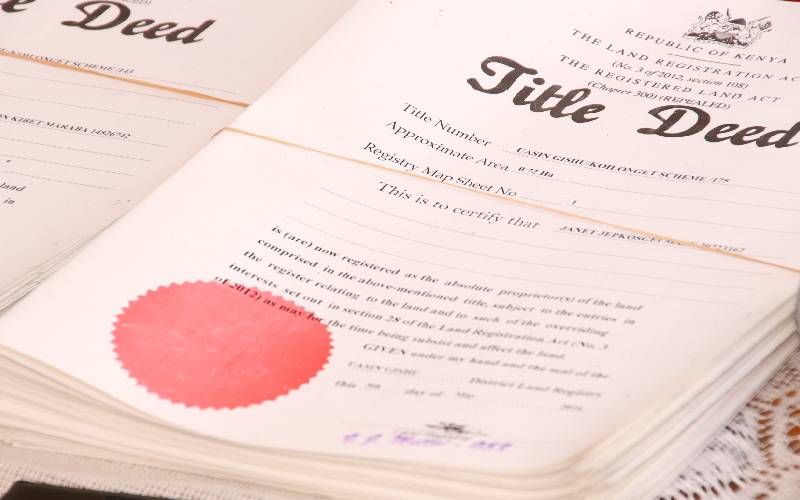 Kiambu County government has committed to ensure thousands of landowners in Ruiru and Juja sub-counties are issued with title deeds soon.
Speaking in Githurai, Governor James Nyoro said his government in collaboration with the Ministry of Lands will be issuing out the title deeds in the coming weeks.
"The ownership of these pieces of land and many others in Ruiru and Juja sub-counties have been marred with irregularities," Nyoro said while attending a public participation forum on land issues in Kiuu ward in Githurai on Tuesday.
Nyoro said his government had already deployed surveyors who will partner with officers from the Ministry of Lands to do an audit on the disputed pieces of land and consequently award titles to the legitimate owners.
Notably, a number of land buying companies in Juja and Thika have closed their offices without notice causing fear and anxiety among property owners.
Already, there are several ongoing court cases pitting private land buying companies and buyers.
Sarah Nyambura is one of the buyers who is optimistic that the new plan by the county will sort out the land ownership mess dogging the county once and for all. She said she bought a piece of land in Ngoliba, Thika, but was yet to be issued with a title deed. Her trips to Thika to the office of the company that sold the land to her have been fruitless.
"I bought the land in Ngoliba in 2017 and paid to the last coin and officials promised to facilitate the title deed. Unfortunately I discovered over 10 of us have no titles. The officials disappeared since December last year," Nyambura said.
President Uhuru Kenyatta last week promised to wade into the contentious land disputes that have dogged Juja and Thika over the last few years.
While attending the burial of Juja MP Francis Waititu, President Kenyatta directed relevant agencies to crack the whip in ensuring the issues are settled as soon as possible.
Nyoro said the president had promised to fast-track the process of opening a land registry in Juja, which will help in sorting out land grabbing cases in the region.
The governor recently met Lands Cabinet Secretary Farida Karoney and her PS Nicholas Muraguri to streamline the controversial and emotive land ownership question surrounding land purchasing companies.
"Why do the companies issue share certificates to the buyers even after they have paid to the last coin instead of issuing them with title deeds," Nyoro posed.