State House has deleted a tweet and Facebook post congratulating Uganda President Yoweri Museveni on his re-election.

The Ugandan Electoral Commission on Saturday declared Yoweri Museveni the winner of the elections with 58.6 per cent of the votes while his rival Bobi wine scooped 34.8 per cent.
The tweet from State House acknowledging Museveni's win, received a lot of backlash with one user (That DIY Babe) calling it "a very bad sign for 2022". It was pulled down shortly after being posted.

"President Uhuru Kenyatta has termed President Yoweri Museveni's re-election as a testimony of the confidence the people of Uganda have in his leadership," read the tweet by Statehouse.
Facebook flagged the same message by State House terming it as "false information" prompting State House to pull down the post. According to Facebook's regulations, deleting a post containing the 'false information' will not affect the outcome. The message was not flagged on Twitter.
Read More
However, Facebook flagged the message for allegedly saying "President Museveni has annouced a cabinet reshuffle", a message that was not in the post.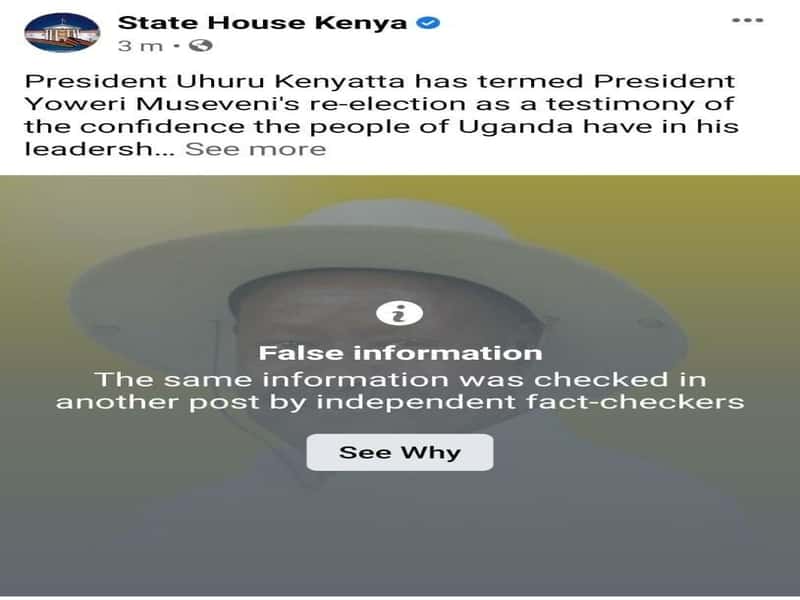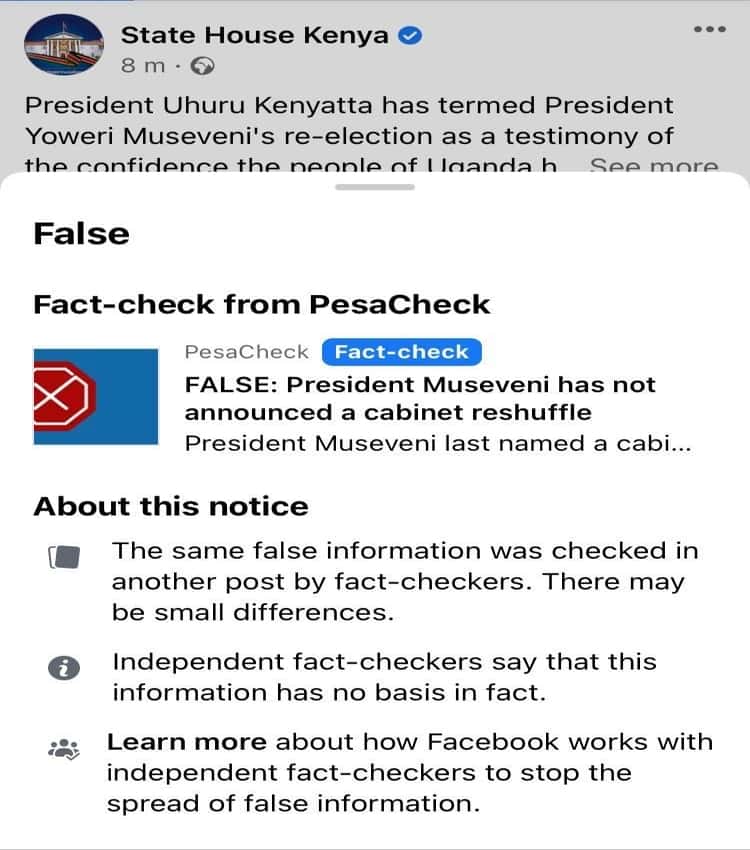 Museveni's victory comes amid a dark cloud of accusations about electoral irregularities from the lead challenger of the presidential race, Bobi Wine. Mr Wine blamed the regime of ballot stuffing, beating up of his party's polling agents coupled with an internet shutdown which impeded efforts of electoral monitoring and transparency.

Speaking to reporters on Saturday, Mr Wine rejected the results calling upon all Ugandans to reject what he termed as "blackmail".

"Whatever is being declared is a complete sham, we reject it and we dissociate ourselves with it," said Mr Wine.
But State House jumped the gun saying how President Uhuru looks forward to working with President Museveni in entrenching strong bilateral ties between the two counties.

"Uganda had achieved stability and registered consistent economic growth under President Museveni," said President Uhuru.
This is the second time President Kenyatta has come under fire for congratulating President Museveni after an electoral victory.
In the 2016 Ugandan election which observers termed as "falling short of key democratic benchmarks", president Kenyatta uttered statements that many Kenyans online said were his own and did not represent the sentiments of the people.
"The people of Uganda have spoken and they have spoken very clearly. We respect their choice of President Museveni," read the 2016 congratulatory message to Mr Museveni.
Even though Kenya's relationship with Uganda resembles that of siblings, the relationship between the two presidents is well oiled with the fact that Museveni helped both President Kenyatta and his Deputy William Ruto when they were charged with crimes against Humanity at the International Criminal Court (ICC).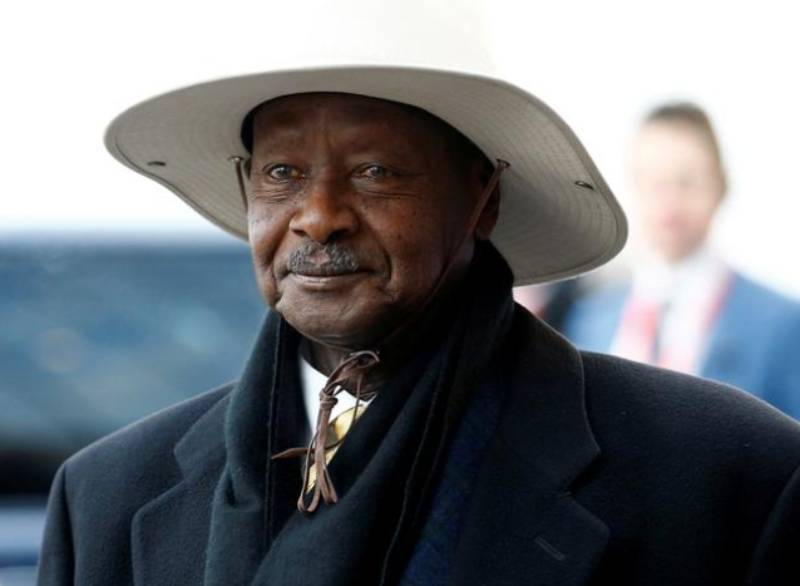 In 2014, the 76-year-old rallied the African Union (AU) to drop out of the treaty establishing the ICC on the ground that it unfairly targeted Africans.

In a ceremony celebrating Kenya's 51 years of independence, Museveni criticized ICC for proceeding with Ruto's case despite AU's resolution of giving immunity to a sitting president from being tried in the court.

President Museveni who has led the country since 1986 has secured his sixth term in office.