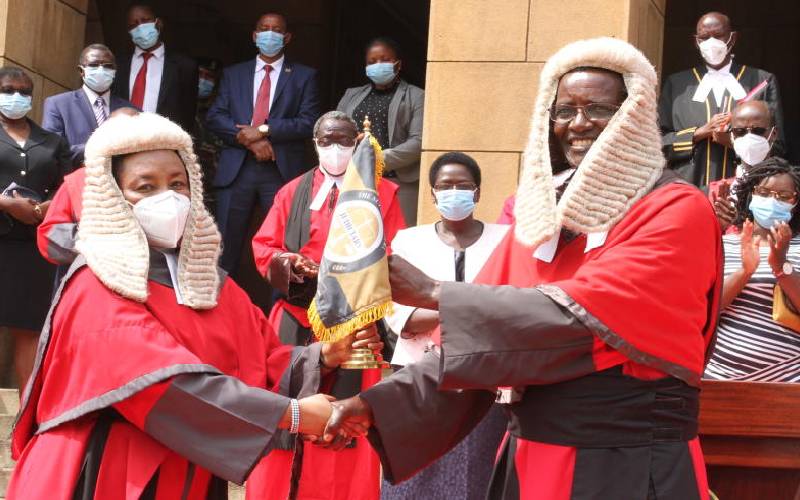 Time, just like a puff of smoke, runs out into the air, but it tells of its existence, somehow.
On October 19, 2016, the now-retired Chief Justice David Maraga sat on a green leather seat placed right in front of the office, and which he occupied for the next four years. His palms rubbed the armrests as if conversing with them to allow him to fit in. It is this seat he ruled the Judiciary on.
To his left was former Attorney General Githu Muigai, who represented the Executive, and with happy smiles, they vowed to work together.
His predecessor Willy Mutunga, after handing over, later unleashed a harsh judgment on the other arms of government in an interview with Dutch newspaper NRC Handelsblad, terming Kenya a bandit economy led by mafia-style cartels.
Read More
Four years later, did Maraga leave the Judiciary with a different perspective from that of Justice Mutunga? Did he achieve what he wanted? Was he a good judge? Did the Judiciary progress under him? The jury is out there.
For Maraga, time hung like a thick fog, waiting to write his name in history for the good, the bad, and the ugly of being a Kenya's Chief Justice, the head of the Supreme Court, and chair of Judicial Service Commission.
The now Chief Justice emeritus was neither a stranger in the corridors of justice nor was he going to do anything so different. He had heard cases and churned judgments many times. He had sat in benches of judges and most likely litigants praised or cursed under their noses after loss. Some complained about him.
The only thing that was poles apart from his then 14-year practice as a judge was this time he was head of an institution. The pressure, the politics, the judgments, the condemnation and the praise alike hung on his shoulders.
As jurors would rule, the 70-year-old judge sat firmly even when the seat was too hot, groaned when other arms of government became a pain, but after four years he left waving his hands high and with a smile.
History has it that in 2019 he vowed not to attend any State function, citing disrespect.
With all the praise and tributes, each person who interacted with him has a different perspective about him, his style of leadership, conviction about issues, and for sure he did not please the political wing of the government over the 2017 landmark judgment, annulling President Uhuru Kenyatta's election.
It is no doubt, he loves God and piously kept off work on Saturdays, his Sabbath, and he was honest about his own shortcomings, even at work.
Last year Maraga admitted that the indictment of drug lords Baktash Akasha and his brother Ibrahim in the US was a shame to the State and the courts.
"Recently you spoke about the Akasha case that is a shame to our country. I agree with you. It is a matter that embarrasses us," he told Uhuru.
And he was a traditionalist, having returned the red robes and wigs to the courtrooms.
Maraga ran the Judiciary with meagre funds after an abrupt cut of its budget by Treasury and stalling of judges' appointments. Other than the Supreme Court, all courts countrywide had a 50 per cent workforce to deal with more than 400,000 cases filed each year.
He had to weather allegations of the Judiciary being a weak link in the fight against corruption and had every reason to rant of the already frosty relationship with the Executive.
Maraga left the office knowing his calls to the President went unanswered, and publicly admitted it was not all rosy with the man who oversaw his appointment. But on his final day, he chose to ask his former foot soldiers to keep fighting for the fidelity of the law.
"I have heard politicians say they are better off because they are elected. I want to tell you that according to the Constitution, they have no more power than you have. I want to urge you... do not let Kenyans down. You have heard political drums being beaten already. If you waver and this country descends into chaos, God will never forgive you... stand firm, do the right thing. God and the people of Kenya will defend you," he told judges and magistrates.
Last year an ICT system was put in place to file cases and judges and magistrates heard them virtually. During his last months in office he visited parts of the country to launch courtrooms and a blueprint, which the next CJ can adopt to continue transforming the Judiciary.
"A time has come to say goodbye… I leave behind a strong Judiciary, a professional and enthusiastic corps of judges and judicial officers as well as staff who are deeply committed to administration of justice," he said.
His deputy, now acting Chief Justice Philomena Mwilu, praised Maraga but did not attempt to list the firsts and accomplishments. She said Maraga's name would be inscribed in the halls of fame and history for defending the Constitution.
Unlike his predecessors, Maraga has left with a pending battle. His recommendation to President Uhuru to dissolve Parliament for failing to effect the two-third gender rule is lying before the High Court, awaiting a hearing. Was he right or wrong?
Following tradition, Law Society of Kenya President Nelson Havi argued an application to have a declaration that Maraga retire at midnight yesterday. It was granted. He was disrobed, walked on a red carpet and bid judges goodbye, then smiled and waved his way out in a civilian V8 Toyota Land cruiser.
That marked the third Judiciary transition since the 2010 Constitution.
Born on January 12, 1951, Maraga became an advocate of the High Court on October 16, 1978. He served as a High Court judge between October 2003 and 2007. He was appointed appellate judge on June 16, 2011, and on October 19, 2016, he became Kenya's 14th CJ.