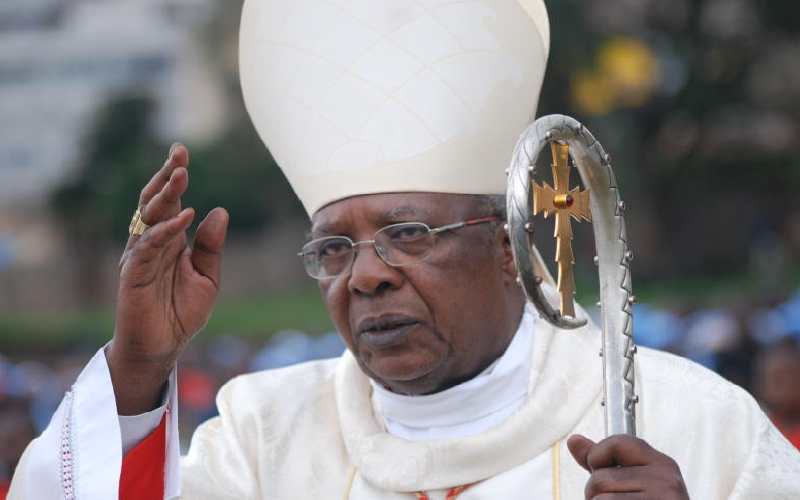 Nairobi Archbishop John Cardinal Njue has resigned after reaching the retirement age, the Vatican announced Monday.
In a statement, the Catholic Church said that Pope Francis had accepted the archbishop's resignation in accordance with the Church canon that requires that a bishop writes to the pope after attaining the age of 75 to be allowed to resign. Cardinal Njue, who was born in 1944, is 76.
While the Vatican did not name a successor to the Archdiocese of Nairobi, Pope Francis has appointed Rt Rev David Kamau, the current Nairobi Auxiliary Bishop as the Apostolic Administrator of Nairobi Archdiocese.
Bishop Kamau has been serving in the archdiocese since December 22, 1999, as the Auxiliary Bishop of Nairobi.
Read More
The Kenya Conference of Catholic Bishops (KCCB) said the pope's acceptance letter of Cardinal Njue's resignation and the appointment of Bishop Kamau was sent to Kenya by the Apostolic Nuncio to Kenya, His Excellency Archbishop Hubertus van Mege.
Cardinal Njue had been in charge of the archdiocese since October 6, 2007, when he took over following the retirement of Ndingi Mwana 'a Nzeki. Others who have served as archbishops include John Joseph McCarthy, who was archbishop from March 1953 to October 1971; Archbishop Maurice Michael Otunga 1971–1997) and Mwana'a Nzeki who was archbishop for a decade.
Njue was named to the College of Cardinals by Pope Benedict XVI on November 24 that same year. His resignation does not, however, affect his status as a cardinal. He will still retain the title and will be eligible to vote in a conclave until he attains 80 years-of-age.
He participated in the conclave of March 2013, which elected Pope Francis. He is Kenya's second cardinal after the late Maurice Michael Cardinal Otunga who was appointed by Pope Paul VI in 1973. Otunga died in 2003.
Njue was ordained a priest in 1973 and was consecrated as a bishop in 1986. Kondrusiewicz had served as Archbishop of Minsk for 13 years and as president of the Kenya Episcopal Conference from 2006 to 2015. Njue has served in Bungoma, Chuka, Embu, Nyeri and Isiolo, where he was Apostolic Administrator of the Vicariate of Isiolo.
He has also been coadjutor Archbishop of Nyeri as well as the Apostolic Administrator of the diocese of Murang'a after which he was named archbishop of Nairobi.